Working at VITAS, VITAS Values
The Impact of Appreciation: The VITAS Difference Peer Recognition Program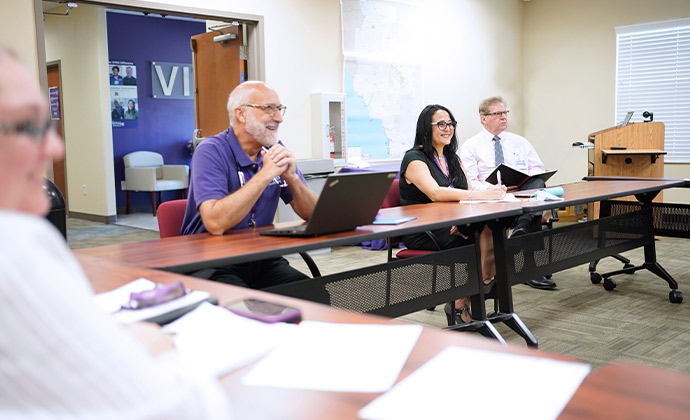 "There's never a patient too far away, or a task she is unwilling to help with."
"I was amazed by her care and heart."
"What a gem of a person he is!"
"She speaks to the family and patient so compassionately and makes sure they are at complete ease, with all their questions answered and needs communicated and addressed."
Those are just some of the words of appreciation VITAS teammates have shared about each other through our VITAS Difference recognition program: our internal platform for employees to submit words of acknowledgement, support, and thanks for their peers.
Positivity When We Needed It Most
When the recognition program launched in summer 2021, the world was in the middle of a health crisis like no other in our lifetime. The pandemic was especially hard on people working in healthcare.
Around the country, VITAS teams were experiencing emotional and physical exhaustion like their peers in other healthcare professions. Despite these challenges, VITAS leaders were still hearing uplifting stories of employees who supported and cared for their patients, families, and one another in ways big and small.
Our teams faced the challenges of the pandemic head on.

-Diane Psaras, VITAS EVP & CHRO
The stories often centered around the pillars of The VITAS Difference: Commitment, Compassion, and Can-Do Attitude.
There had to be a way to acknowledge and celebrate these stories—and the employees behind them.
The VITAS Difference recognition program was born.
"The launch of The VITAS Difference recognition program was a source of light during those dark times. COVID-19 tested us and our commitment, yet our teams faced the challenges of the pandemic head on," remembers Diane Psaras, executive vice president and chief human resources officer. "Now, more than a year later, enthusiasm for the program only continues to grow. That's how important it is to recognize those acts of kindness and caring on a regular basis."
Promoting a Culture of Care
With The VITAS Difference recognitions, teammates submit words of encouragement, support, or compliments from patients' families, team members, or management via a simple online form. The number of submissions continues to rise steadily, with over 18,000 recognitions to date.
"Having a program that recognizes employees for the great things they do can bring a smile to their face, make them keep going, and turn a bad day better. It's not just an e-mail; our leadership makes sure to bring it to life by awarding the pin," says Andrea Canon, RN-BSN, team manager, San Antonio, Texas.
Being recognized for going above and beyond means the world to our care team members.

-Deborah Wolfe, VITAS senior general manager
Team members who receive 10, 20, and 30 recognitions are awarded Bronze, Silver, and Gold pins, respectively, to attach to their name badge. Pins are awarded by managers at team meetings so coworkers can hear more about the inspiring actions that made a difference. A pinning ceremony is just another way our leaders acknowledge employees who make The VITAS Difference.
"We noticed that certain employees were receiving many testimonials. It seemed only fitting to show support and acknowledge them for their outstanding professionalism. Pin earners are the hallmark of the program, exemplifying our VITAS Values day in and day out," says Diane.
Today, new pins are awarded nearly every day in VITAS programs across the country.
"Appreciated is the word that best describes how employees feel when they are recognized by their peers or by management. Being recognized for going above and beyond means the world to our care team members and is an opportunity for the entire team and management to say, 'thank you,'" says Deborah Wolfe, senior general manager, Fairview Heights, Illinois.
"There is nothing like being recognized by your peers, management, patients, families, and referrals to keep morale up."
Join a team where your commitment to caring is recognized and celebrated.