Working at VITAS
VITAS Field Managers: The Facilitators of Compassionate Hospice Care
VITAS field managers lead the employees who work in our offices and on our care teams throughout the nation. They are responsible for the staff who care for our hospice patients and their families.
Field managers teach and inspire, leading by example and by professionalism, each in their own unique style. They understand the problems and rewards their staff experience on a daily basis, and put patients and families first while meeting stringent government regulations.
Each year, outstanding employees are awarded as VITAS BEST winners, for their efforts "Building Excellence, Satisfaction and Teamwork."
These field managers led their regions in 2019:
Emily "Niki" Barber, team manager
Sacramento
Described as the "heart" of her team, Niki is praised for looking out for patients and staff members with equal devotion. She encourages her team members to take care of themselves, solicits input and creates opportunities to relax, recharge and have fun. She is, says one employee, "a living example" of a manager who coaches team members to take care of each other.
Martin Donovan, senior business manager
Chicagoland
Marty is seen as leader, a repository of information and a role model for problem-solving tactics for those in his own office and others throughout our Chicago region. In addition to supporting his own office, Marty has been asked on multiple occasions to train and oversee staff orientation in other VITAS offices, and he graciously accepts—even if doing so means leaving unfinished work on his own desk.
Jennifer brings a laser focus to her role of ensuring that hospice-eligible patients receive the care and services they deserve. While managing two programs, she increased admissions, volunteered to train staff members in other programs and continues to mentor new admissions managers in her region.
Dolores Hickman, volunteer manager
Columbus, OH
Dolores has recruited a huge volunteer corps in Central Ohio, with many dedicated and loyal volunteers, including Paw Pals® pet visit volunteers and their furry companions. In 30-plus years of dedicated service to VITAS in multiple capacities, Dolores has never slowed down, according to her team members. They praise her for her tireless efforts to attract and retain outstanding volunteers and to maintain VITAS' status as a hospice leader.
During times of crisis for his co-workers in Miami-Dade County, Kevin consistently provides emotional and bereavement support. Always available for assistance with any task, he goes above and beyond to fill in or assist on short notice when help is needed for community support groups. Thanks to his initiative, staff members who provide around-the-clock care to our hospice patients and their families are involved in a pilot project to participate in memorial services for the patients they mourn.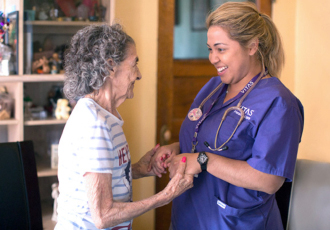 Choose a Career with VITAS
We offer a variety of full-time, part-time and per-diem employment opportunities. Employees earn competitive salaries and have the flexibility to choose a benefits package suitable to their own needs and lifestyle.
See Current Opportunities