Chaplains, Working at VITAS
VITAS Chaplains: The Soul of Compassionate Hospice Care
Being a VITAS chaplain means "meeting the patient where they are."
Hospice chaplains are open to the beliefs, fears and joy of others. They seek calm when everyone around them might experience anxiety, remorse, sadness or turmoil. Chaplains help others find answers and peace.
At VITAS, our chaplains help patients, families, clinicians and their own co-workers, regardless of religious beliefs or non-beliefs. They truly care for the caregivers.
Not everyone who chooses to be a member of the clergy is meant to be a hospice chaplain. Those who work at VITAS make a difference every day in big ways and small, sometimes without even realizing how profoundly they've affected someone's experience.
Learn more about being a VITAS chaplain.
VITAS Teammates Describe Our Chaplains
Each year, outstanding employees are awarded as VITAS BEST winners for their efforts "Building Excellence, Satisfaction and Teamwork."
These BEST VITAS chaplains led their regions in 2019. This is how their teammates described them:
"Kathleen is a very calming presence, providing support to her team, the program, her community and to our patients and families. She is a quiet yet powerful presence, and people respect her opinion. Her patients love her too!"
Nicolle Grasse, chaplain
Chicagoland
"Nicolle helps enrich our program on the quality assurance and performance improvement committee, is restarting our ethics committee and is always improving outcome/performance. She assists her team with challenging cases and helps resolve service concerns. We have received many letters and compliments about Nicolle. She performs funeral and memorial services throughout the year, and patients and families often say that Nicolle's emotional and spiritual support are a comfort."
Nicolle has been featured in these articles:
"Shirley is very involved with the community; she is frequently asked by families to speak at memorial services. Her benevolence is apparent to patients, families and co-workers. She makes the hospice experience memorable while displaying such sensitivity. Her bereavement guidance is greatly appreciated. Shirley is a liaison on many levels, and her gracious attitude is accepting and warming to others."
"Milt goes out of his way for his patients. He is professional and sets a great example for our team and staff. Milt often receives comments that he is there for the family when they really need him. He communicates to his team manager so that the ongoing and changing needs of our patients are met."
"Paul copes well in any challenging situation. He is willing and able to intervene and bring a solution when asked. He is the first to volunteer for any extra task. Paul is always calm and optimistic, meeting the spiritual and emotional needs of patients, families, caregivers and staff. His documentation paints the real picture of the patient. I have the privilege of following Paul through my supervisory visits, and it is always a pleasure to hear all the compliments from his patients and families."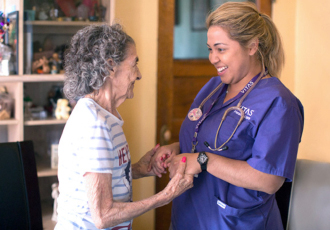 Choose a Career with VITAS
We offer a variety of full-time, part-time and per-diem employment opportunities. Employees earn competitive salaries and have the flexibility to choose a benefits package suitable to their own needs and lifestyle.
See Current Opportunities