End of Life Wishes, Cultural and Religious Diversity
VITAS Patient and Holocaust Survivor Receives Treasured Recognition for Lifetime of Educating Youth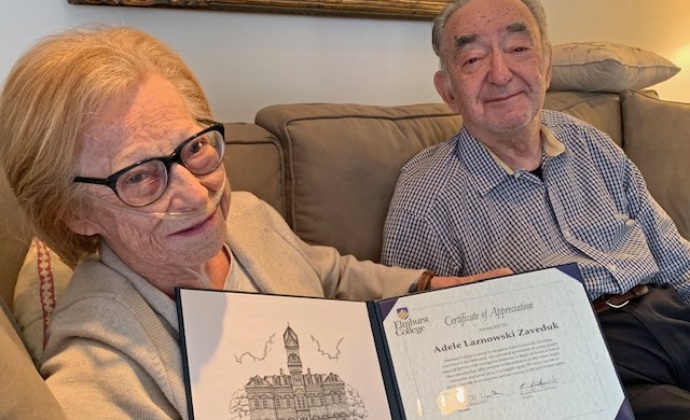 March 2, 2020 update: The Illinois State Senate recognized Adele's life and work on February 5 through Senate Resolution No. 971, sending official condolences to Adele's husband, sons and extended family.
When Nicolle Grasse, a VITAS chaplain in Chicago, met Adele Laznowski Zaveduk in the home she shared with her husband, the 82-year-old woman was visibly weak from a long fight against advanced heart failure.
Adele had been receiving care from VITAS for only a few days, and her doctors expected she would live no more than a week or two. Yet her eyes shone brightly as she thumbed through a box brimming with envelopes, each bearing her name and address scrawled by a child's hand.
Though modest, Adele's box and the letters within were cherished, thanks to 25 years of emotional work—time spent educating children about her experiences as one of the Holocaust's "hidden children" in hope that shining a little light on modern history's darkest period might prevent it from reoccurring.
The experiences that led Adele to involve herself in the education of others–war, genocide, childhood labor–also had prevented her from completing her own: Adele had never attained a college degree; she had never even finished high school. She regretted this part of her past and feared she might take that regret to her grave.
Her VITAS team stepped in to ensure she received the recognition and closure she desperately wanted and richly deserved.
Adele's Secret
Adele had first revealed her regrets to a counselor at the hospital where she was receiving treatment before transitioning to VITAS for hospice care. Adele's husband Ben Zaveduk was present at the time–and thoroughly taken aback. It was news to him, even after 63 years of marriage.
Days later, Ben shared Adele's story with Nicolle, making her among the first to know. Nicolle was also uniquely equipped to do something about it.
Learn More: Emotional and Spiritual Care at End of Life
"Adele was deeply sad about having never received a diploma, as she had done so much to educate children and advocate for education," Nicolle says. "I graduated from Elmhurst College in Chicago and suspected their Holocaust organization could recognize Adele for her education of so many young people. I called some contacts and they said they'd be honored to."
Physical and Spiritual Separation
Born in France in 1937, Adele Laznowski was only 5 years old when her mother and father disappeared, leaving her and her younger sister with strangers. Adele would later learn that her mother had paid a Catholic family to watch over her children after she and her husband were sent by the Nazis to the Auschwitz complex of concentration and extermination camps.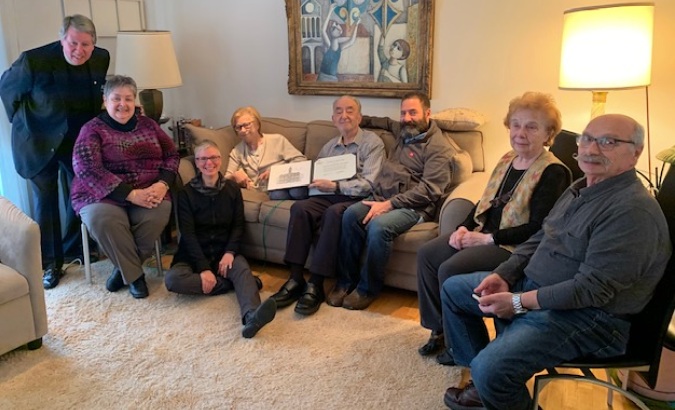 When Soviet forces liberated Auschwitz in 1945, both of Adele's parents had miraculously survived.
But when the family finally reunited, Adele and her sister didn't initially recognize their parents. Having been raised Catholic under their surrogate family, neither child understood their Jewish heritage or its role in their parents' desperate decision.
Shortly after their reunion, Adele's father died, and before long her mother remarried and relocated the family to Argentina.
The war and the Holocaust were behind them, but Adele was still denied a "normal" childhood: Rather than attending school, she was put to work in the family store. Years later, she met Ben, married him and moved to Chicago.
How Hospice Brought Her Closure
Decades passed, the couple started a family and Adele found her passion teaching others about the Holocaust. But the shame she felt lingered on. It wasn't until Adele began hospice care with VITAS that closure seemed like a real possibility.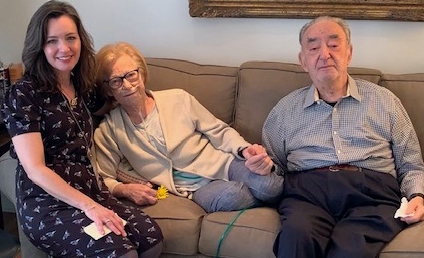 Nicolle had hoped at first for an honorary degree, but the logistics were dicey. Such recognition would require seeking board approval and navigating a bureaucracy that Adele simply didn't have time for. So, at Nicolle's request, Elmhurst College President Troy VanAken and Chaplain H. Scott Matheney developed an award specifically for Adele.
With help from the Illinois Holocaust Museum, Nicolle and Elmhurst College put together a ceremony for Adele at her home. A representative from the museum spoke about Adele's service and the importance of keeping hope alive by preserving survivors' stories. Chaplain Matheney offered beautiful words and presented Adele with a certificate, reading:
"She committed her life's purpose to this endeavor so that others might remember and never allow it to happen again. We honor her life of service, her role as an educator and her witness to life and human rights."
'One of the Most Moving Experiences'
"Adele and her husband were speechless and tearful," Nicolle says. "It was one of the most moving experiences I've ever been a part of. She's still talking about the ceremony; she even called her friends and family to tell them about it and show them the pictures."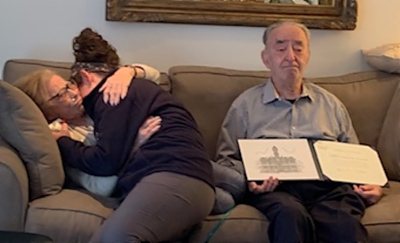 Nicolle closed the ceremony with a quote from Malala Yousafzai, the Pakistani woman who survived being shot by the Taliban as a teenager after advocating for girls' education: "One child, one teacher, one book, one pen can change the world."
Nicolle believes the ceremony and recognition from Elmhurst have helped Adele find peace near the end of life. To her, the experience is symbolized best in Adele's loving embrace of her granddaughter, who returned early from a school trip to Israel–just in time for the ceremony.
"That embrace, the beauty of her showing the certificate to her granddaughter is something I'll carry with me always," Nicolle says.