Cultural Competency
VITAS Maintains, Deepens Its Reputation as an LGBTQ-Friendly Hospice Provider
For LGBTQ+ patients, their partners, and their families, seeking traditional healthcare is often fraught with concerns about discrimination from physicians and other healthcare professionals, as well as issues of respect, trust, and the fear of divulging very personal and often sensitive information.
When members of the LGBTQ+ community are referred to hospice care, those concerns and worries can intensify as they confront:
the end of their lives
the end of loving relationships
remnants of fractured family relationships
numerous psychosocial and spiritual issues associated with death and dying
Those very challenges underscore VITAS' ongoing commitment to provide compassionate, sensitive, nonjudgmental hospice care to patients who identify as LGBTQ+: lesbian, gay, bisexual, transgender, queer, gender non-conforming, or other.
Research Finds Need for Respectful LGBTQ+ Hospice Care
The VITAS commitment to the LGBTQ+ community addresses a need identified by population research.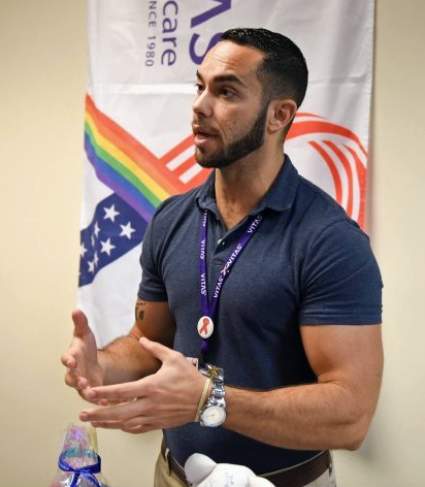 A 2018 AARP survey of older (ages 45+) LGBT participants found that while 84% reported honest and open relationships with their healthcare providers:
52% expressed concerns about discrimination or prejudices that could affect the quality of healthcare they receive
57% were concerned about healthcare providers not being sensitive to the needs of LGBT patients
A 2020 Kaiser Family Foundation survey found 36% of LGBTQ+ patients (vs. 22% non-LGBTQ+) reported at least one negative experience with a healthcare provider: being blamed for their health problems, having their concerns dismissed, not being believed, or being subjected to uninformed assumptions.
According to a 2020 study (Stein, G., et. al) of 865 hospice and palliative care physicians, social workers, nurses, and chaplains, published in the Journal of Palliative Medicine:
53.6% of providers said LGBTQ+ patients were more likely than non-LGBTQ+ patients to experience discrimination at their institutions; 27.3% observed such discrimination
64.3% said transgender patients were more likely than cisgender patients to experience discrimination; 21.3% observed such discrimination

Examples included disregard or minimization of LGBTQ+ patients' spouses/partners treatment decisions (15%), and disrespectful treatment of a patient's spouse/partner or surrogate (14.3%)
"Disrespectful care can negatively impact the trust patients have in providers and institutions, and lead to delaying or avoiding care, or not disclosing relevant information," wrote the researchers, who suggested LGBTQ+ advocacy and training for hospice and palliative care providers.
Authenticity and Support for LGBTQ+ Communities
Diane Rapaport, MD, a home care physician for VITAS in Chicago, feels that LGBTQ+ patients and their partners and families benefit uniquely from the support of the seven-member interdisciplinary hospice team that's required by the Medicare hospice benefit.
I will put my money in the bank that no other hospice provider has done what we have done.

-Nancy Auster, VITAS admission RN
"Our specific contribution as hospice professionals is having a whole team that can be there for intervention and care," Dr. Rapaport says. "The medical-psychosocial interdisciplinary team is often the key that's necessary to help resolve estranged relationships, which are particularly common in the LGBTQ+ community. These patients are more likely than others to have estranged relationships with family members, and more specifically, they are more likely to have been abandoned by, judged, or denied access to their own religion."
The hospice team's chaplains, social workers, music therapists, and other specialists can intervene to "help them find peace through spiritual connectedness and by not abandoning them," she says.
Nancy Auster, an admission RN, joined VITAS in 1991 on a dedicated team that cared for HIV/AIDS patients in South Florida. Her early involvement in outreach to hospice patients with AIDS inspired her to continue to advocate for the LGBTQ+ community "because I was so inspired by this population that was underserved and misunderstood. I still feel very connected as an ally," she says in her third decade at VITAS.
"If I encounter any patients in the LGBTQ+ community who need or want to hear about hospice care, I want to be the one to escort them into our services with the utmost dignity and respect they deserve, and make sure they get the special care and attention they need," says Auster.
'A Policy of Inclusiveness'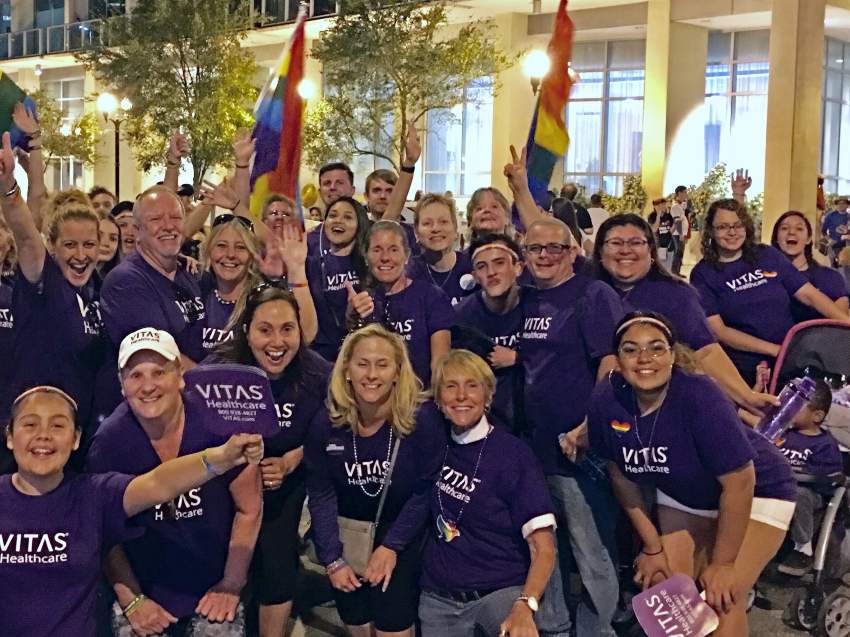 VITAS provides education, resources, training, and grief support groups for the LGBTQ+ population. At LGBTQ+ healthcare events, VITAS has sponsorship tables with banners featuring the Pride flag and VITAS logo.
"We hand out fans and brochures with LGBTQ branding and information," Auster says. "I will put my money in the bank that no other hospice provider has done what we have done."
"In most of our markets, we're one of the only hospice providers that reaches out to the gay community, and if we're not the only one, we're one of only a few," says Jaime Collazo, director of market development in Broward County, Florida.
Broward is home to Wilton Manors, a city featuring one of the largest LGBTQ+ populations in the US per capita, a particularly high proportion of whom are gay seniors.
For healthcare professionals, a free VITAS continuing education course addresses best practices when caring for patients from the LGBTQ+ community and ways to overcome their unique concerns about medical care.
Professional, Purposeful End-of-Care
"One of our core corporate values is 'we take care of each other,'" says Diane Psaras, chief human resources officer at VITAS. "When we treat our associates with the professionalism and respect they deserve, we are setting an example for the kind of purpose-driven care and committed professionalism we expect of them in their interactions with our patients, families, healthcare partners, and communities."
During the VITAS 40th anniversary in 2018, we documented our early and unique-to-the-industry efforts to care for patients affected by the HIV/AIDS crisis of the 1980s-90s.
Our dedicated outreach and commitment to provide compassionate hospice care to AIDS patients—the majority of whom identified as gay—continues with purpose today for LGBTQ+ patients, regardless of their sexual orientation, gender identity, or diagnosis.
Rabbi Jane Rachel Litman, a VITAS chaplain in San Francisco, California, points out that even in the Bay Area, VITAS stands out as a hospice provider that conscientiously sponsors and provides targeted LGBTQ+ services. That includes sponsorship of an LGBTQ+ grief bereavement group that she facilitates at an LGBTQ+ community senior center.
"It's important for us as healthcare workers to affirm LGBTQ+ people, acknowledge their right to healthcare and hospice access, and treat them with human respect and dignity," she says. "Our visibility in this community is one of the many reasons I'm proud and happy to work for VITAS."