Grief and Bereavement
San Antonio Memory Tree 'Remembers a Life Well-Lived'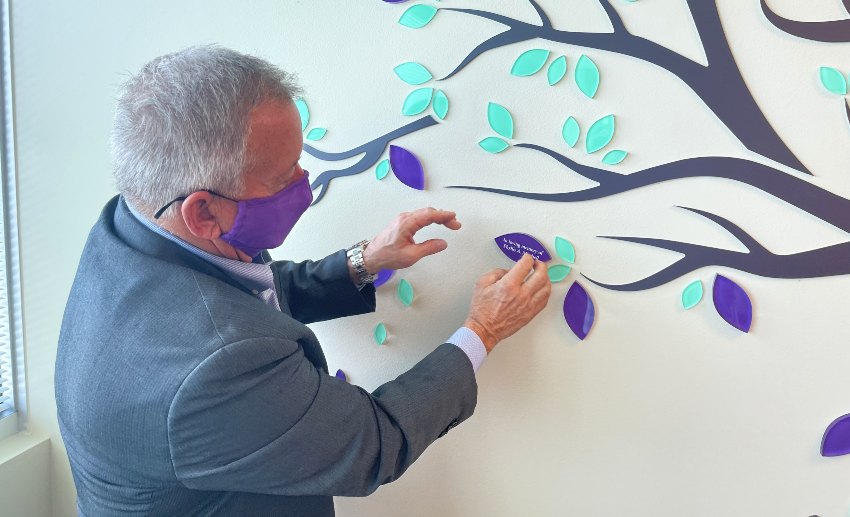 From a distance, the Memory Tree's flowing branches spread across the wall of the VITAS Inpatient Hospice Unit at Villa Rosa in San Antonio, punctuated by striking dark blue and turquoise leaves.
On closer inspection, each dark leaf features the name of someone loved, someone missed, someone whose family has chosen to remember in a very special way.
Each leaf memorializes a patient who received care from a VITAS hospice team, or in the case of one special leaf, received care in one of the rooms before VITAS took over the wing in July 2020 from a previous hospice provider.
"The beauty of it, the memories associated with it, the placement of a name on that forever tree is so meaningful to families," says Joseph Brickner, general manager for VITAS in San Antonio.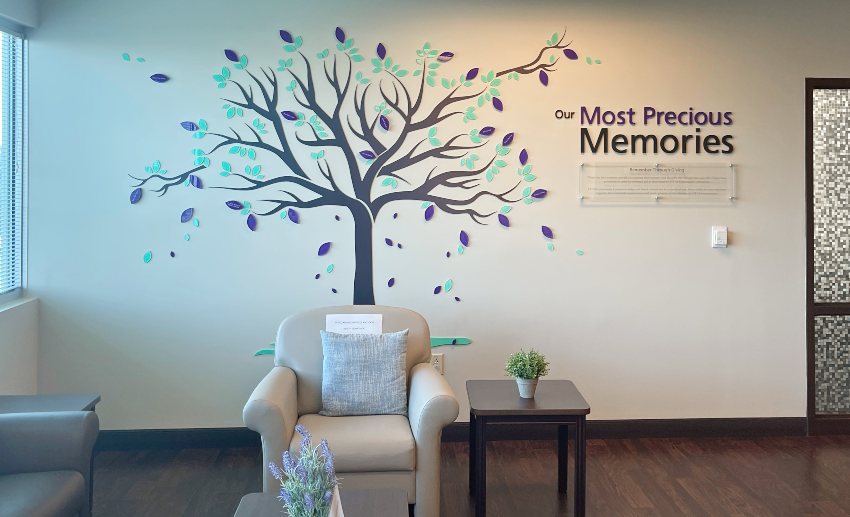 'A Memorial to Their Life'
Soon after opening the inpatient unit, the VITAS team in San Antonio began making plans for the Memory Tree, including the creation of a brochure that gives families the option of ensuring their loved one's legacy through a donation to VITAS Community Connection. As a 501(c)3 charitable organization, proceeds from VITAS Community Connection provide financial support to other hospice patients/families in need and to VITAS community partners.
"Knowing that their loved one is featured on our Memory Wall and will stay there forever...it's a memorial to their life," says Brickner. He dedicated a leaf to his own mother, Francis , after her death on hospice care in 2019.
"It's a meaningful memorial to someone who was dear to someone's heart."
Another leaf features the name of a young girl who died in one of the Villa Rosa rooms before VITAS opened the inpatient unit. The girl's mother, a VITAS physician who was on a hospice fellowship rotation at Villa Rosa, came to the VITAS inpatient unit grand opening and told the San Antonio team her story.
Shortly after the VITAS wing opened, the team asked her permission to add her daughter's name to the tree as a way to keep her memory alive at the Villa Rosa IPU. She agreed, and the VITAS team held a small, private ceremony for her and her husband on the day the leaf was added to the tree.
"That's an idea of how special the tree can be," Brickner says. "It's a meaningful memorial to someone who was dear to someone's heart, someone who was loved."
Unique Ways to Remember Those We Serve
The San Antonio Memory Tree is a first of its kind among 49 VITAS hospice locations in 14 states and the District of Columbia. Other VITAS teams remember patients through "Matters of the Heart" wreaths, butterfly releases, and similar tributes.
During most of 2020, visitation to the inpatient unit has been limited or restricted, but Brickner hopes that ongoing efforts to vaccinate San Antonio residents will allow more family members to visit and enjoy the Memory Tree in 2021 and beyond.
"For me, it's very special," says Brickner. "Every time I go there, I know my mom is looking over me."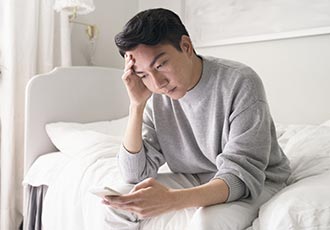 Year-Round Grief Support
We offer free phone-in and Zoom video support groups, year-round, to meet your needs.
Find a Support Group