VITAS Values, Working at VITAS
'Matters of the Heart' Wreaths Inspire Memories, Comfort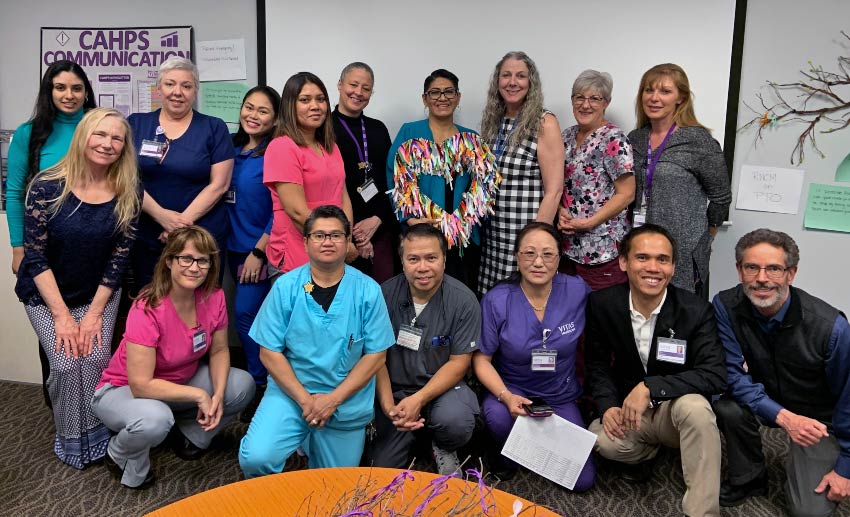 Though I know I'll never lose affection, For people and things that went before, I know I'll always stop and think about them…

'In My Life,' by Lennon/McCartney
For VITAS Bereavement Services Manager David Howell, three lines from the Beatles' song "In My Life" capture the intent and impact of a colorful tradition that helps VITAS hospice teams remember each patient.
Each time a VITAS patient dies, one member of the patient's care team ties a single ribbon to a tree branch that adorns the VITAS office in Sacramento, California.
Now, those ribbons are being turned into visually striking heart-shaped wreaths to be shared among the program's field offices—a way for all team members "to have a ritual built around remembering and sharing," Howell says
The Matters of the Heart wreaths, assembled whenever the branch fills with ribbons, serve as tangible evidence of a VITAS corporate value that guides all employees: "We take care of each other."
The Evolution of a Memorable Grief Tradition
Howell says the ribbon-tying tradition was initiated by former bereavement manager Janine Siegel. The presentation of each 8-inch ribbon during the VITAS weekly team meeting announces the news of a patient's death and gives the team time to reflect on that person, the moment, and the power of memory.
"It's honored as a very solemn moment. There's quiet. It's a way to express our feelings for our patients, their families, and ourselves," he explains. "When someone on our care passes, they're also a part of who we are. We'll miss them too, whether we've cared for them for months or only a single day. The ribbon will not go away. It's part of us."
Visual Symbols of Caring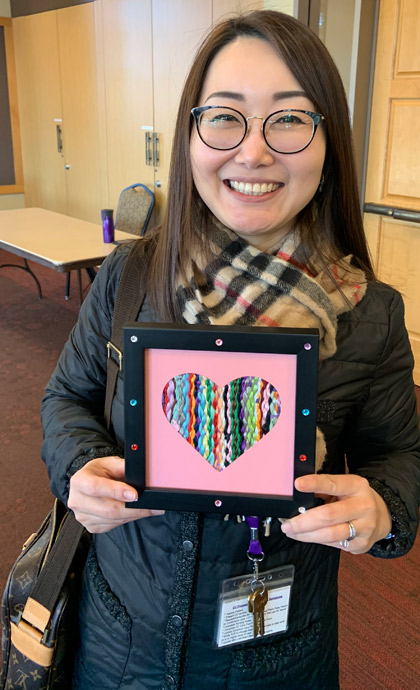 The first heart-shaped Matters of the Heart wreath was dedicated in February on Valentine's Day. It now hangs near the Sacramento office's Pediatric Tree, which is decorated with ornaments dedicated to children who have died on hospice care.
That same week at an all-staff meeting, the VITAS Sacramento Intensive Comfort Care® (ICC) team presented a heart award to Team Manager Alyssa Cho. The ribbons that adorned the ICC team's 2019 wreath were too numerous to count.
In March, a second wreath crafted by the daughter of Volunteer Manager Sandra Sandoval-Gonzalez was presented to the VITAS office in Fairfield, California.
David credits his predecessor with starting the ribbon tradition and his VITAS colleagues for turning them into wreaths that serve as permanent reminders of patients, families, and the value of compassionate end-of-life care.
"I think it's healthy for everyone," David says. "It's simple but ever so reverent."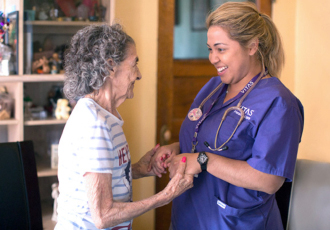 Choose a Career with VITAS
We offer a variety of full-time, part-time and per-diem employment opportunities. Employees earn competitive salaries and have the flexibility to choose a benefits package suitable to their own needs and lifestyle.
See Current Opportunities