Volunteers
A Holiday 'Thank You' to VITAS Hospice Volunteers
While COVID-19's restrictions limited the ability of VITAS hospice volunteers to visit personally with their patients and families, nothing dampened their commitment to make sure patients received the extra support they needed.
The volunteers working with our hospice care teams in Orlando, like others around the country, went above and beyond in 2020 to connect with their patients, whether through regular telephone check-ins, hand-written notes and letters, socially distanced visits through nursing home windows and doors, or goodie bags placed on patients' front porches to let them know someone cared.
To show their thanks, the volunteer and bereavement team in Orlando hosted a safe, socially distanced appreciation event 10 days before Christmas in the parking lot of the VITAS office in Maitland, Florida.
"It was an opportunity to be able to have safe, personal interaction with the volunteers we all miss," said Rob Bacon, Orlando's volunteer services manager.
'A Fun Flare to Show Off Our Amazing Volunteers'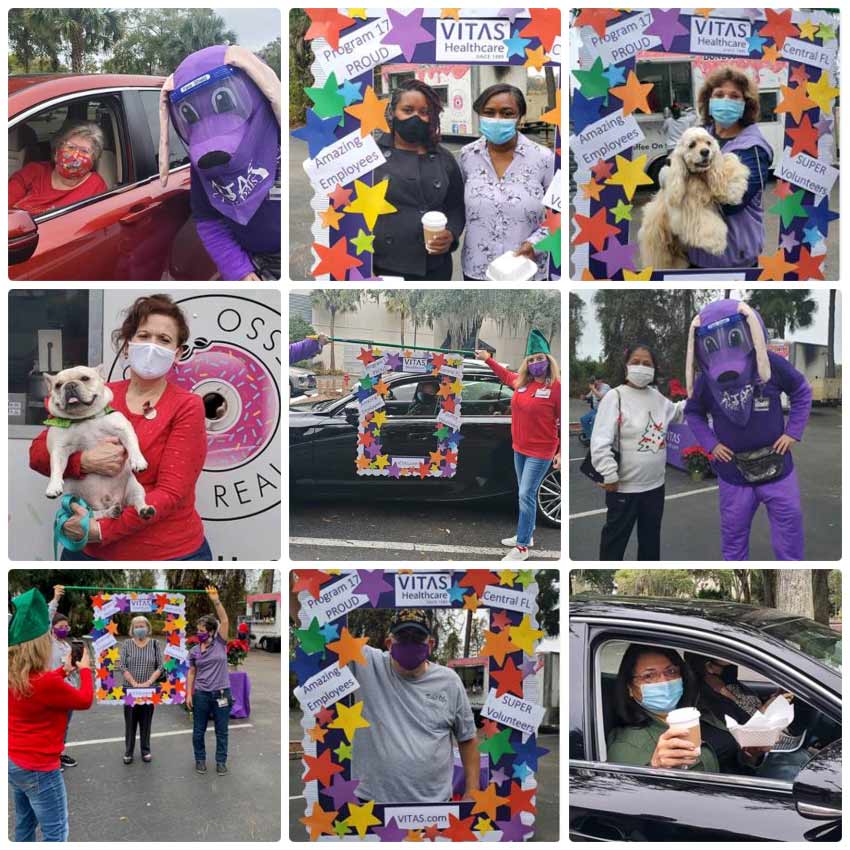 Volunteers fill a variety of roles with VITAS, whether they serve as listening ears for patients and families, errand-runners, or writers and recorders of biographies that document a patient's life and legacy. Some volunteers handle administrative tasks in VITAS offices, while others leverage their sewing skills to create Memory Bears from articles of clothing or fabric donated by a patient's family.
Bacon coordinated Orlando's holiday appreciation event with colleagues Ramona Huff, Janet Pinero, and Fran McClintock. Wearing masks as they participated in the drive-by event, nearly 75 volunteers enjoyed refreshments and pastries from the Donuts & Real Espresso food truck, individualized photos inside a floral hand-held frame, and a visit from the Paw Pals® mascot.
"Having the photo frame added a fun flare to show off our amazing volunteers and let them know how grateful we are to them," Bacon said.
The event was so successful, in fact, that it was repeated a week later for the entire Maitland office staff.
Volunteers: A Key Member of Each Hospice Team
In the hospice care model, each interdisciplinary team — physician, nurse, aide, social worker, chaplain, and bereavement specialist — also requires a hospice volunteer who is available to hospice patients and their families in whatever ways they need help, including in-person visits during non-pandemic times.
"Because of COVID-19, not as many members of the team can visit in person, but we're still here to let them know that we care, we're available, and we'll help however we can," Bacon says. "The volunteers who were making in-person visits are now writing letters and notes to the families or making general phone calls to check in on them regularly."
Bacon pointed out that his program's 140 volunteers actually logged more hours in 2020 than in 2019, in part because of the demands of the pandemic and also because of their participation in a nationwide VITAS Volunteer Call to Action campaign. That initiative recruited and trained nursing students and existing volunteers who make regular, care-related check-in phone calls to thousands of patients a day.
"It's been very heartwarming to see the positive impact on the families and patient caregivers as a result of the additional communication," Bacon says. "They still feel that they have a direct pipeline to VITAS whenever they need us."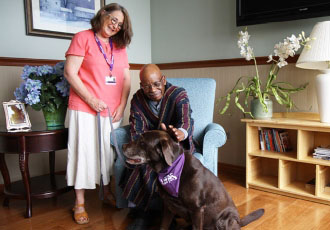 Volunteer with VITAS
Because hospice patients have unique end-of-life needs, VITAS seeks volunteers from all backgrounds, experiences and cultures.
Apply To Volunteer Today