Volunteers
'Volunteers Work Magic' on Every VITAS Hospice Team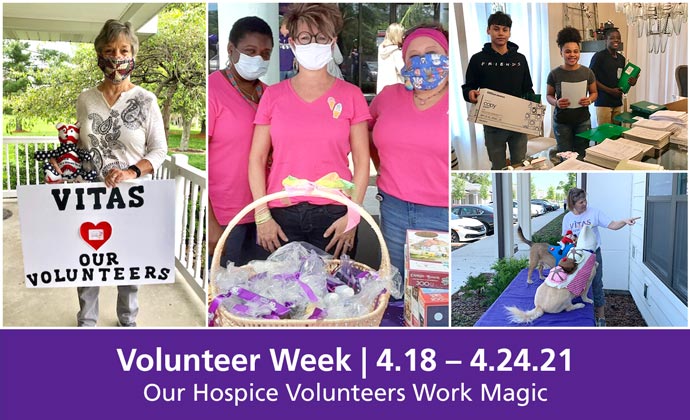 April 18-24 is National Volunteer Week, a nationwide recognition of the volunteers who provide a wide variety of invaluable services to our communities, organizations, and institutions.
This year, VITAS Healthcare joins the nation in celebrating all volunteers, but especially those in healthcare, whose contributions underscore the 2021 theme: "Volunteers Work Magic."
"Some [hospice] patients don't have any family to turn to," says Alfred Sasiadek, a VITAS volunteer for more than 12 years. "It's the feeling of giving back that keeps me going."
Thousands of Hours Serving Patients and Families
At VITAS, every hospice team is supported by volunteers who offer their time, skills, and compassion to meet the needs of patients, caregivers, and families. These dedicated individuals are cut from a unique cloth—and indeed, cloth-cutting is a key responsibility for many of our sewing volunteers—as demonstrated by the staggering number of service hours they've given freely to VITAS teams and patients in 14 states and the District of Columbia.
In 2020, 4,550 VITAS volunteers persevered through the many challenges of COVID-19 to serve a total of 121,732 hours. Of those hours:
15,557 were spent visiting our patients
3,000 were dedicated to telephone calls to patients, families, and caregivers
"There is a need for volunteers, and there has been a need since I started," Alfred says. "I've developed really great relationships with patients and caregivers. Some even have my number saved in their phones."
A Variety of Hospice Volunteer Opportunities
The Centers for Medicare and Medicaid Services require volunteer hours to comprise at least 5% of a provider's total patient care hours.
In hospice, volunteer roles are as varied as the patients we serve. In addition to spending time with patients and families in person or over the phone, VITAS volunteers:
Accompany their Paw Pals® pet companions to visit patients in their homes and assisted living facilities
Sew Memory Bears and pillows (about 11,980 in 2020) from patients' favorite or distinct clothing for their loved ones to remember them by
Collect biographical information to help patients leave behind personalized accounts of their lives
Provide entertainment and enrichment through music, poetry, and visual arts
Soothe aches and discomfort with gentle massage, acupressure, and Reiki
Offer an empathetic ear to fellow veterans who may struggle to open up to civilian loved ones
Pamper patients with haircutting and styling, makeup assistance, and manicuring/pedicuring
VITAS thanks our volunteers for their crucial work and commitment to the hospice mission. If you're interested in joining them, visit the link below to apply and learn more about volunteering opportunities near you.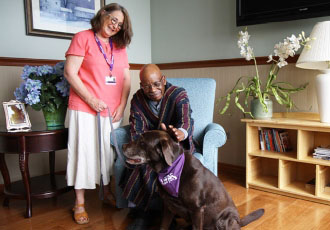 Volunteer with VITAS
Because hospice patients have unique end-of-life needs, VITAS seeks volunteers from all backgrounds, experiences and cultures.
Apply To Volunteer Today