Volunteers, Memory Bears
VITAS Hospice Volunteer Extraordinaire Ingrid Evans: 1,000 Memory Bears, 4,652 Donated Hours and Counting…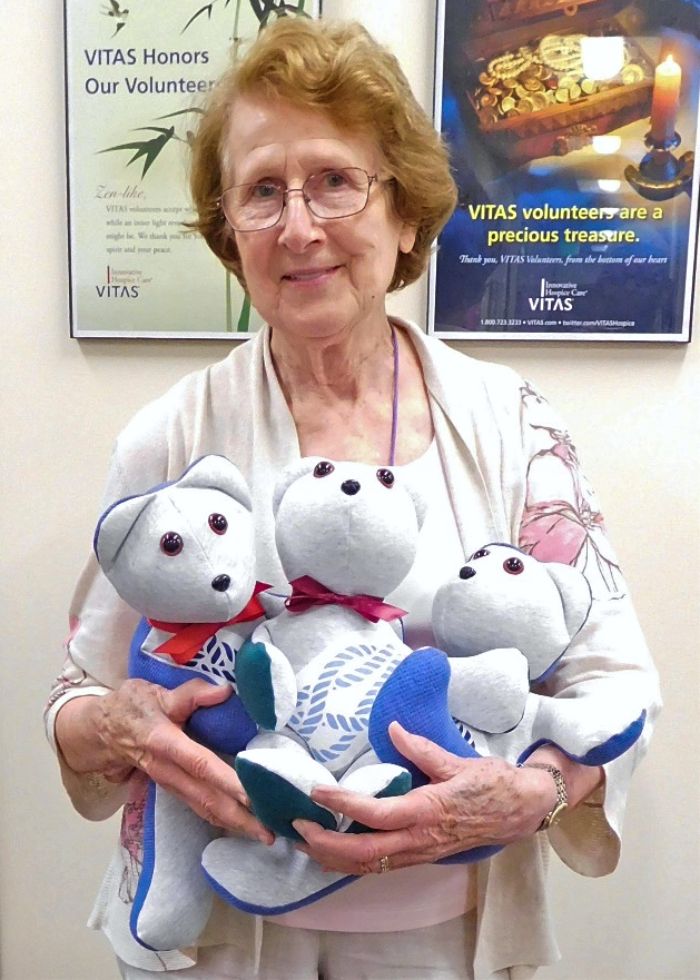 Ingrid Evans of Orinda, California, recently stitched up her 1,000th Memory Bear for families of VITAS hospice patients in the San Francisco area.
Ingrid, who is 90, created the bears over the 10 years she's been volunteering for the VITAS team based in Walnut Creek.
Like all volunteers who sew Memory Bears, she created each one by hand from a memorable piece of clothing or fabric donated by a hospice patient's family. The bear serves as a lasting, comforting, cuddly reminder of a spouse, partner, parent, grandparent, sibling, relative or friend who passed away.
"When people find out I volunteer for a hospice company, they'll say things like, 'Oh, that must be hard,'" says the soft-spoken Ingrid, "but it's not hard at all. In fact, it's very gratifying, because you really feel like what you're doing makes a difference. I want to be useful. I don't want to sit around watching TV all day. Volunteering for VITAS makes me feel like I'm doing something good for other people, and it's uplifting in every way."
'Huggable Keepsakes'
"The care Ingrid takes with each request is extraordinary," says VITAS Volunteer Service Manager Tami Blaj. "She ensures that each piece of clothing is carefully handled to create huggable keepsakes."
"As an example, a grieving daughter asked that three bears (for three daughters) be made from a combination of their mother's linen wedding suit and a favorite comforter. Ingrid was the only volunteer we could entrust with this special request."
Another bear incorporated a Tilley hat for a patient who was an avid hiker and outdoor enthusiast, and Ingrid even figured out how to incorporate a photograph into a bear that memorialized a child who had passed away on hospice care.
"One patient had been a fan of ballroom dancing, and she had beautiful dresses, including a little black bolero with fringe," Ingrid recalls. "Can you imagine sewing fringe into a bear? As it turned out, that bear was quite fetching."
'It Helped Me So Much, Too'
Ingrid began volunteering for VITAS in 2009 after the death of her 84-year-old husband, Rod. The couple had been married for 59 years, and they were business partners at Access, the San Francisco staffing agency they owned for 35 years.
"Volunteering for VITAS makes me feel like I'm doing something good for other people, and it's uplifting in every way."
"We did everything together, and losing him was very hard to adjust to," she remembers. "Rod received hospice care at the end of his life, and it was marvelous. That's when I started volunteering for VITAS, and it helped me so much, too."
Shortly after she started volunteering in the office, an email seeking Memory Bears volunteers rekindled her interest in sewing. So Ingrid bought a new Jenome sewing machine, mastered the Memory Bear pattern and began stitching hand-crafted bears for VITAS families who treasure the tangible, huggable stuffed animals made from their loved ones' favorite shirt, uniform, dress, sports jersey, comforter or other fabric.
That was nine years and 1,000 bears ago.
More Goodwill Beyond the Sewing Machine
Tami describes Ingrid as a "volunteer extraordinaire." She also volunteers two hours every Tuesday in the VITAS East Bay team office.
And she's hoping that Honey Bun, the Shih Tzu she adopted a year ago, eventually will settle into a calmer frame of mind so that she can resume Paw Pals® volunteer pet visits to hospice patients and families, just as she used to do with Herbie, her late "total lap dog" King Charles Spaniel.
As if her volunteer work for VITAS isn't enough, Ingrid also donates several hours a week to the Orinda Library and is a volunteer driver for Seniors Around Town, a volunteer transport service for seniors in her community.
'I Can Give That a Try'
Ingrid has logged 4,652 volunteer hours during nearly 10 years with VITAS.
"There really aren't enough words to describe Ingrid's contributions to our program," says Tami. "Her unassuming demeanor belies the many gifts she provides to us all. It really appears there is nothing she cannot do–and do well. At every request, she's stepped forward and said, 'I can give that a try.' She not only tries, she excels and is consistently a star among stars. The support she's shown to our staff and patients, and the good word she spreads throughout the community have only strengthened the abilities of our organization to assist the people in our care."
And there's another reason the 90-year-old continues crafting Memory Bears for VITAS families: "It keeps me out of trouble," she says with a wink.
Become a hospice volunteer.