Nurses, Diversity, Working at VITAS
Celebrating 20 Years of Opportunity with NBNA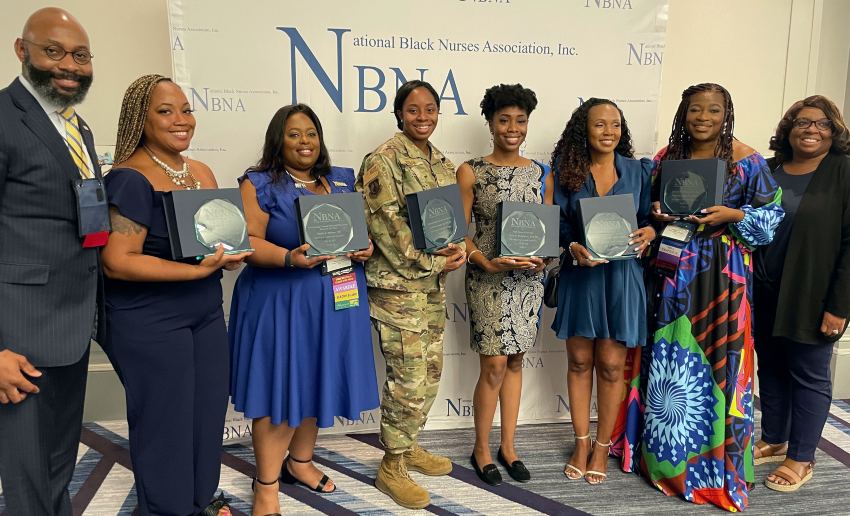 "Meeting with other influential, successful Black nurse leaders encouraged me to pursue higher education and to seek opportunities for career advancement at VITAS."
Donna Borland recalls her early days in nursing. As a member of the National Black Nurses Association (NBNA) and a VITAS employee, the partnership between the two organizations provided her with the mentorships and continuing education needed to grow her career in healthcare.
She has been promoted from field nurse to team manager, to patient care administrator, to associate general manager, and today, she is general manager at VITAS in Broward County, Florida.
"As a general manager at VITAS, I feel empowered to ensure VITAS staff keeps patients comfortable, educates families, and provides excellent care for patients at the end of their life," she says. "Daily, I am honored and feel privileged to support patients' and families' satisfaction with the care and services we provide."
See our current nursing job opportunities >
Hospice-Focused NBNA Chapter Founded by VITAS Nurses
It was 2003 when Diane Deese, current vice president of community affairs at VITAS, was asked to speak at a NBNA conference about end-of-life care for underserved communities.
She had recently been promoted from VITAS general manager in Chicago to a corporate role, and what she witnessed at the conference was life-changing.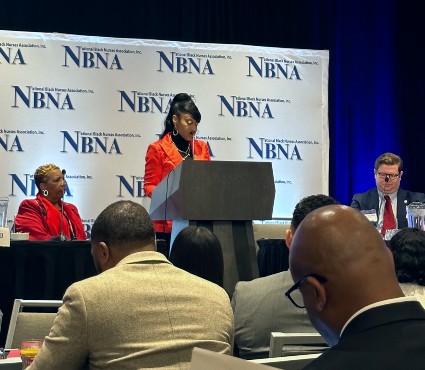 "I'll never forget it," she says. "There are no words to describe it. I spent all day observing nurses and saw women of color with high positions in healthcare. Heads of nursing departments, deans of nursing schools, CNOs, you name it."
It was the first time Diane had seen so many Black women in leadership positions in healthcare. And when she noticed the number of organizations supporting those women, she knew she wanted VITAS to be a part of that support system, too. Since that first experience in 2003, VITAS has been present at the NBNA national conference every year.
In 2014, Diane, Donna, and a couple of other key nurses from Broward County began the work of forming a chapter specifically focused, at the time, on end-of-life care. Their efforts paid off: In 2015, NBNA chartered the Greater Fort Lauderdale Broward County Chapter of NBNA.
"As a VITAS worker, I am very proud that we created NBNA's first hospice-focused chapter in my community which is very diverse," Donna explains. "It was actually started by passionate hospice nurses, including myself and many of my colleagues who were excited to share end-of-life education with other nurses in our community."
Partners in Advancing the Black Nursing Community
In the 20 years since, VITAS has partnered with NBNA to provide opportunities for Black healthcare professionals within the nursing community. With the collaborative VITAS Healthcare/Esther Colliflower End-of-Life Scholarship and continuing education training for NBNA members, VITAS is dedicated to providing opportunities for Black nurses interested in pursuing a career in hospice and palliative care.
I am proud to be a VITAS employee because they don't just talk about what they do, they show it in action.

-Dawn Rainer, VITAS Healthcare general manager
Founded in 1971, NBNA was established to "to serve as the voice for Black nurses and diverse populations ensuring equal access to professional development, promoting educational opportunities, and improving health."
Today, NBNA represents 308,000 registered nurses, licensed vocational/practical nurses, nursing students, and retired nurses in the 112 chartered chapters located in the US, Eastern Caribbean, and Africa.
In 2017, VITAS and NBNA formed the "End-of-Life Care Resolution." Considering the association has only passed 10 resolutions since its founding more than five decades ago, it was no small initiative.
The resulting resolution, which was voted on and passed by hundreds of committee members and delegates, is a declaration that all patients are entitled to appropriate, culturally sensitive end-of-life care options, and nurses have a significant role to play in providing that care. In 2021, NBNA formed the End-of-Life Care Ad Hoc Committee.
In 2023, VITAS was recognized with the inaugural Corporate Roundtable Award at NBNA's 10 Year Anniversary corporate roundtable meeting as part of the 35th Annual National Black Nurses Day on Capitol Hill.
A Surprising Fork in the Career Path
Diane has been with VITAS for 22 years, and while instrumental in forming the NBNA chapter at VITAS, she is not a nurse. Even as one of 10 worldwide End-of-Life Nursing Education Consortium (ELNEC) Trainer of the Year award winners in 2010, based on her knowledge, medical expertise, advocating, and overseeing the providing of nursing education, Diane never pursued a career in nursing.
She explains, "I went to school to be an EMT and after passing school and boards, I was informed that I would not be able to ride on the ambulance because of my size."
She was told she would not be able to lift patients or physically "pull her weight," and was assigned to a post in the ER. But Diane wanted to be a first responder.
While she was encouraged to go back to school to earn her nursing degree, today she is happy she did not. "I'm better at advocating and fighting for nurses," she says. "I am more effective on the business side than I could be as a nurse."
Rewarding and Fulfilling Work
Donna did not originally intend on pursuing nursing, either.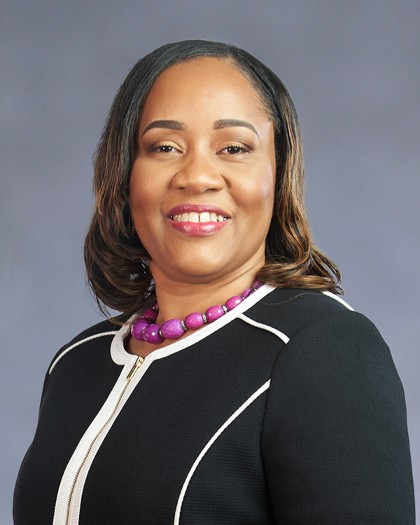 But, with encouragement from an older sister, a much-admired and tenured RN, she enrolled at Broward College where she fell in love with the program.
"While in nursing school, I developed a deep love for nursing as I realized that it is an exceptionally rewarding and fulfilling career path," she says.
During her shifts at Sunrise Nursing and Rehab Center where her career began, Donna often interacted with the VITAS team as they cared for patients nearing the end of life.
"VITAS was the hospice of choice," she says. "They had a great reputation in the community. Patients and families and physicians always recommended VITAS based on their positive experience."
Witnessing their compassion and dedication firsthand solidified her opinion.
"They would take the patients outside, paint their nails, and focus on making dreams come true for [them]," she recalls.
"I admired the VITAS staff as they focused on ensuring the VITAS patients received excellent care. I decided then that I wanted to work with VITAS."
From Curative to Curious
Dawn Rainer, general manager of a Chicago branch of VITAS, began her nursing career in scheduling in a hospital setting. She went on to pursue the roles of LPN, then RN, Master, and eventually Nurse Practitioner. While enjoying a fast-paced career in a critical care Level 1 trauma unit, she received a call from a recruiter at VITAS.
"I never thought I would leave the hospital because I was so passionate about curative care," she says.
In fact, Dawn wasn't even sure if she'd move forward with a job interview at VITAS. But when she arrived, the experience was eye-opening: The passion she witnessed from the interviewing team and the way hospice nurses help people die in dignified and respectful ways was so heartwarming.
"It's the best thing I could have ever done," she says, adding, "The care you provide for people at the beginning of life should be no different than what you give at the end of life."
A Partnership That Makes Us Proud
Dawn has been a member of NBNA for more than 20 years, but she was not aware of the partnership with VITAS when she joined the company.
Once she discovered the connection, it immediately solidified her decision to stay.
"When I found out about the connection and the amount of charitable work VITAS does to help minorities, it made me want to stay with the company," she says. "I am proud to be a VITAS employee because they don't just talk about what they do, they show it in action."
The partnership with NBNA is critically important to ensure that Black nurses are educated about providing end-of-life care.

-Donna Borland, VITAS Healthcare general manager
In the Chicago neighborhoods where Dawn is located, VITAS provides charitable funds for patients of color and immigrants who may not be able to afford healthcare otherwise. The VITAS chapter of NBNA in Florida provides a connection to a diverse group of nurses who may not have applied to hospice positions. And with the NBNA representation, patients and their families have more access to nurses who not only look like them, but who understand them on a more personal level.
"For a community that has shunned healthcare in the past, to have a nurse who looks like them encourages access to care more quickly," Dawn explains. "They think, 'Someone who looks like me is telling me to do this.' It takes away the fear because it allows patients and their families to connect and engage with people who understand their background."
As a co-founder of the hospice-chapter of NBNA, Donna knows how important the partnership is to ensure consistent hospice education and increased hospice services for underserved communities.
"Traditionally, African Americans underutilize hospice. Many of them think of death when they hear the word hospice and many are not aware that all eligible hospice patients, regardless of their color, are entitled to all the benefits of end-of-life care."
Seeing End-Of-Life Care as a Viable Career Option
Working with NBNA gives VITAS the opportunity to partner with nursing schools around the United States and provide aspiring nurses with the knowledge and tools they need to see end-of-life care as a viable career option.
"The partnership with NBNA is critically important to ensure that Black nurses are educated about providing end-of-life care," Donna says, adding, "As more nurses learn about hospice, they will see the need to ensure that all patients and families in their communities are made aware of the benefits of end-of-life care."
"That's the goal," Diane explains, "to have the ability to educate nurses on local levels who may not have seen end-of-life care as a great a career path."
Even as a founder of the inaugural chapter of NBNA at VITAS, Diane, not being a nurse, was not a member. However, this all changed in 2018 when Diane was inducted as an honorary member for her years of dedication to the association and to nurses in hospice care.
"If you are a nurse of color and I see you at a hospital, nursing facility, or even Starbucks, I will ask if you are a member of NBNA," she says. "When they ask me, 'Well, are you?' now I can say, yes I am."
Educational Support and Career Growth
To date, NBNA members have accrued over 20,000 hours of educational training through the VITAS partnership. VITAS is also a proud supporter of the "Under 40 Forum," one of the many programs at NBNA's annual conference in recognition of the organization's members aged 40 and under.
"I can go anywhere I want in my career," says Dawn, "but VITAS stands for our best today and even better tomorrow and I see that every day."
View all current nursing job opportunities with VITAS.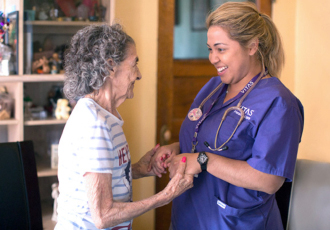 Choose a Career with VITAS
We offer a variety of full-time, part-time and per-diem employment opportunities. Employees earn competitive salaries and have the flexibility to choose a benefits package suitable to their own needs and lifestyle.
See Current Opportunities