End of Life Wishes
VITAS Patients Celebrate 77th Wedding Anniversary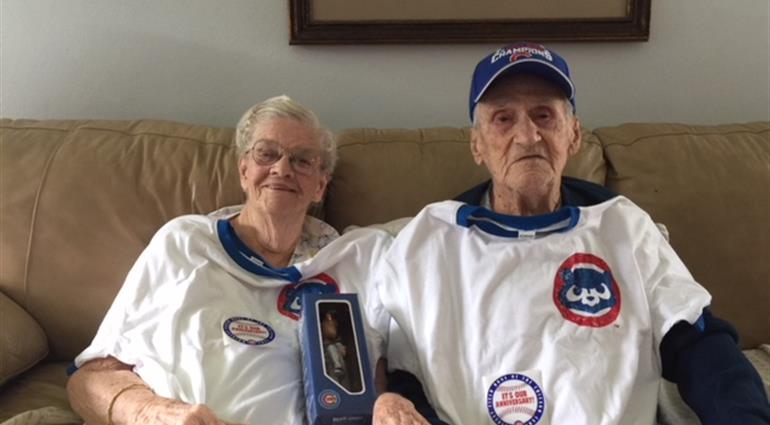 For some, 77 years is a lifetime. But for VITAS hospice patients Everett and "Tiny" Rittenhouse of Chicago, 77 years was just one chapter in their life together.
With the help of our great team in Chicago, Chaplain Nicolle Grasse and the Chicago Cubs, the happy couple celebrated their 77th wedding anniversary on August 20, 2018, complete with a party thrown by their hospice team. The Chicago Cubs sent a gift package containing team shirts, bobble heads and stickers to make the occasion extra special for the Chicago baseball fans.
According to VITAS Team Manager Paige Medynskyj, members of the Rittenhouses' hospice care team had planned the anniversary party for weeks. When the day of the event came, their hard work paid off in a surprising way.
"The patients were so thrilled that they asked Chaplain Nicolle Grasse to help them renew their vows," Medynskyj said. The spontaneous request surprised the team, but in keeping with the VITAS value "patients and families come first," they made it happen.
As the chaplain led the vow renewal ceremony, the Rittenhouses' grandson captured the beginning of their next chapter together on video.
"This is what I call making a difference," Medynskyj said. "This is how we touch the lives of so many patients and families."