Working at VITAS, VITAS Values
At VITAS, Teamwork Creates Outstanding Hospice Experiences
The two-fold goal of hospice is simple: provide a patient with comfort and dignity as they near the end of life, and support their family and caregiver throughout their loved one's hospice experience and for the first year after their death.
Achieving that goal can be a little more complicated. To do so, a team of clinical, psychosocial, and spiritual professionals—as well as volunteers—works together to develop and enact a care plan designed to meet each patient's individual needs and preferences.
We can nourish the patient's mind, body, and soul.

-Laurel Torres, VITAS volunteer manager
When every member of the hospice team commits to putting patient and family first, the patient completes their end-of-life journey free of pain and symptoms. Their family is left with peace of mind and joyful, comforting memories of their loved one's final days, weeks, or months.
Iona Cortez remembers her mother's time in hospice with fondness. While some of the bitterness of loss still lingers more than two years later, Iona's recollection of the days before and after her mother's death are dominated by the love and compassion of her VITAS care team.
"It was really a very rewarding experience," Iona says. "The team kept Mama fed, they kept her clean, they kept her comfortable. It truly added to her life to receive that special care from [VITAS]."
From Hospital to Home with Team Support
Iona's experience with VITAS began in early 2019, when her mother, Evelyn Simon, was hospitalized for breathing issues. A pulmonologist found a mass on Evelyn's lungs, but given her age, he advised against invasive and potentially traumatic curative treatment.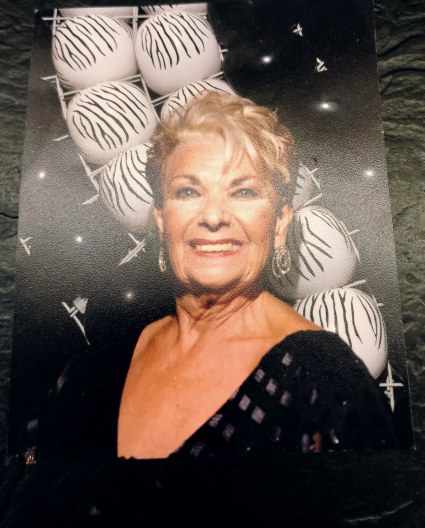 Evelyn, already a four-time cancer survivor, agreed: "Just leave me alone," Iona recalls her saying.
A hospital case manager recommended hospice care through VITAS at Iona's home in Broward County, Florida.
Iona and Evelyn accepted.
Once or twice each week, a member of the VITAS team—which includes a physician, nurse, aide, social worker, chaplain, bereavement specialist, and volunteer—visited Evelyn at her daughter's home to deliver medications and supplies. They ensured both Evelyn and Iona had the support they wanted.
Iona also hired a private aide, who fulfilled the role of daily caregiver.
When Evelyn moved into a nursing home, the VITAS team followed her. They worked hand in hand with nursing home staff to provide ideal care:
A nurse checked vitals, monitored symptoms, and coordinated with the team physician and facility staff on Evelyn's care plan
An aide visited regularly to bathe Evelyn and provide gentle exercise
A chaplain stopped by "all the time," Iona recalls, counseling both mother and daughter on spiritual concerns, and offering much-desired conversation to Evelyn when Iona couldn't be around
A certified volunteer even gave Evelyn a relaxing massage on at least one occasion
"Our volunteers fill many roles, depending on the needs of the patient and family," says Laurel Torres, volunteer manager for VITAS in Broward County. "We can nourish the patient's mind, body, and soul, and it's nothing you're going to find in a medicine bottle. Volunteers give patients dignity, respect, and a human touch when they need it most."
'At a Minute's Notice, There Was Help'
As Evelyn's condition worsened, Iona noticed a peculiar trend: "She always went critical on the weekend, right on schedule," she says.
But no matter when symptoms flared—after hours, nights, weekends, or holidays—members of the VITAS care team were always available to provide support.
"At a minute's notice, there was help from VITAS—immediately," Iona says. "There was no waiting, it was great. And [VITAS] usually sent the same people, so Mama was always comfortable with them."
Each VITAS patient is assigned a personal team, ensuring they and their loved ones can form meaningful relationships with the professionals delivering their care. Iona emphasizes how much this meant to both her and her mother.
"Even at the end, when she had slight dementia and she was in and out, she was able to recognize the faces of her care team," she says. "I think that's a very important part of the service [VITAS offers]."
Memories Made Material
After Evelyn died in April 2019, Iona continued to receive support from the VITAS team.
The chaplain and bereavement specialist offered her guidance on navigating the loss of her mother.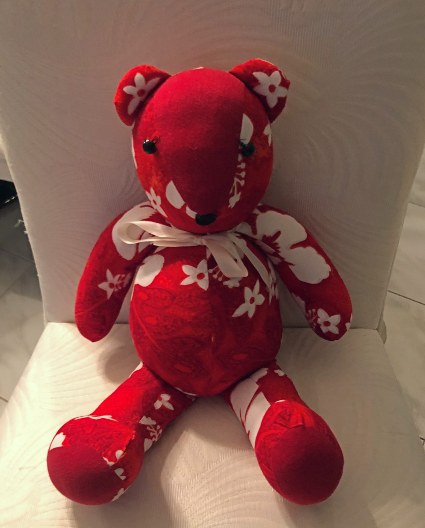 Iona was most thankful for the efforts of VITAS volunteers who sewed two plush Memory Bears using fabric from a couple of Evelyn's favorite garments—one in red, one in turquoise.
As an extra memento, the volunteers attached a photo of Evelyn to the back of each bear.
"It's such a beautiful thing. When I picked up the red one, I knew right away it was my mother," Iona says. She recalls having headaches as a child, but when her mother held her, the pain always seemed to vanish.
Iona put the Memory Bear to the same test.
"One day, I had a really bad headache, so I held the teddy bear, and it made my headache go away. I can't explain it, but it's true."
Iona is so enamored with her Memory Bear that she's already made plans to have it placed in a memorial wall along with her own cremated remains. The other bear now belongs to her son.
This comprehensive approach, Laurel says, is a glowing example of the "comfort, care, and joy" that hospice volunteers can provide patients and their families.
"It doesn't matter what the diagnosis is, the volunteer will elevate the quality of care," she says.
'There Was Always Some Kind of Love and Care'
More than two years after Evelyn's death, Iona remembers plenty about the "phenomenal" care her mother received at the hands of the VITAS team. But what stands out most to her is the team's attentiveness, especially toward the end: No matter the situation, a nurse, aide, chaplain, or volunteer was nearby, offering company, conversation, or even a gentle touch.
"I know that if VITAS was there, I could relax," Iona says. "With that level of care, I didn't always need to be right there."
"Even if she was sleeping, a team member would be right by her, all the time," she says. "When she was critical, they were there. Even if they were visiting another patient, they would always stop by. Sometimes it was just a kind touch on the arm, but there was always some kind of love and care from [the VITAS] team."