Diversity, Working at VITAS
Hospice Education, Empathy Make Inroads with Vietnamese Community in Orange County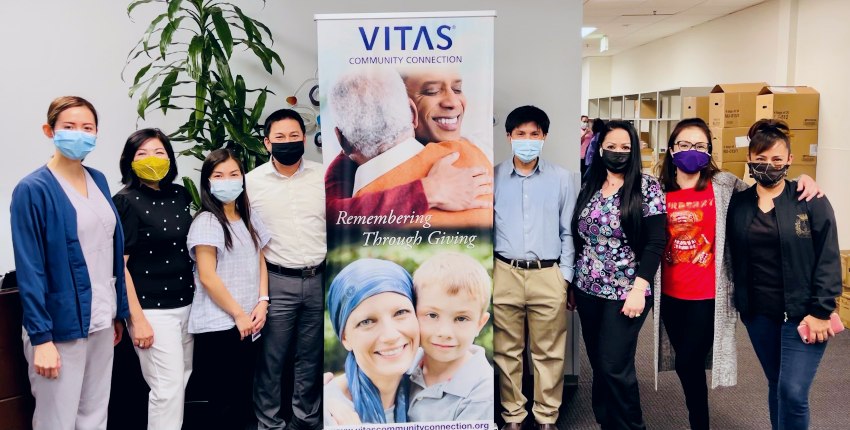 Tiffany Phuong is accustomed to meeting people in their most difficult moments. As an admission liaison for VITAS in Orange County, California, she devotes herself to guiding patients and families to the hospice services she believes offer the best hope for comfort and dignity near the end of life.
"I meet patients and families day in and day out: when they're in pain, when they're in fear, when they're frustrated, confused—they don't know what's happening with them," Tiffany says. "As an admission liaison, I see all sides of this."
"My work is very fulfilling, to the point that I feel this is more a mission than just a job."

-Tiffany Phuong, VITAS admission liaison
Every admission liaison must navigate unique barriers to access and other challenges in the communities they serve. Outreach is part of the purpose-driven career Tiffany enjoys at VITAS.
For her, the challenges hit especially close to home. She is a member of VITAS' Vietnamese-speaking care team, and her own Vietnamese heritage offers insight into a particular microcosm of a systemic issue: While Asian Americans and Pacific Islanders comprise about 5.6 percent of the US population, they only accounted for 1.8 percent of hospice patients in 2018.
"When I started with VITAS, I heard the term 'underserved community.' That really caught my attention," she says. "I felt the reason the [Vietnamese] community was underserved was because they had never been educated about hospice [in the US]."
'We're Here to Walk the Journey with Them'
To Tiffany, the disparity is both an issue of misaligned cultural perspectives and educational shortcomings on the part of healthcare professionals.
Her views resonate with Robert Nguyen, MD, medical director in Orange County.
"[Southeast Asian] people come from their own countries where hospice is often a place, not a service," Dr. Nguyen says. "One of the most common misconceptions is that when you go onto hospice services that you are giving up... but we still continue to care for and treat patients medically. We're here to walk the journey with them."
A Passion for Meeting People Where They Are
Tiffany takes a grassroots approach to hospice education. Nearly every day, she's in Orange County communities teaching workshops, speaking to groups large and small, and providing one-on-one informational sessions in community centers, churches, temples, private residences, and even on Vietnamese television and radio broadcasts.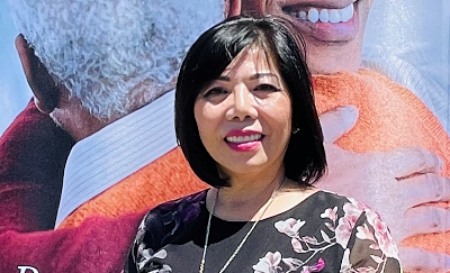 She works with nonprofit agencies throughout Orange County, including Boat People SOS (a Vietnamese American civic and political group), Vietnamese American Cancer Foundation, Caregiver Resource Center, and Alzheimer's Orange County, among others.
Some of these groups cater to members of a variety of ethnicities, offering opportunities for cross-community connections. Networking is the name of the game, and every interaction has the potential to open doors to new audiences who haven't yet learned about the benefits of hospice.
"People come to one meeting and they think it's very helpful, and then they invite me to their own group," Tiffany says. "I want to help people to recognize how important that is. When I started 10 years ago, we hardly had Vietnamese patients. One positive experience brings others to us."
'It's About Increased Quality of Life'
Dr. Nguyen encounters plenty of other misconceptions about hospice from nursing home residents and staff alike as he provides education in local facilities. Many of the concerns he hears apply to all cultures.
Related: How Diversity Informs Our Care and Culture >
"A lot of people think it's all doom and gloom, but it doesn't have to be like that," he says. "It's about...increased quality of life. We offer chaplains, social workers, as well as pet visits and musical therapy services. A lot of people are afraid to be on hospice, but once they're on, they almost always end up appreciating the support."
That's part of what keeps Tiffany scouring every corner of Orange County, looking for new ways to spread the word about VITAS and hospice: Patients and families who elect our services—especially those who are referred early enough to receive the fullest benefits—overwhelmingly express satisfaction with the experience. (Research suggests that many hospice patients even live longer than those who did not elect hospice prior to death.)
"In reaching out and letting people know what we do, we show that we're out there and ready to help," she says.
'Go the Extra Mile for Patients and Families'
Jacob Huynh, MD, a home care physician on the Orange County team, grew up in Vietnam and finds great fulfillment in helping his predominantly Vietnamese patients experience more meaningful lives.
After 20 years in his field, he sees that "each community has their own particular needs, but I think what's in common with them is more prominent: We each need someone to listen to us, to understand our anxieties. There are always family dynamics that need to be taken into account, and in hospice we need to find a way to leave a legacy for the family."
By focusing on common goals—comfort, dignity, quality of life—hospice has the power to overcome barriers and bring together people from any culture. VITAS continues to spread this message through education and by demonstrating firsthand the benefits of hospice and palliative care.
"My work is very fulfilling, to the point that I feel this is more a mission than just a job," Tiffany says. "If we can go the extra mile for patients and families and give them the hope and peace and love and compassion they deserve, that means so much."