Nurses, Working at VITAS, VITAS Values
Why Nurses Find the Hospice Setting Fulfilling
Nurses work in many healthcare settings. From hospitals to physician offices to urgent care, these clinicians support patients with professional and compassionate care.
Why should they consider working for a hospice provider? This setting offers a unique opportunity to comfort and help ease the pain of patients experiencing advanced illnesses.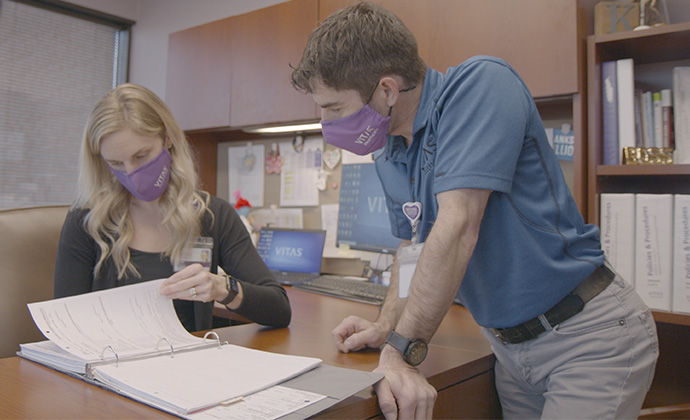 "I make a difficult time easier for patients and their families by providing a true presence," says Philip Paleudis, a VITAS registered nurse in Dayton, Ohio. "As a team, our presence puts people at ease. I've heard many times, 'Oh, thank you, you're here.' Our presence is of utmost importance. The patients and their families put their trust in you. They trust your opinions. They trust what you have to say."
The nurses do not take this trust for granted. It is just one reason Philip finds the hospice care setting so fulfilling. He values this patient contact near the end of life, a time that can be deeply meaningful.
"Right now, my place is at the bedside and with patients and families," says Philip. "I think I portray empathy and a sense of calm. I like to share my knowledge and comfort them whenever possible. I don't feel like I can do that anywhere else."
A Source of Positivity During a Challenging Time
Philip's compassion matches his desire to provide positive solutions. When patients are particularly vulnerable, hospice nurses provide a level of care that enhances their quality of life. This experience can be memorable for both the patient and their loved ones.
Related: How Our Team Is Driven by a Can-Do Attitude
"Walking in with a positive attitude, into a patient's home or in a room in a facility, is important," says Philip. "Showing a can-do attitude means going into each new visit with a fresh outlook."
Each patient is unique, and hospice caregivers engage a variety of patients, using their clinical competencies and people skills. The passion that fuels the career of a hospice nurse is a dedication and commitment to the patient's well-being during a significant stage of their illness.
"Commitment to me is meeting the patient and the families at their level. Wherever they are at, that is where we go," Philip says.
Helping Patients, Families, and Colleagues—as a Team
At VITAS, hospice nurses are part of an interdisciplinary team who work together as caregivers for the patient. Yet, Philip's commitment extends beyond his patients and their families to his VITAS colleagues who partner with him.
At VITAS it's very easy to make a difference. The organization provides you with all the tools you need.
"We take care of each other here at VITAS," he says. "Everybody looks out for each other. We want to do what is best for the patient and their family--and that is what we are committed to doing. We all have the same goal. We work well together to get to that goal."
When passion and purpose collide, the result is a team of individuals who work from the heart.
"The people here are genuine," explains Philip. When he began at VITAS as a hospice nurse, "I was welcomed with open arms. That has not changed in the year and a half I have been at VITAS. Everybody here is just wicked cool."
As a culture that puts patients and families first, VITAS values a focus on support and making a difference in one another's lives.
"At VITAS it's very easy to make a difference. The organization provides you with all the tools you need to be able to go out into the community, see your patients, see their families, and speak with the families," says Philip. "Honestly, because being present makes a difference, just being us."
While many careers in nursing offer valuable experience and patient interaction, few intersect with patients at this point of need. As a team member, caring for those near the end of life is particularly satisfying.
For those thinking of pursuing a career in nursing with VITAS, Philip offers these words of advice: "Follow your heart."
View all current nursing job opportunities with VITAS.