Social Workers, Working at VITAS
VITAS Social Workers: Coordinating Compassionate Care for Hospice Patients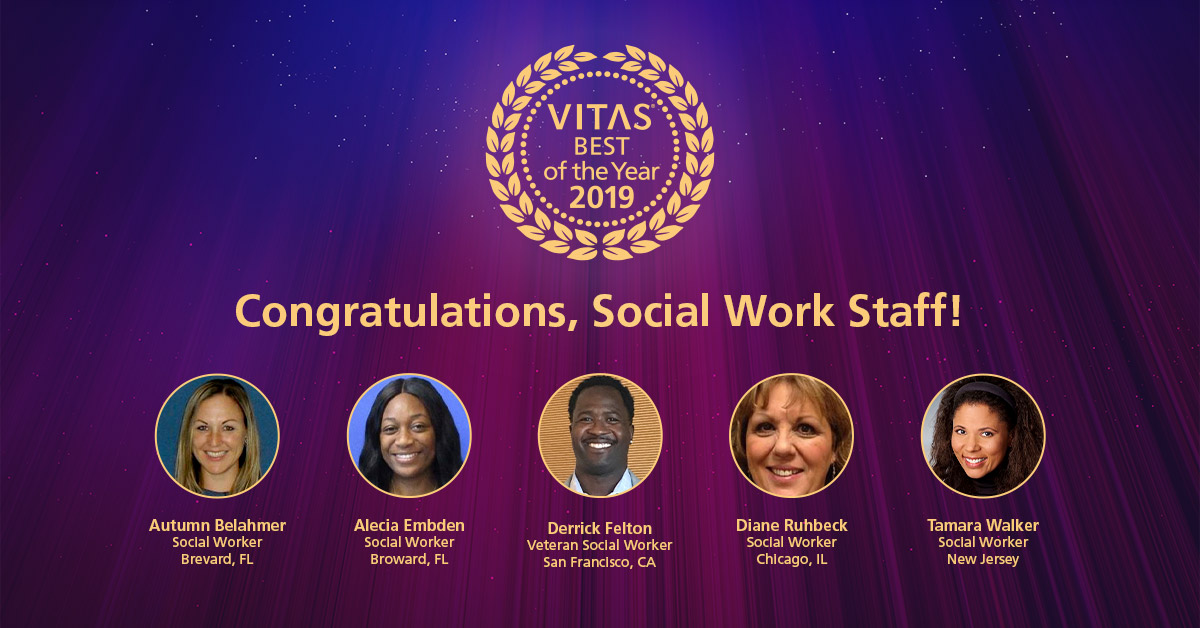 A VITAS social worker is a friend, a cheerleader, a professional. They have contacts that help them find the path for whatever their patient needs.
Learn more about being a VITAS social worker.
Each year, outstanding employees are awarded as VITAS BEST winners for their efforts "Building Excellence, Satisfaction and Teamwork." These VITAS BEST social workers led their regions in 2019:
Derrick Felton, on-call social worker
San Francisco
Derrick is a role model for compassionate advocacy. He works with nearly all the VITAS care teams in San Francisco Bay: always professional, always supportive. An example: Derrick was working with a deceased patient's bereaved spouse when the situation became complex. He spoke with the spouse, de-escalated an impasse and helped identify a simple solution. The relationship was preserved and the whole San Francisco office learned from the experience. He also specializes in caring for the needs of patients who are military veterans. When he heard that a VITAS representative had a client the VA in Palo Alto, Derrick provided information to the representative about VA/VITAS partnerships and began attending meetings and building relationships at the VA. Today, VITAS is their preferred hospice provider.
Diane Ruhbeck, home care social worker
Chicagoland
Diane puts patients and families first. She appropriately identifies patients in need of additional support from VITAS Community Connection. For nine years, she has organized a local team for the Alzheimer's Walk. She is consistently mentioned by name by grateful families, who say things like, "Diane was my comfort and guidance through my mom's last week." Say her co-workers, "If Diane has something else going on, you will never know it, because her focus is on doing what is right for patients and families."
Autumn Belahmer, home care social worker
Brevard County
Autumn has taken on a leadership role with her colleagues and continues to grow in that area. She is always available to assist her teammates, patients and their families. She has trained interns and new social workers. She is dependable; any time she is called upon, she manages to get the task done in a timely manner. She has been known to drive 50 miles, from Sharpes to Barefoot Bay, to assist other teams, while still tending to her own team's needs.
Tamar Walker, home care social worker
South Jersey
Tamar possesses a strong set of values that steer her practice and her life in general. She is dedicated to her patients, her team and the VITAS mission. She steps back when a challenge arises and looks at it from all angles. She is a calm and thoughtful voice in team meetings. Through organizational changes this year, Tamar has been able to care for all the patients on all three teams, attend three team meetings a week, monitor the 5-day window for evaluating new patients and orient new staff.
Alecia Embden, home care social worker
Broward County
Alecia sees patients after hours if needed. She goes out of her way to find programs and assistance to help patients and families who face financial challenges. She makes sure patients are in a safe environment and receive the services entitled to them—and more. Recently, Alecia organized a 100th birthday party for a VITAS patient. The patient is blind and loves music, so Alecia arranged music therapy and the team was on hand with a cake. Alecia made this lady's day!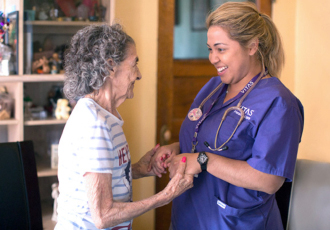 Choose a Career with VITAS
We offer a variety of full-time, part-time and per-diem employment opportunities. Employees earn competitive salaries and have the flexibility to choose a benefits package suitable to their own needs and lifestyle.
See Current Opportunities