Veterans
VITAS Remembers the Veterans of Brevard County

By Paul Kolarik, General Manager, VITAS Healthcare, Brevard County, Florida
What does hospice have to do with our nation's heroes? More than you may think.
One organization, in particular, is committed to honoring veterans and all they have done to preserve our freedom. As many of our local nursing facilities are home to members of this brave group, VITAS Healthcare recently unveiled two more veteran walls, honoring the resident heroes of Indian River Center and West Melbourne Health and Rehabilitation Center.
Installing veteran honor walls is one of the many ways VITAS shows appreciation for the sacrifices these service members have made for our country. Most veteran walls are adorned with photos of the veteran residents who call the nursing facility home.
Once a wall has been completed, the nursing facility will hold a ceremony to reveal them. These ceremonies include the presentation of honors, including:
Thank You certificates
Challenge coins
Stars from American flags with a poem
American flag pins
VITAS proudly serves the communities of Brevard County through our offices in Melbourne, Barefoot Bay, and Titusville. Representatives from the Melbourne office have spent months planning the installation of veteran honor walls and coordinating the ceremonies for their unveiling.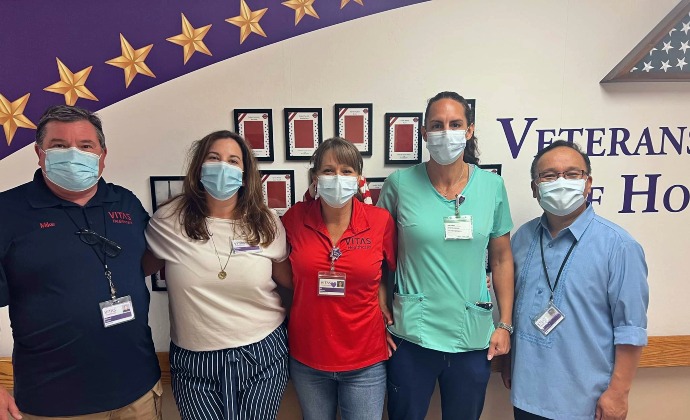 Indian River Center has many residents who served in the United States Armed Forces. One of those residents is Army veteran Randall Busby. Due to the nature of his condition, Randall is unable to get out of bed and has been unwilling to do so for over a year.
Family members, VITAS staff, and the veteran residents at Indian River Center gathered to celebrate a veteran wall in honor of those who have served. Randall Busby chose to join them for the ceremony; it was an extraordinary sight for his caregivers, who have attended to him from his bedside for more than a year. His presence resonated with pride as he received honors for his service.
When the ceremony concluded, the gravity of Randall Busby's decision to be recognized for his service was palpable to those in attendance.
Another veteran wall was unveiled at West Melbourne Health and Rehabilitation Center. The ceremony opened with the singing of The Star-Spangled Banner, a touching moment for those being honored as they reflected on their dedication to preserving freedom.
As American Flag pins were affixed to their lapels, Robert Thomas, a World War II Navy veteran, said, "It feels good to not be forgotten." VITAS staff and family members were touched by this moment because Robert distilled the main purpose behind the veteran walls into such a simple, eloquent, and heartfelt statement.
It feels good to not be forgotten.

-Robert Thomas, Navy veteran
The actions of patients like Randall Busby and Robert Thomas are reminders of why it is so important to revere the commitment of our Armed Service heroes. These reminders motivate VITAS staff to proudly create moments of deep meaning and significance to our veterans and their families.
To date, VITAS veteran honor walls have been installed at 14 locations throughout Brevard County, including Titusville Towers, Addington Place, Life Care Center of Melbourne, Avante, Cedar Creek, Bedrock Nursing and Rehabilitation Center, Atlantic Shores, The Palms, Consulate of Melbourne, Brookshire, Viera Del Mar, VITAS Inpatient Unit in Rockledge, Indian River Center, and West Melbourne Health and Rehabilitation.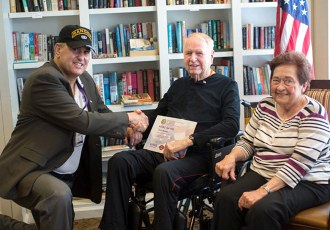 Specialized Care for Veterans
VITAS ensures that all veterans receive compassionate and appropriate end-of-life care.
Download Our Resource Guide