Cultural and Religious Diversity
On MLK Day 2021, VITAS Reaffirms the Importance of Our VITAS Values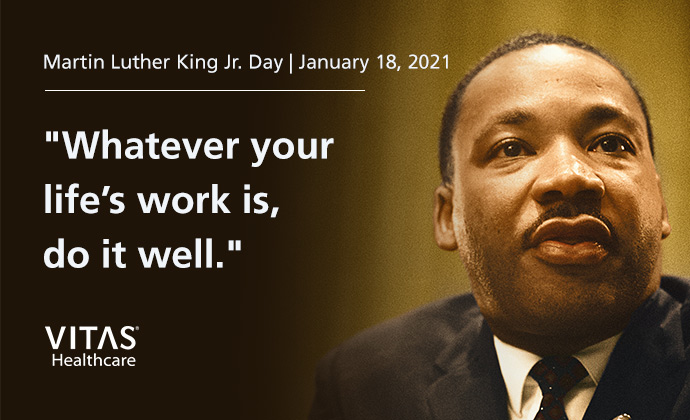 The Rev. Martin Luther King Jr. was an inspirational and iconic figure in so many ways—as a preacher, a world-renowned civil rights advocate, an orator, and prolific author.
In a 1956 speech in Montgomery, Alabama, Dr. King considered recent successes of the growing civil rights movement as he looked forward to the possibilities of profound, meaningful change.
"Whatever your life's work is, do it well," he told the crowd that day.
His advice is particularly meaningful at VITAS, where our core VITAS Values remind us every day of the importance of doing our best and making a difference as we put patients and families first.
As we honor Dr. King on January 18th, we're reminded that the unforeseen circumstances of 2020 reinforced the importance of delivering the highest quality of care to our patients and families, regardless of the challenges and changes that arise.
VITAS employees take pride in knowing that by helping patients and their families embrace quality of life near the end of life, they are doing important life's work as hospice professionals.
Inspired by Dr. King's words, VITAS proudly provides care that makes a difference in our own lives, the lives of our patients and families, and in the lives and successes of our communities.