Cultural and Religious Diversity
VITAS Celebrates LGBTQ+ History Month by Reaffirming Our Commitment to Care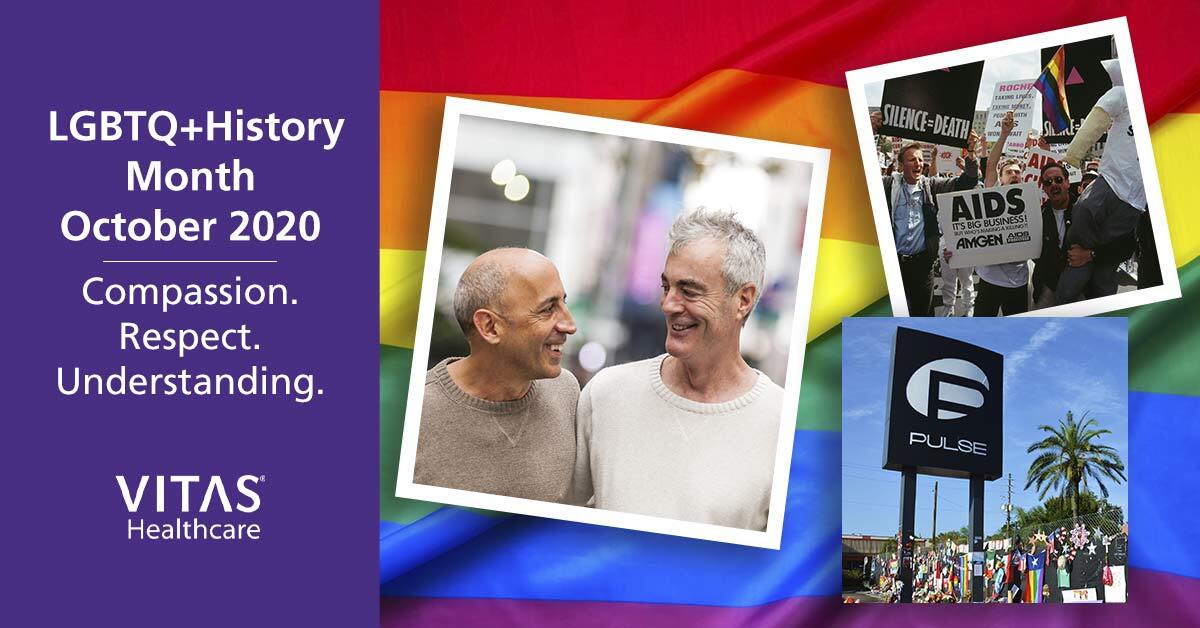 LGBTQ+ History Month celebrates lesbian, gay, bisexual, and transgender history within the context of the gay rights and civil rights movements.
It is an event with deep meaning at VITAS Healthcare, where we are proud of our 40-plus-year commitment to respectful, compassionate care for our patients who identify as LGBTQ+, their partners, and their families.
Since our founding in 1978, VITAS has embraced hiring policies and training protocols that allow our employees to bring their whole selves to work in the communities where they live. We invest our efforts in individualized medical care plans for our patients and community advocacy so that our LGBTQ+ patients and their families receive respectful, compassionate, understanding end-of-life care.
Our teams provided front-line care to patients with HIV/AIDS starting in the early 1980s, even when little was known about the disease or what caused it. Those care protocols eventually evolved into accepted standards of care, many of which are still in place today.
That same level of commitment emerged as compassionate support for victims, friends, family members, first responders, and an entire community after the 2016 mass shooting at Pulse, a gay nightclub in Orlando, Florida, where 49 people died and 53 were wounded. Our clinical care teams, chaplains, social workers, representatives, and volunteers provided critical emotional and spiritual support as the event and its impact unfolded over the days, weeks, and months.
In 2020, VITAS continues to support Orlando with ongoing bereavement services, support groups, and involvement in the community's Pride events, memorials, and other initiatives in support of the LGBTQ+ community.
Anyone who struggles with the challenges of advanced illness should know that they can choose the provider they prefer for end-of-life care.