Volunteers, Memory Bears, Paw Pals
VITAS Volunteers Keep Giving, No Matter What
During the coronavirus pandemic, VITAS volunteers have persisted in their duties to the fullest degree permitted by social distancing and healthcare safety protocols. In some cases, our volunteers have taken personal initiative to find innovative and unexpected ways to provide care.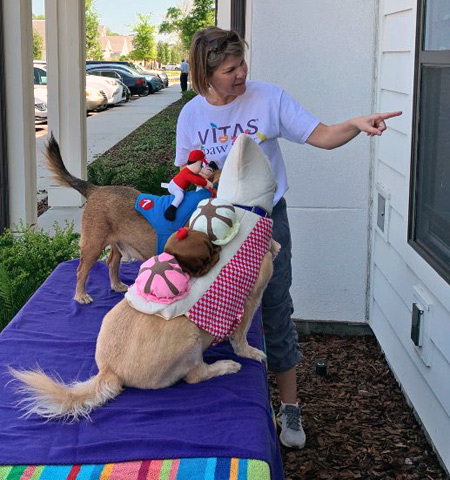 This year, April 19-25 is National Volunteer Week, and it's hard to imagine a better time to let them know how much their work really matters.
"I get personally inspired by our volunteers, who give so freely of themselves and their free time to make a difference in the lives of VITAS patients and families," said Robin Fiorelli, senior director of bereavement and volunteer services for VITAS. "Not only that, but the impact they make on our staff is indescribable."
Here are just a few examples of how our volunteers show their commitment to VITAS patients, families, and care teams, no matter the circumstance:
In Florida's Brevard and Broward counties, volunteers are busy creating face masks for visitors at VITAS hospice inpatient units across the country.
In Jacksonville, Paw Pals® volunteer Julie brought her dogs Kermit and Buster to a partner assisted living facility. To brighten spirits from a safe distance, Julie set up an exhibition in the garden so residents and staff could view the cute, costumed pups (one a banana split, the other a racehorse) through a window.
Orange County, California sewing volunteer Dora created a cloth mask from a VITAS T-shirt for Volunteer Services Manager Judy Andoe. Judy wore the mask while picking up hand-crafted Memory Bears from sewing volunteers.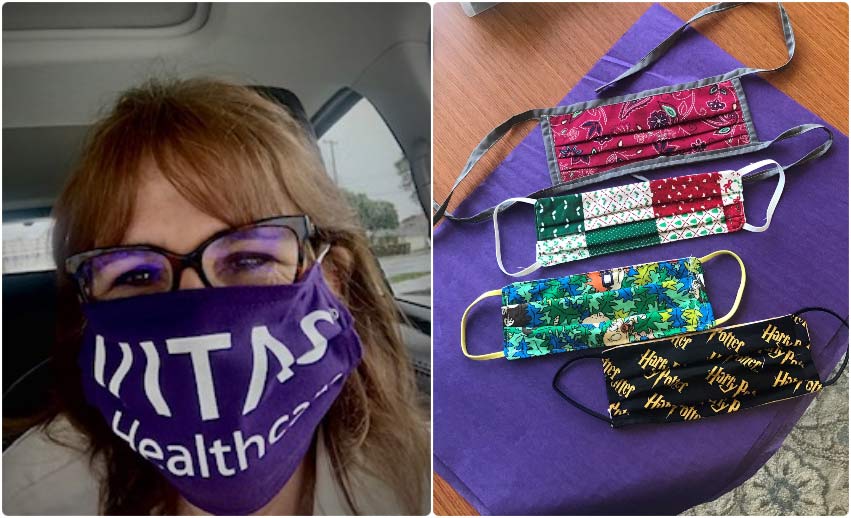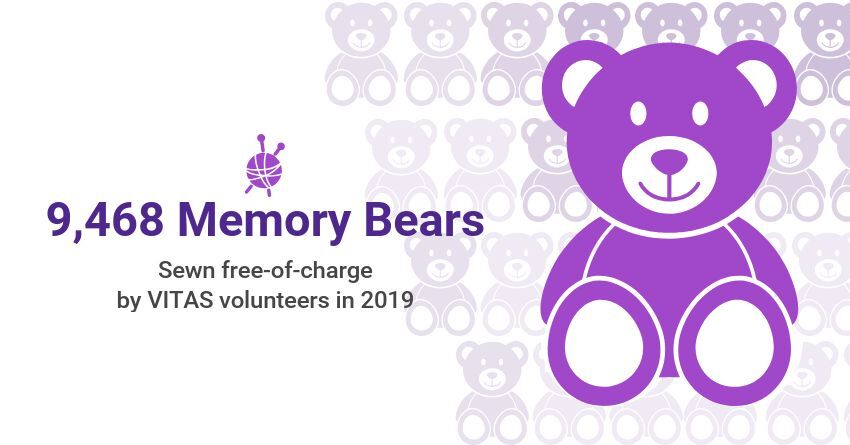 Giving Their Time and Talents
Volunteers and hospice go hand in hand–in fact, they're legally entwined. The 1982 Medicare law that defines the hospice model requires volunteer hours to cover at least 5% of a provider's total patient care hours.
VITAS volunteers fill a wide array of roles, assisting directly with patient care, checking in on families and caregivers by phone, handling office and clerical duties, playing music for patients, helping compose their biographies, and so much more.
In 2019 alone, our 4,764 volunteers gave 333,442 hours of their time supporting 8,842 patients and their families.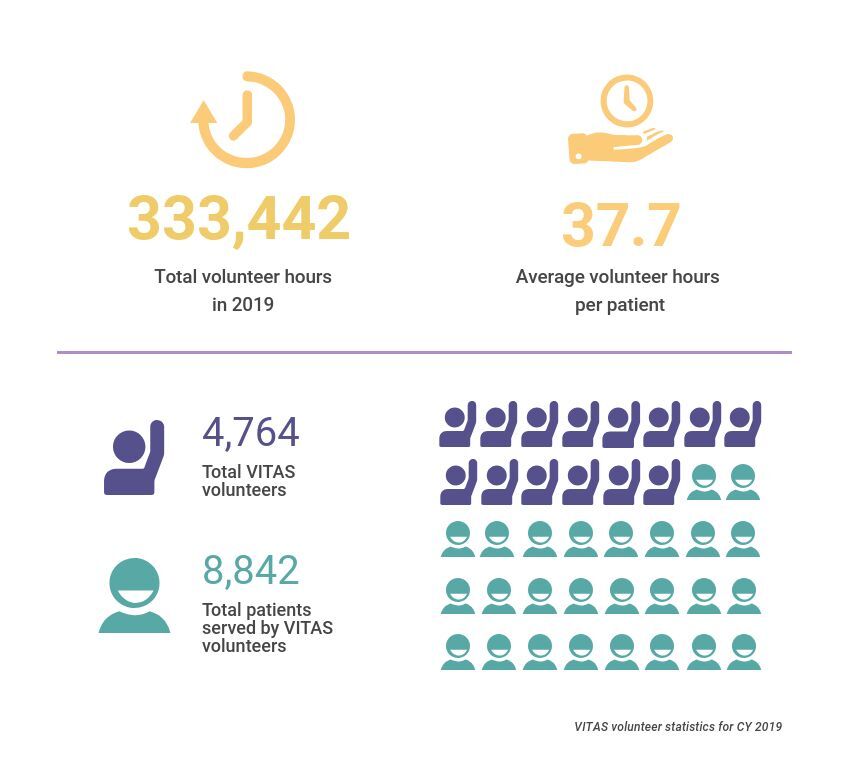 How We Show Our Gratitude
In advance of National Volunteer Week, we've found a couple ways to show just how much they mean to us.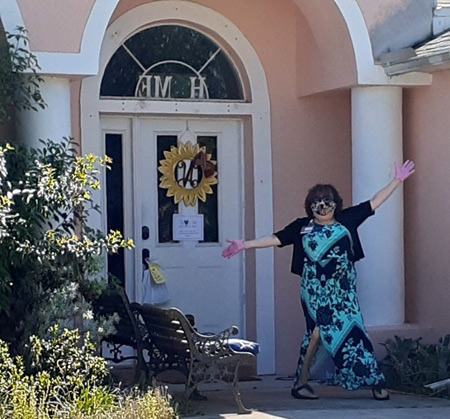 Brevard County Volunteer Services Manager Jenna Cooke and Volunteer Services Coordinator Lisette Bermudez are making routine check-in calls, and sending homemade cards and goody bags to all volunteers in the program. The bags contain hospice word searches, adult coloring pages, face masks, snacks, and a personal note.
While the bags are left on the volunteer's door, those who are home are treated to an appreciative cheer from the team–at a safe distance, of course.
Central Florida Volunteer Services Manager Rob Bacon sent messages of gratitude to his volunteers, each featuring a photo of program staff members holding a placard that reads "We ❤️ volunteers."
"Volunteers aren't getting paid for what they're doing; their motivation comes purely from an altruistic desire to improve some small part of society," Robin said. "My hat goes off to hospice volunteers particularly. So many people would rather hold newborn babies or tutor kids, but to have a calling to support a terminally ill patient and their family takes a special person."
In times of crisis or calm, VITAS volunteers are a constant for our patients, family, and staff. Out of the goodness of their hearts, they do their best each and every day, expecting nothing in return.
To every VITAS volunteer, we offer a heartfelt "thank you," and a promise to continue supporting your crucial work as you support our mission to deliver comfort and dignity near the end of life.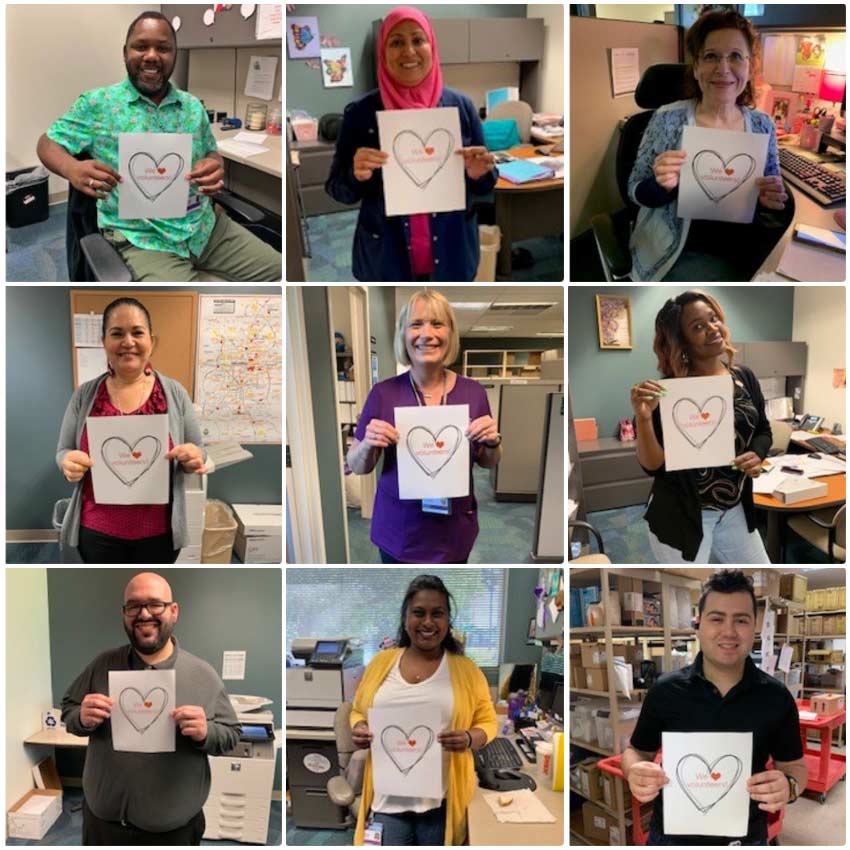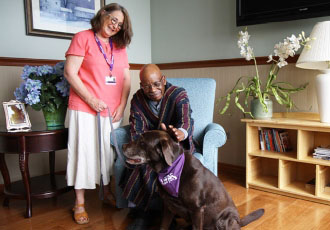 Volunteer with VITAS
Because hospice patients have unique end-of-life needs, VITAS seeks volunteers from all backgrounds, experiences and cultures.
Apply To Volunteer Today