Paw Pals, Volunteers
VITAS Gives a Doggone Good Show to Assisted Living Residents During Coronavirus Pandemic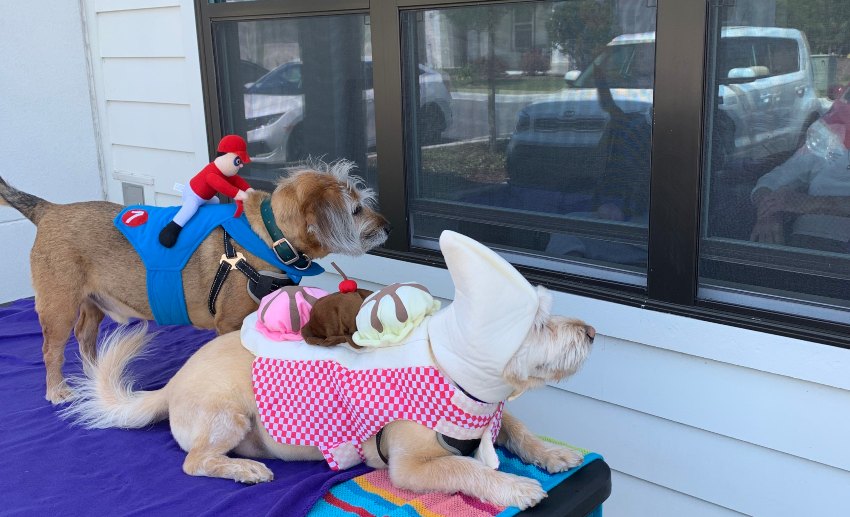 Social distancing is hard enough for those who are relatively healthy and able-bodied. For people in assisted living facilities (ALFs)–particularly those receiving hospice care–the prospect of even less time with family and loved ones is especially daunting.
Unwilling to cave to COVID-19, VITAS Healthcare teams in Waterbury, Connecticut, and Jacksonville, Florida, offered some CDC-approved animal companionship to patients, residents, and staff at two ALFs.
"With coronavirus cases rising, it's getting harder and harder to get into the facilities," said Lisa Gould, representative for the VITAS program in Waterbury. "I just wanted to give the residents something to look forward to and raise the morale of the staff."
Promenading Pups, on Parade
Early on March 27, Lisa was working from home, wanting to support a local ALF partner and searching for an out-of-the-box idea when one walked right up and wagged its tail. Her little dog Ginger could make anyone smile, even from a safe distance.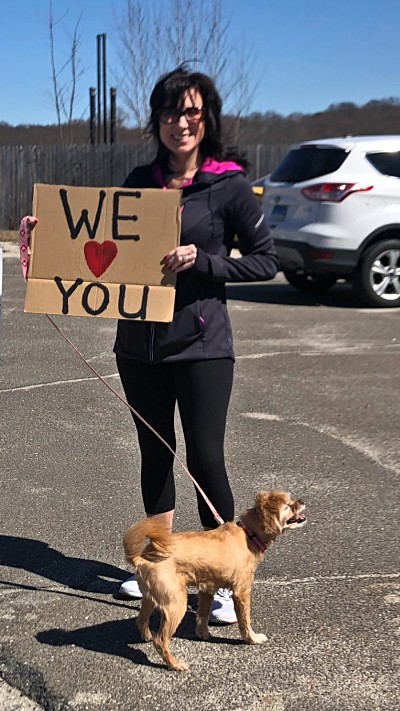 Lisa began to formulate a two-word plan: doggie parade.
Four hours later, Lisa stood outside Wolcott View Manor Nursing Home with six other members of the Waterbury team and their dogs. Spaced at least six feet apart, the group circled the facility parking lot, coordinating via walkie-talkie with staff inside to direct residents to their windows in time for the best views of the promenading pups.
About 40 residents, including several VITAS patients, were able to enjoy the parade, waving and snapping pictures each time the dogs and their humans came into view. Lisa and the team held up signs showing their support: "We ❤️ You" and "We Are Here for You! Stay Well!"
Days later in Jacksonville on April 4, a slightly smaller–but no less adorable–exhibition was underway.
Dressed as a racehorse and banana split respectively, VITAS Paw Pals® volunteers Kermit and Buster greeted residents of Lakeside at Amelia Island through a window. Julie, their human partner, ensured every onlooker got a good view of the costumed canines as they posed and preened atop a table in the facility garden.
"It was Julie's idea. She came to us and said that she wanted to see her usual patients," said Megan Sams, general manager of the Jacksonville program. "Her initiative speaks for itself and highlights how, even now, Paw Pals can bring joy to residents who can't see their loved ones."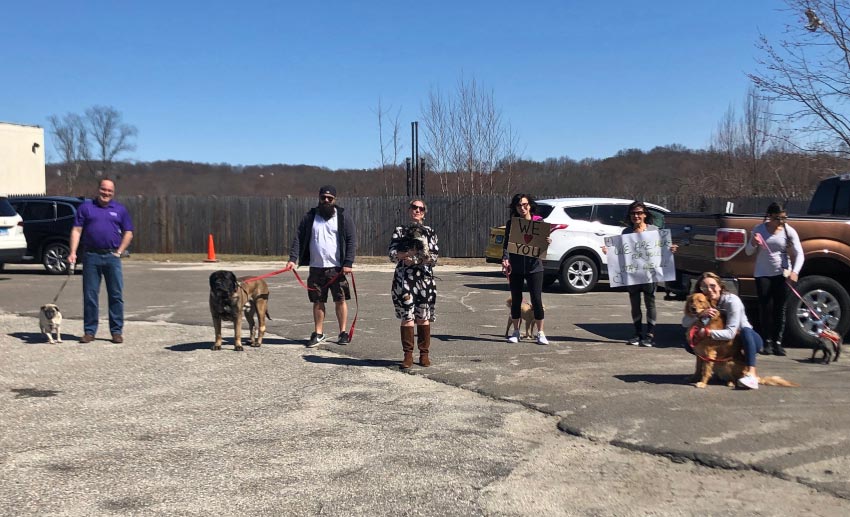 Waggly-tail Joy in Times of Social Distancing
Paw Pals volunteer teams typically greet patients and families in their residences, nursing homes, or assisted living facilities. While Paw Pals teams are temporarily no longer performing that particular service, Julie's, Buster's, and Kermit's visit is an inspiring example of how VITAS volunteers rise to any occasion to support patients, wherever and however they need it.
Or, in Lisa's words: "During this period, any way that we can go above and beyond to support staff and connect patients with the community is a serious win."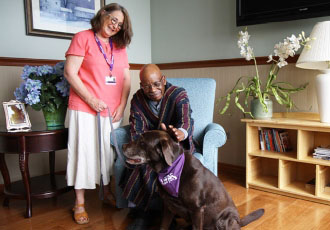 Volunteer with VITAS
Because hospice patients have unique end-of-life needs, VITAS seeks volunteers from all backgrounds, experiences and cultures.
Apply To Volunteer Today