Testimonials, Cultural and Religious Diversity
VITAS in Dallas Honors Businesswoman for Her Hospice Outreach and Advocacy
When Patricia "Pat" Bailey learned that her mother should be referred to hospice care, she remembers being more confused than fearful.
Her mother had Alzheimer's disease, and Bailey had outside help caring for her mother. Still, the hospice recommendation came as a surprise.
"I was a successful businesswoman," Bailey says, "and I kept asking myself, 'Why didn't I know?'"
"...a referral to hospice is a diagnosis of caregiving for the entire family."

Patricia Bailey
Bailey's insights from her family's experience, combined with her expertise delivering targeted messages to the African American community, earned her the Dallas-area 2020 VITAS Healthcare Black History Month Innovator Award.
Her "outside-the-box" ideas that capture the attention of African American patients, families and caregivers about what hospice is, and how it can benefit and support entire families, says VITAS Admissions Liaison Patrick Bullocks.
'A Transition for the Entire Family'
Bailey's company, She Ages Well, produces personal care products for African American and Latina customers. She has attracted hundreds of attendees to symposiums titled "On Aging Well Together" and delivered speeches in Dallas-area churches about faith-based caregiving.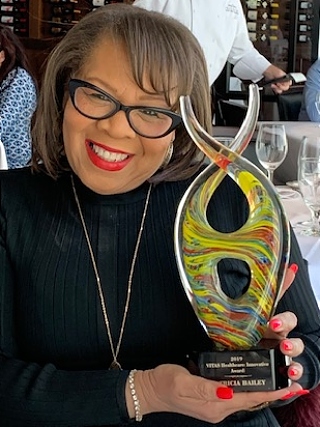 In 2016, she hosted a mother-daughter Senior Prom, and she offers educational hospice sessions that speak specifically to pastors and male caregivers. Her YouTube video, "While You Were at Work," addresses caregiver challenges and solutions.
"I remind people in my sessions that a diagnosis of Alzheimer's or cancer, or a referral to hospice, is a diagnosis of caregiving for the entire family, and it represents a transition for the entire family," Bailey says. "A lot of us approach the caregiving role from a deer-in-the-headlights standpoint.
"As caregivers, we need to ask questions and be informed so that we can go forward at peace and know that we've done the best possible job for our loved one," she says. "Until I fully understood how hospice supports the entire family, I didn't know there was an interim process like hospice, not just for my mother but for my family as well, to prepare for our mother's homecoming."
'Outside-the-Box' Approaches and Messaging
For the past 12 years, the Innovator award has been given to a Dallas-area minister or pastor who has helped spread the message of hospice within local congregations. Bullocks pointed out that Bailey is the first non-minister recipient.
"She is an influential individual who has been instrumental in the growth of our initiatives to underserved communities," Bullocks said. "Pat has always been a strong advocate, not just for hospice but for VITAS as well."
Today, Bailey's outreach reinforces the value of hospice care for patients and for the family members who are caring for them. She frequently relies on faith-based messages built around each individual's relationship with their concept of God.
"In this context of hospice care," she says, "it's a relationship that helps us honor our fathers and mothers and helps us to embrace our roles as caregivers for their eventual transition."