Veterans
Here's How We're Caring for Veterans During COVID-19 Restrictions
VITAS ensures that all veterans receive recognition, thanks, and care that honors their unique experiences as they near the end of life.
Our teams have come up with creative ways to continue to provide our unwavering support to veterans, while adhering to guidelines that prevent the spread of COVID-19.
These examples illustrate the power of creative thinking and last-minute coordination by VITAS care teams and outreach specialists to give veterans the end-of-life recognition they and their families so rightly deserve.
Thanking a WWII Purple Heart Recipient in Florida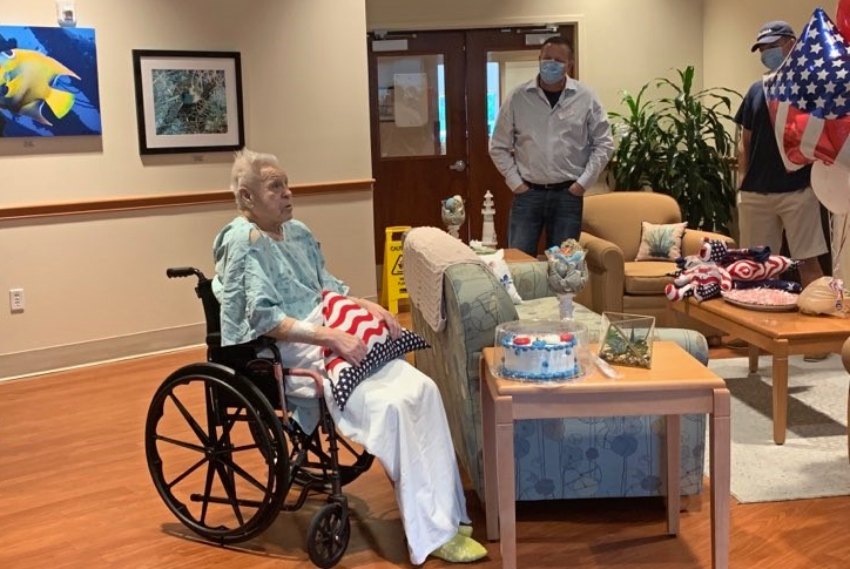 VITAS honored patient Rowland Smith, a Navy veteran of World War II, to commemorate his service in the D-Day invasion of Normandy, France, on June 6, 1944.
Rowland was only 17 when he took part in the largest seaborne landings in history, code-named Operation Neptune. He was injured in the invasion and awarded a Purple Heart.
For the anniversary 76 years later, VITAS celebrated Rowland's service with a cake, balloons, a flag, and memorabilia at the VITAS Inpatient Center in Rockledge, Florida.
Among those on hand to celebrate: VITAS Representative Louise Petraitis, Associate Medical Director Dr. Lloyd Bennett, Patient Care Administrator John Harrell, Air Force veteran Joe Koren, VITAS Representative Ted Brunger and his son, also Ted.
A Birthday to Remember in Cincinnati
Robert Dickman had two wishes for his 95th birthday. The World War II veteran wanted a family party at Covenant Village assisted living community, where he is receiving VITAS hospice care, and he wanted to drink a Budweiser outdoors.
Carole Quackenbush, VITAS admission liaison and veteran outreach specialist in Cincinnati, took it from there.
Working with Dickman's family and the Covenant staff, she coordinated a birthday party on the facility's patio on May 1.
At the appointed time on the sunny spring day, Carole and Covenant staff members took Robert to the patio. Dickman's family members held "Happy Birthday, Grandpa!" and "Happy 95th Birthday, Grandpa Bobby" signs.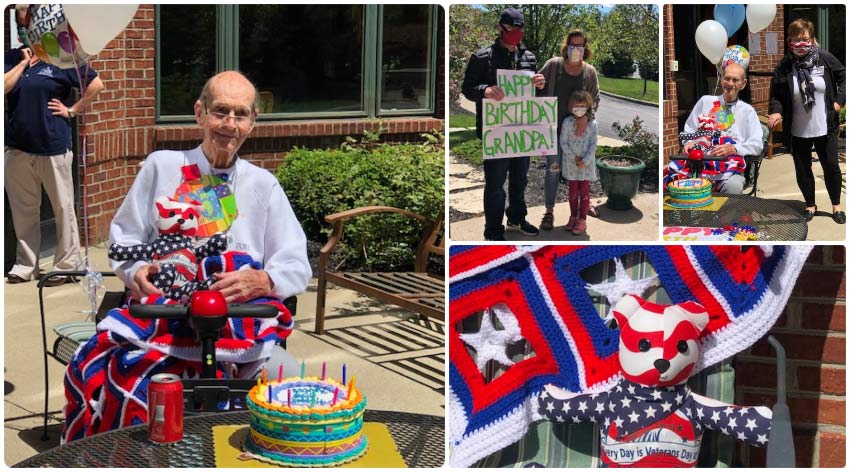 The group enjoyed cake and balloons, while Dickman received a special card and a military-themed afghan and Memory Bear.
"His wonderful family was there gathered around, and they sang him Happy Birthday," Quackenbush says. "And Mr. Dickman did get to have a Budweiser outside, along with his birthday cake.
"I asked him if he wanted a mug or a cup, and he said, 'Nope, just straight from the can with a straw, please.'"
Front-Yard Recognition in Atlanta
When social distancing measures are the rule of the day, a front porch will do just fine.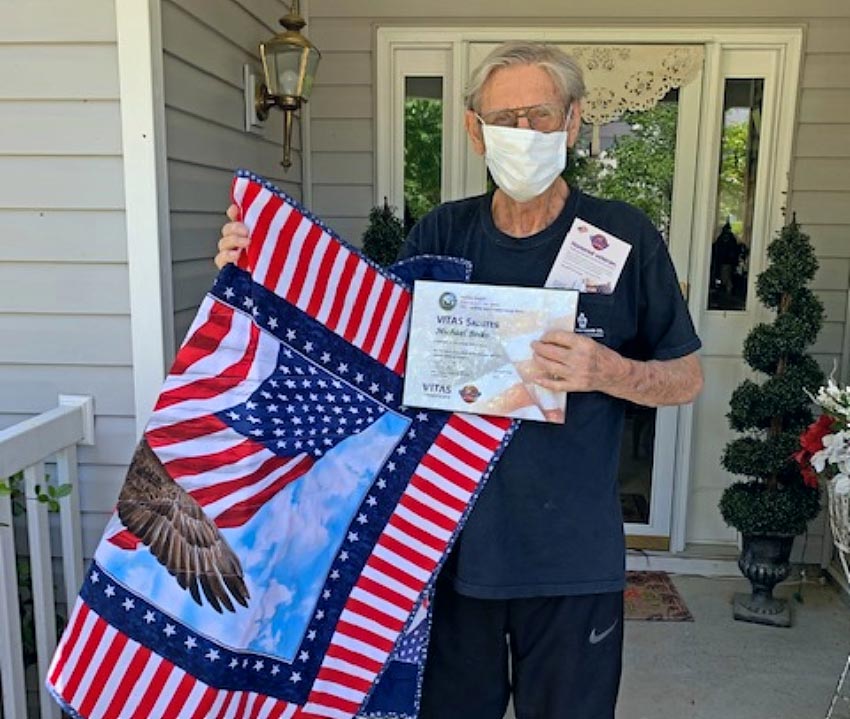 That's how Larry Robert, bereavement services manager for VITAS in Atlanta and a veteran outreach specialist, made sure that patient and U.S. Navy veteran Michael Boiko, 83, the recognition he deserved for his service during the Korean War.
Instead of performing the standard ceremony in Michael's living room, Robert offered his thanks from a safe distance in the hospice patient's front yard.
He provided Michael with a certificate of recognition, a heartfelt salute—one Navy veteran to another—and a patriotic blanket crafted by a VITAS volunteer.
"Our veterans love the patriotic blankets, and he was so proud, a very proud veteran," Robert said. "He always displays his flag, putting it up when he needs to and taking it down when he needs to. I wanted to make sure he was recognized properly for his service to the country."
'Everyone Was So Touched' by Cincinnati Salute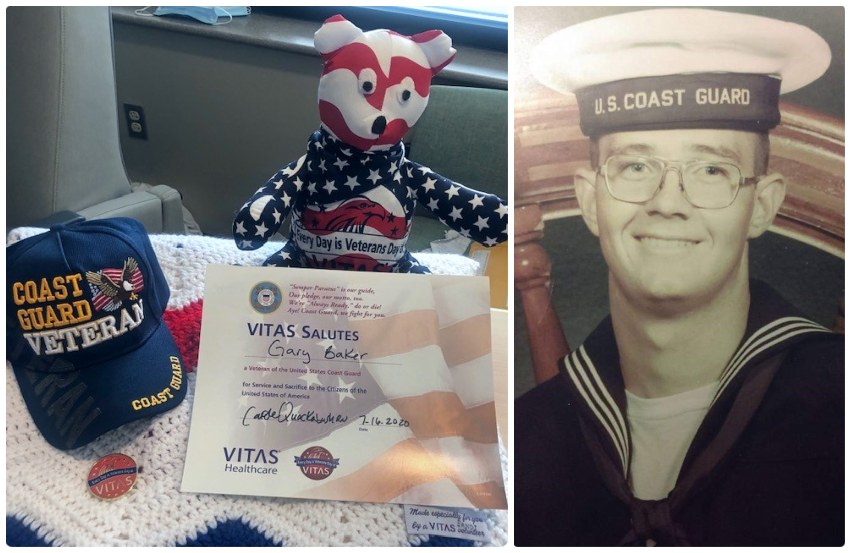 Bedside salutes are one of the ways VITAS honors and thanks veterans at end of life, and our teams haven't let the coronavirus pandemic stop them.
In Cincinnati, VITAS Admissions Liaison Carole Quackenbush organized a beside salute in the hospital for Gary Baker, a U.S. Coast Guard veteran who served in Vietnam.
Quackenbush brought a certificate recognizing Baker for his service. VITAS volunteers crafted a patriotic teddy bear, and volunteers from the Military Order of Purple Heart Auxiliary create afghans as part of their project called "We Got You Covered."
"A few of the staff members from the hospital joined me in the ceremony," Quackenbush said. "It was lovely, and everyone was so touched."
'Heartfelt Tribute' in Miami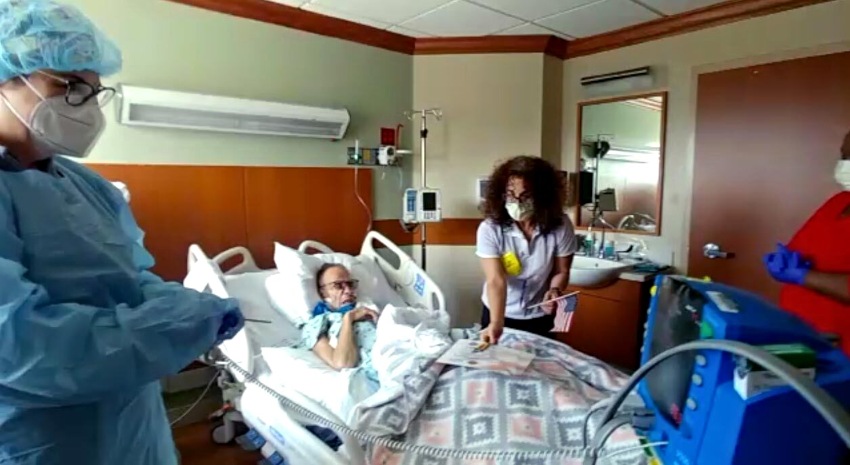 As soon as 73-year-old Joseph Delerme was admitted to the VITAS Hospice Inpatient Unit (IPU) at the University of Miami on April 14, his care team became immediately aware of two important factors: Joseph was a Vietnam War veteran, and his health was declining rapidly.
Nancy Auster, RN, VITAS nurse navigator and a veteran outreach specialist, worked closely with Joseph's wife, Carol, to coordinate a bedside salute. Joseph served 1966-68 in the U.S. Marine Corps as a lance corporal in Vietnam.
Just hours later at a safe distance in Delerme's room, Auster wore a mask as she stood at her patient's bedside, joined by VITAS Patient Care Secretary Kettly Loiseau, Admissions Nurse Ismari Zaila, and Carol.
"This was the only time, ever, that he was given such a heartfelt tribute."
Auster presented Joseph with a certificate of appreciation, commemorative Vietnam beads, and an American flag. She saluted him and thanked him for his service and sacrifice. As she led the group in singing "God Bless America," Joseph opened his eyes slightly while Carol filmed the touching ceremony on her smartphone. He died later that day.
"What VITAS did was so amazingly wonderful," Carol said later. "What was so emotionally touching for me is that in our 45 years of marriage, there's never been that type of recognition for his service, ever. The most he ever heard, and only in the very latter years of his life, was 'thank you for your service.' This was the only time, ever, that he was given such a heartfelt tribute."