Volunteers, End of Life Wishes, Paw Pals
'Somebody Helped My Dad, So I'll Help Someone Else'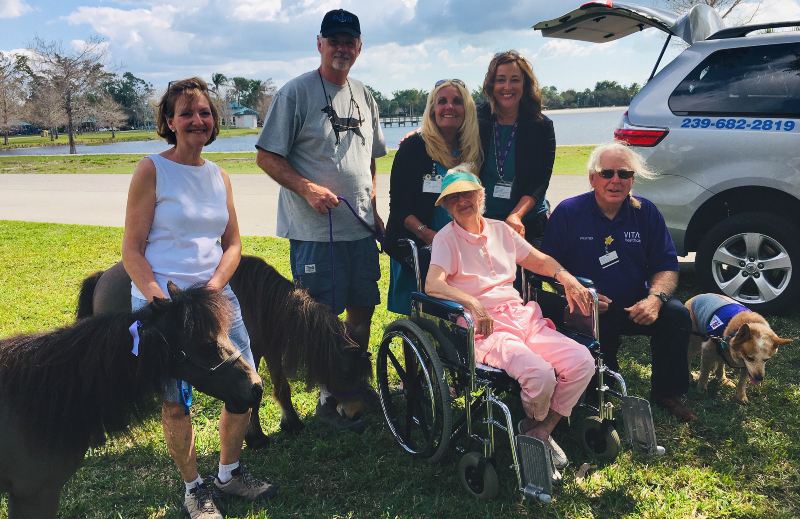 How a VITAS Volunteer Made a Patient's Wishes Come True
Art Dobberstein has lived in Naples, Florida, for 30 years, but his formative years were spent on and around horses in Nebraska and South Dakota.
Those earlier years on the plains would play a part in helping a hospice patient's wish come true this winter at a park in Florida.
Art's volunteer work started five years ago. After retiring, he looked around for things he wanted to get involved in: horses, ecology, transit issues, Honor Flight and more. He volunteered for, among other things, the Naples Therapeutic Riding Center, which works with horses and handicapped children and adults.
Art was delighted to be involved with horses again.
But it was when Art and his wife and their dog, Daisy, were checking out the annual Strut Your Mutt fundraiser in Naples around the time he retired that he considered volunteering for hospice.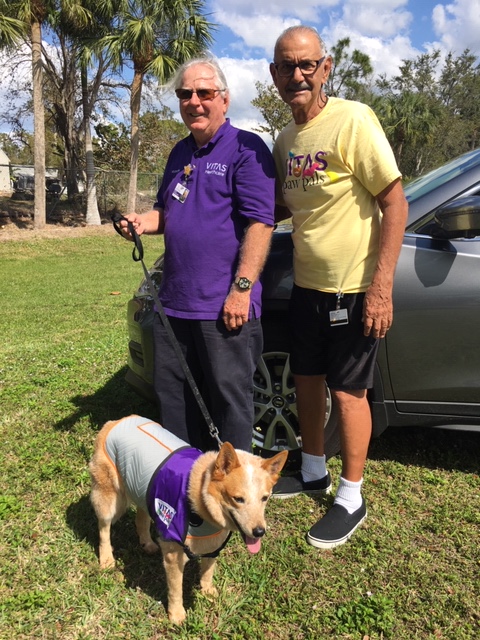 Cindy McCue, volunteer manager for VITAS, was recruiting Paw Pals® to visit hospice patients. Paw Pals are often dogs, but other animals that are docile, comforting and good with people have the potential to be Paw Pals.
Learn more about the Paw Pals program >
She told Art she thought Daisy would fit the bill. Before the day was over, Art had checked back in with Cindy for information. Later, he, Daisy and his friend Jim Orfely attended a volunteer orientation session. They've been volunteering as a threesome ever since.
Daisy Does It
"Daisy is an Australian cattle dog," Art explains. "She's a herder; not a dog you would expect to do well in an assisted living situation."
But Cindy was right; Daisy fits the bill.
One of the patients the threesome met while visiting the VITAS Inpatient Hospice Unit at Physicians Regional Medical Center showed a real interest in Daisy and in dogs in general.
Art mentioned to her that he was a horseman who'd returned to horses since his retirement; the patient came alive. An equestrian for years, she had ridden English saddle and had lots of memories.
Art had met Janet Dawson at the Therapeutic Riding Center. She and her husband owned miniature horses that were used as therapy animals.
"A full-size horse might be intimidating for some patients," Art explains. "It's amazing how therapeutic these mini horses can be."
Wishes Come True
Art had the idea to connect the miniature horses with the former equestrian patient, so he introduced Cindy to Janet.
On a warm February day in Naples, the patient's wishes came true. She was transported to Sugden Regional Park, where the mini horses and their owners, Art, Jim, Daisy, Cindy and Jennifer Bosak, VITAS director of market development, gathered for an outdoor visit. Art even brought an English saddle so the patient could relive memories.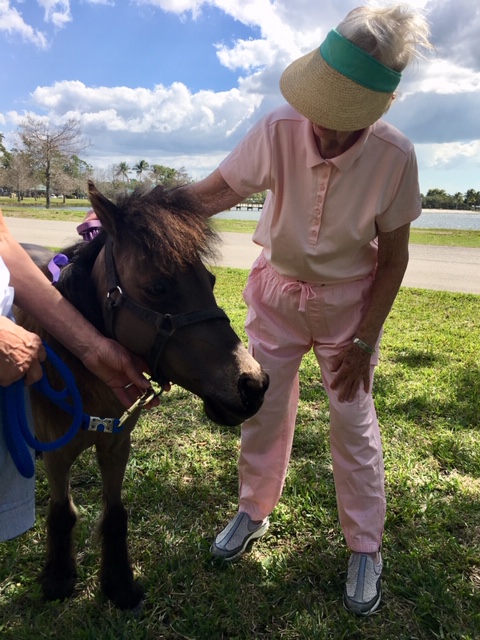 "She loved touching the saddle, adjusting the stirrups, touching the horses," Art recalls. "She had a lot of energy. She was smiling and happy."
"Our patient was so elated that the mini horses were brought out especially for her," agrees Cindy. "She loved talking about the different saddles and how they were used, and she enjoyed brushing the horses and feeding them. It was an absolutely wonderful experience for us all."
Art says his philosophy is inspired by the good care his father received in a nursing home in South Dakota, including volunteers who brought horses to see him. Even today, Art chokes up when he talks about it.
"People were very nice to my dad. Somebody helped my dad, so I'll help someone else," he says. "There's a whole world of people with needs. I'm just interested in giving them good feelings and good times."
Become a hospice volunteer.