Memory Bears, Veterans, Volunteers
VITAS Volunteers Stitch 20 Memory Bears for Family of WWII Veteran
When a loved one dies, memories mean so much. VITAS volunteers help preserve those memories by stitching fabrics from their favorite clothing or other belongings into Memory Bears.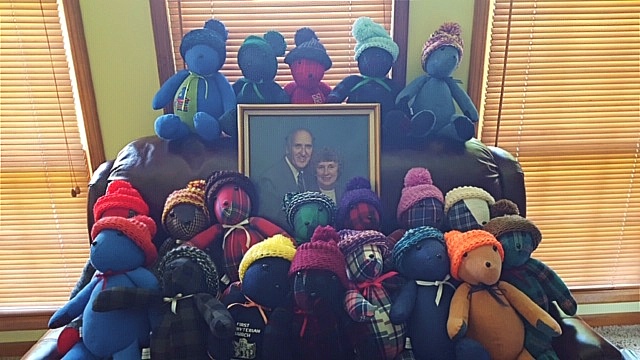 We provided hospice care to World War II veteran Henry Prosser in 2018 in the Chicago area. After his death on December 29, 2018, volunteers delivered 20 Memory Bears to Henry's family.
A special touch makes them especially interesting: Each features a miniature cap modeled after the ones Henry loved to wear.
"Just upon meeting him, it struck me as unusual," say Jodi DeYoung, LCSW, a social worker for a VITAS team based in Chicago. "This was a gentleman who did not go outside, but he always had this knitted hat on. It was kind of an obvious question: 'What's the story behind the hat?'"
Helping Ease the Transition to Assisted Living
When Henry first came to VITAS in October, Jodi recalls two memorable characteristics about him:
His family was big, and they all wanted to be involved in his care — even his daughter who lived out of state made regular flights to visit.
He always wore a thick crocheted hat, no matter the weather.
The "story behind the hat" turned out to be the love that his eldest daughter, Nancy, had imbued in it.
"Right from the beginning there was a lot of emotion, but the love — when we see that, it's just so beautiful."
Following a severe stroke in 2015, Henry moved into an assisted living facility with his wife Marian. To ease the transition, Nancy began crocheting hats for her father, providing warmth, comfort and a sense of her presence, even when she wasn't around.
In the months before Henry was admitted to VITAS, he lost both his eldest daughter and his wife in separate incidents. He struggled with Nancy's and Marian's deaths, but those simple hats offered an anchor to the memory of his daughter and the love that they shared.
VITAS Volunteers Step Up for Grieving Family
After Henry died, Jodi wanted to do something for his family that reflected their unique bond and dedication to Henry. A batch of Memory Bears was a given — the family had asked for 15 — but Jodi hoped she could do just a little more.
Related: How VITAS Volunteers in Chicagoland Go the Extra Mile
Jodi obtained a picture of Henry in his hat from the activities manager at his assisted living facility. She then passed it on to Joanna Voorhees, VITAS volunteer manager in Chicago, and asked if the hat could be reproduced and downsized.
"You can't just make a crocheted hat, it has to be the hat," Jodi recalls thinking at the time.
The volunteers came through, stitching 20 bears with 20 matching hats for the Prossers — Jodi thought 15 would be too few for the family of a man with six children, 14 grandchildren and 19 great-grandchildren.
Taking Care of Each Other
Jodi delivered the bears to Henry's family, who loved the adorable gifts, both for the memories they contained and for the hats that meant so much to Henry in his final days.
For Jodi, the most impactful part of Henry's story was seeing the love shared between his family despite losing three loved ones in a matter of months.
More broadly, Henry's is a story of hospice at its best — interdisciplinary team, facility staff, volunteers and the patient's family all working in tandem to support one another as they care for the patient, finding joy in small moments and precious memories.
"You know, you just meet some families who amaze you," Jodi says. "Right from the beginning there was a lot of emotion, but the love — when we see that, it's just so beautiful."
Become a hospice volunteer.