VITAS Values
VITAS Team Makes Korean War Veteran's Dying Wish Come True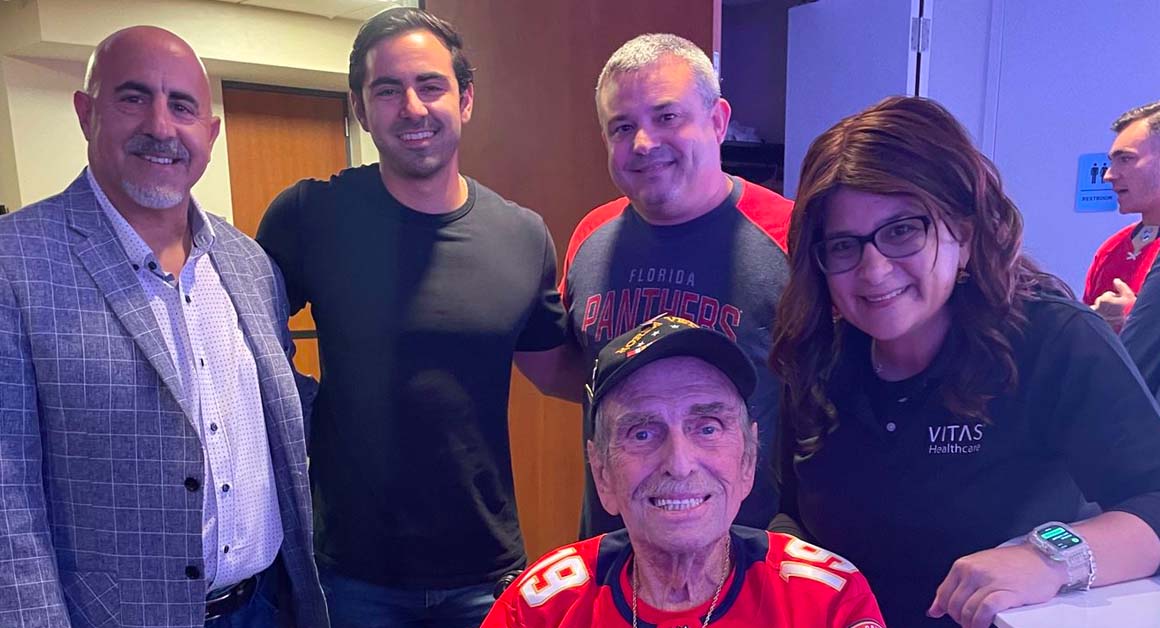 The Florida Panthers weren't the only heroes at their home-ice Stanley Cup Final victory on June 8. Korean War veteran and VITAS patient Irwin Schwartz was in the spotlight, enjoying the VIP treatment over an evening of fun, companionship, and high-octane hockey.
"We are overflowing with joy and excitement as we watched our first patient from our Wishmaker program's dying wish come true last night," said Donna Borland, VITAS general manager in Broward County, Florida.
VITAS interdisciplinary teams work together to provide the highest-quality physical, emotional, and spiritual care to patients and their families at the bedside.
Unless, of course, they can be rink-side.
From the social worker who made the submission to the nurse at Irwin's side and the upper management who secured the tickets, the first Wishmaker outing showed how teamwork makes VITAS special.
A Proud Patriot and Sports Enthusiast
Irwin, a lifelong sports fan, served in the U.S. Army during the Korean War. After his discharge, he spent a 36-year career with the United States Postal Service. He and his wife raised two children, cared for their grandchildren, and enjoyed attending live sporting events together over more than 60 years of marriage.
Being able to assist Mr. Schwartz, and being there with him to experience his wish, has ignited a passion in me!

-Alex Fernandez, VITAS CFO
Irwin became severely depressed and isolated after his wife's death. During his time on hospice, he mentioned how much he would like to attend a sporting event again.
Social Worker Phyllis Jeannestal submitted Irwin's name to the Broward County VITAS office's Wishmaker program, a new initiative that grants VITAS hospice patients' end-of-life wishes. Primary nurse Meredith Glassman, who had been caring for Irwin since he came on hospice six months ago, accompanied him to the game.
The two share a special rapport—and Meredith, having also cared for Irwin's wife, had been at his side throughout the grieving process.
"Our shared Jewish faith gives us a great foundation," said Meredith. "When his wife died, Mr. Schwartz, using some Yiddish terminology, said how nice it was to have such a caring Jewish nurse who can connect with him."
The VITAS Wishmaker Program Comes to Life
When Irwin was selected as the VITAS Wishmaker recipient, CFO Alex Fernandez immediately secured suite tickets to the game, and accompanied the honoree and Meredith to the event. VITAS even provided a custom team jersey for Irwin to wear during the game.
They said, 'You have to come back. You're our good-luck charm.'

-Meredith Glassman, RN
"It was exciting to get the Wishmaker email about Mr. Schwartz, a Korean War veteran, whose dying wish was to attend a Panther's Stanley Cup hockey game," Alex said. "The Wishmaker program is a new initiative for us here at VITAS, and being able to assist Mr. Schwartz, and being there with him to experience his wish, has ignited a passion in me for the compassionate end-of-life care we provide. I had no idea how truly impactful we are on our patients' lives. It's beautiful!"
"The evening was amazing," added Meredith, who has been a VITAS nurse in Broward County for six years. "Mr. Schwartz is ambulatory, so I offered to pick him up and get him to the game safely, where we ended up being treated to a VIP lounge. There was food for Mr. Schwartz to enjoy, and we ended up winning that game, so it was very exciting."
Good-Luck Charm
Sporting his Panthers jersey and cheering from high above in the box seats, Irwin was visibly moved by the National Anthem and when the hockey federation recognized two other veterans in attendance that evening.
Arguably the best part of the night? The Florida Panthers brought home victory in game three of the Stanley Cup Final against the Las Vegas Golden Knights, and they credited it to their new friend, Irwin.
"They said, 'You have to come back,'" Meredith said. "'You're our good-luck charm.'"
A Rewarding Career That Gives Back
Like a hockey team on the ice, each VITAS interdisciplinary team works together to provide winning comfort and care to its patients at the end of life. Although not all patients are able to make it out to their favorite team's playoff games, our team members do whatever it takes to make their final days meaningful.
Irwin Schwartz died July 17, a little over a month after the game. Meredith and the rest of his care team will treasure the time they spent with him.
"My favorite part of the job is collaboratively working with the team to mitigate acute symptoms and walk with the family through the journey of their loved one with a terminal illness," Meredith said. "The fact that VITAS granted Mr. Schwartz's wish of being a part of something that he enjoys, and that it was a Stanley Cup game, was really, really exciting for him."
Join our team of passionate hospice professionals.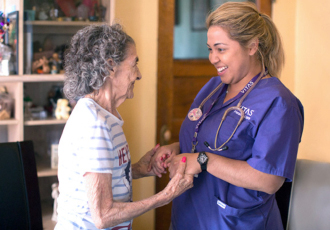 Choose a Career with VITAS
We offer a variety of full-time, part-time and per-diem employment opportunities. Employees earn competitive salaries and have the flexibility to choose a benefits package suitable to their own needs and lifestyle.
See Current Opportunities