Nurses
Admissions RN: A Rewarding Career Path for a Compassionate Soul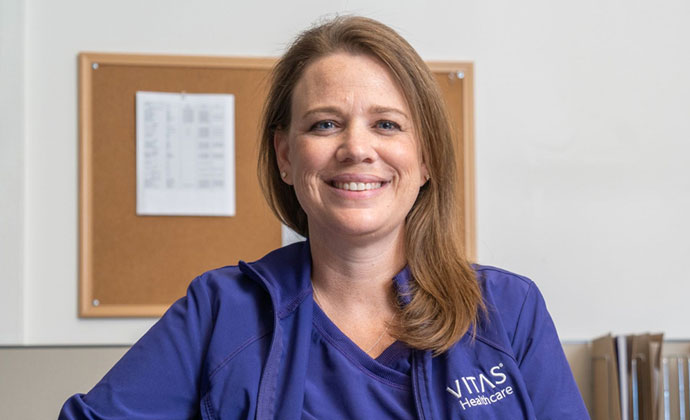 Jennifer Mallory, RN, was destined to care for others.
"I always knew as a kid, I would do something that took care of somebody else."
Her compassion was innate – from an early age of wanting to be a veterinarian to her time caring for children in her home day care. After accepting a position at a nursing care facility when her children were older, Jennifer's love for nursing bloomed.
"I went to work at the nursing home to see if I would want to be a nurse, and I just fell in love with it," she says.
Jennifer had found her calling.
First Contact on the Front Line
Today, Jennifer is an admissions RN at VITAS Healthcare in Kansas City, where she has been working for the past two years.
As an admissions nurse, she is the first person to explain hospice to a family and may even be the first person to notify a family of their loved one's condition.
It is challenging, but as Jennifer says, "I think the most meaningful part of this job, and especially with the admissions' role, is helping people accept that their loved one is going to die or that they themselves are going to die—and helping them understand that there is support."
Accepting that prognosis, whether for a family member or oneself, is never easy. But compassionate people like Jennifer can help explain the process and what hospice can do to provide comfort and support throughout the journey.
"It can be a hard conversation to have. But I think families more often than not appreciate being very forward and really telling them this is where we're at in your life, but here's what we can do to help."
Compassion Through Listening
Jennifer came to VITAS from a medical surgical unit in a traditional hospital setting in Kansas City. There, she provided curative care for patients with acute diseases.
"That's where I started my nursing career," she says. "It gave me a lot of insight into a lot of different disease processes."
It's not the same every day. It's going somewhere new and meeting new people.
Before that, she spent four years as a certified nursing assistant in a nursing home, where she says she learned what it meant to be a nurse. Caring for and interacting with people as they go about their daily lives taught Jennifer valuable tools on how to interact with her patients.
"I feel like that's where the compassion comes from," she says, "because you have to step into their shoes to understand how to take care of them."
From Jennifer's experience, the best way to get to know a patient is to listen, to learn what their values are and what's important to them. It's about meeting people where they are and providing care based on the patient's needs, wants, and beliefs.
Caring for Patients and Their Families
With a strong desire to provide comfort to families, the move into hospice care was a logical one for Jennifer. She says hospice interested her beginning in nursing school.
Her inherent compassion was another driving factor. "[I've] always felt like hospice was a good place for my compassion. Because I do have a lot of compassion for people and what they're going through and what their specific situations are."
And hospice nurses care for more than their patients. "As nurses, we care for families, that's what we do," Jennifer explains. "We are teaching them to do something that they know very little about. We're a huge support system for them. Supporting [the family] is probably one of the most important pieces of the job."
'It's a Team Effort'
Today, Jennifer's role as admissions RN gives her a broader scope of the support VITAS provides patients and their families. She may spend her time in a hospital, a home, or a nursing care facility.
"That's one piece of the job that I like," she says. "It's not the same every day. It's going somewhere new and meeting new people and meeting other caregivers, too."
The support that you have from your corporate team and all the way down to your team here in the office is huge.
Jennifer's teammates are instrumental in not only supporting patients and their families but also each other. It's this commitment to looking out for each other and working together that sets VITAS apart.
Says Jennifer, "Commitment as an RN means that I'm going to get up every day, and I'm going to do my absolute best to meet the needs that people present to me. If I can't do it, I can help you find the right resources to make that happen. It's a team effort."
Making a Difference Every Day
While healthcare professionals like Jennifer are self-driven to do what's right, a little recognition goes a long way. VITAS makes a point of acknowledging its employees for their strong work ethic and the care they give patients and their families.
"The job we do, it's hard," Jennifer says. "It's hard mentally and emotionally. You don't always want to just go around tooting your own horn, but it does feel good to hear that people do recognize that you're a team player. That you help support the mission here."
In addition to regularly rewarding its employees who go the extra mile, VITAS offers free continuing education with added financial incentives through the Pathways to Excellence program. Paired with a wealth of employee resources, there is always room for growth within the organization.
"VITAS is a very good company to work for," she says. "The opportunities here are big. The support that you have from your corporate team and all the way down to your team here in the office is huge. Their policies and everything are set up to support advancement of your career."
At the end of the day, it's making a difference that motivates nurses like Jennifer.
"I hope every day when I go out to do my job, that I make a difference in [someone's] life in some way," she says. "Whether it's just me being there or me just having a positive attitude or holding a hand or if someone needs a hug or somebody just needs you to stand there and be okay with what's happening."
Would you like to join our Hospice Interdisciplinary Care Team?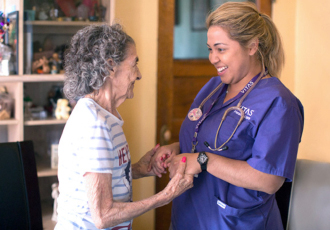 Choose a Career with VITAS
We offer a variety of full-time, part-time and per-diem employment opportunities. Employees earn competitive salaries and have the flexibility to choose a benefits package suitable to their own needs and lifestyle.
See Current Opportunities