VITAS Values, Working at VITAS, Nurses, Social Workers
VITAS Teams Draw on Everyone's Strengths
Caring for patients near the end of life takes commitment, compassion, and a can-do attitude. For someone working in hospice care for the first time, the work might seem intimidating.
At VITAS, no nurse, social worker, or home health aide is ever alone. Our hospice interdisciplinary team members lean on each other for support, encouragement, and collaboration as they provide compassionate care to our patients and their families.
The strength of a VITAS interdisciplinary team lies in its collaborative and supportive nature. Each team member brings unique skills and expertise, fostering an environment in which they can learn from one another and work seamlessly to provide the best possible care to their patients.
Here's how Robin Gallant, Melissa Baratta, Lauren VonHauptmann, and Barbara Huggins, four women with different stories and specialties, work together to create a remarkable VITAS team in Orlando, Florida.
The Caring Team Manager: Robin Gallant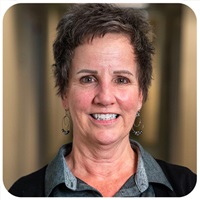 Team Manager Robin Gallant leads with empathy.
Thanks to her background in social work, she understands the unique needs of each patient and fosters an environment of mutual respect within the team. There's never a day too busy for Robin to acknowledge her teammates' accomplishments and celebrate their outstanding efforts.
"I think it's so important to recognize your staff when they do something well," she says. "Just little things, everyday things."
Robin's leadership by example and care for her team members make her invaluable to her teammates.
Apply to be a team manager with VITAS >
The Compassionate Social Worker: Melissa Baratta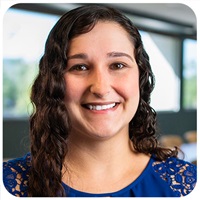 As a social worker, Melissa Baratta plays a crucial role in guiding each patient and their family during their end-of-life journey. She assists with final arrangements, makes sure her patients' last wishes are honored, helps families navigate the grieving process, and often, in quiet moments, provides the simple comfort of a listening ear.
"I always look at it as if this was my mother," she says. "If this was my father, how would I want to be treated?"
Melissa's caring nature and unwavering commitment to her patients make her an indispensable member of the VITAS team.
See our social worker job opportunities >
The Empathetic RN: Lauren VonHauptmann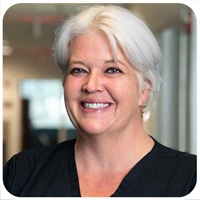 Lauren VonHauptmann possesses a unique ability to connect with patients on a personal level. She brings her authentic self—hard-working, strong-willed, and honest—to each visit, inviting them to do the same.
"Just show them who you are and that you care, and that makes all the difference," she says.
Her care allows patients to relax, builds their trust, and shapes their end-of-life journey. Lauren's dedication to treating patients with respect and kindness ensures that they receive the best possible care.
Apply to be a VITAS hospice RN >
The Dedicated LPN: Barbara Huggins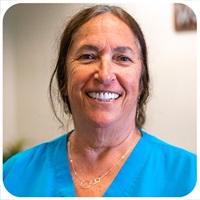 Barbara Huggins treats her patients as if they were her own family. The relationships she builds ensure her patients and their families feel supported at their most challenging moments.
"I stay at VITAS because my manager goes above and beyond," she says. "She is very easy to work with, very easy to take instructions from. The team itself is very, very helpful. You can call any of them at any time, and they're there to help you."
See our opportunities for LPNs and LVNs >
Building Trust, Recognizing Excellence, Empowering Families
These team members understand the importance of building trust with patients and their families. Through open communication and care, team members empower families to actively participate in the care process. They educate families on hospice care, dispel misconceptions, and address concerns, ensuring that families feel informed and supported.
With the caring guidance of team managers like Robin Gallant and the empathetic support of social workers like Melissa Baratta, each VITAS team offers a unique and rewarding work environment for healthcare professionals. Placing their focus on collaboration, trust-building, and patient-centered care, VITAS teams create meaningful connections with patients, families, and their peers.
Would you like to join our Hospice Interdisciplinary Care Team?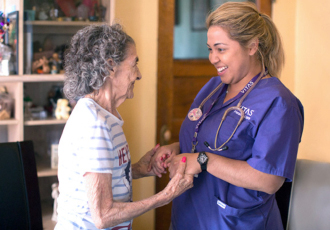 Choose a Career with VITAS
We offer a variety of full-time, part-time and per-diem employment opportunities. Employees earn competitive salaries and have the flexibility to choose a benefits package suitable to their own needs and lifestyle.
See Current Opportunities