Nurses
Home Care Nurse Finds Purpose Caring for Hospice Patients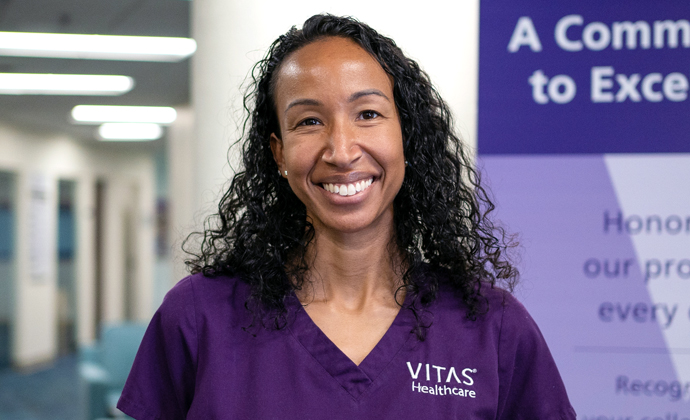 Laughing, dancing, swapping stories about kids and grandkids.
These might not be the first things that come to mind when you think of hospice nursing, but for Jamaine Montgomery, RN, a VITAS home care nurse in Atlanta, this is reality—and what makes hospice nursing so fulfilling for her.
"There's lots of crying, lots of laughing," Jamaine says. "I dance with my patients. We deal with the sadness, the death, but even in that time, we can make it beautiful for the patients and families by just bringing joy, lightening the moment, and providing a lot of emotional support."
Jamaine came to VITAS five years ago, new to hospice nursing. "Being a hospice nurse and working for VITAS truly is my passion," she says. "I feel lucky to be able to make a difference for my patients and their families every day."
The Role of a Home Care Nurse
Jamaine works with compassion and commitment each day as she cares for patients.
"I go out to the patient's home. Their loved ones don't have to worry about taking them to the doctor," she says.
There are opportunities regardless of your personality type, your skill set, [and] your experience.
Her job also involves educating families on basic nursing care and the benefits of hospice.
"There's so much that families don't understand about what hospice provides. It can be a beautiful journey," Jamaine says. "When your loved one is at home, you can take care of them and play their favorite song. It is a blessing to be able to share such sacred moments with them."
Still, she understands that not everyone is ready to take the step into hospice. "We have to respect everyone's grieving process. You can't be judgmental in this job," Jamaine says. "You have to understand where people are and be committed to providing the emotional support."
Building Relationships, Appreciating Each Day
Developing meaningful relationships and building trust with families is at the crux of what Jamaine loves about her work as a hospice nurse.
"Making a connection with the patient makes all of this worthwhile," she says. "There has to be the emotional connection when you're caring for a patient day in and day out."
That makes the process easier for patients and loved ones when things begin to change. "They know that I'm here no matter what, that I'm committed to making things as seamless as possible. Every day won't be perfect, but they know that they can count on me when they need to the most."
Still, building those relationships can take a toll. "It's is an emotional rollercoaster," Jamaine says. "It's really tough to lose a patient. Even though we know it's going to happen, every time I lose a patient, it's always tough."
What gets her through, though, is her four kids, ages 8, 15, 17, and 20. "I want to be the best mom for my kids. I want to experience all the beauty that life has. This job has made me realize that tomorrow is not promised."
The Benefits of Teamwork
Jamaine finds the team-oriented culture that VITAS cultivates valuable in her work.
"We really rely on each other. When I have a bad day, I know I can call someone and we can talk through things," she says. "It makes a difference when you know the person on the other end truly understands what's going on."
I feel lucky to be able to make a difference for my patients and their families.
The VITAS interdisciplinary care teams include a physician, home health aide, social worker, chaplain, and more. They hold regular meetings to discuss patients and ensure continuity of care.
"It's a huge benefit," Jamaine says. "No one person knows everything. I've grown as a nurse because of my time working with our doctors, our social workers."
At the same time, however, Jamaine enjoys the autonomy she has out in the field. "It has forced me to work on my critical thinking skills and my assessment skills," she says.
Possibilities Await at VITAS
Jamaine appreciates the supportive leaders and opportunities for growth available at VITAS. We offer tuition reimbursement, an RN certificate program, and more.
"There are opportunities regardless of your personality type, your skill set, [and] your experience for everybody here at VITAS," Jamaine says.
As for Jamaine, she can't imagine doing anything else. "I'm good where I am. When it really boils down to why I do this, it's because of the relationships that I form with my families and with my patients. That's what keeps me here, to be able to just really connect with patients."
View all current nursing job opportunities with VITAS.