VITAS Values, Working at VITAS
Find Meaning, Give Back with a Career at VITAS
People are the heart of VITAS. The care, compassion, and commitment our employees demonstrate each and every day is truly inspiring. And that desire to make a difference extends beyond our work and into our communities.
During this recent holiday season, VITAS team members across the country spent extra time making a difference in their communities—donating toys, packing meals, providing holiday feasts, and much more.
Texas-Sized Heart
For the third consecutive year, VITAS in San Antonio bypassed its annual holiday party and dedicated those funds to help local community agencies and nonprofits.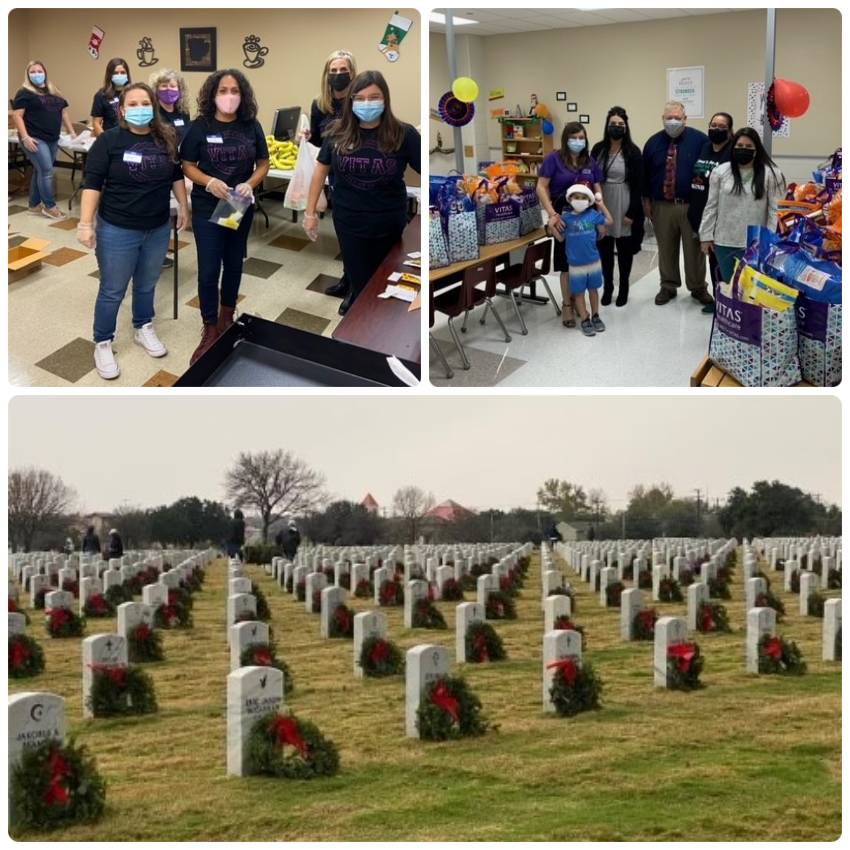 "This is the season of joy, of gift-giving, and of families united," says General Manager Joseph Brickner. "We modified our approach this year because of COVID, but we never lost sight of our mission."
The San Antonio employees were divided into teams and were empowered to choose personally meaningful organizations. "Everyone lives in different areas and has a chance to give input on the organizations," Brickner says.
One team adopted Roy Cisneros Elementary, donating 40 bags of food and 40 wrapped toys to families there. "Without this food, some families may not have had enough to eat during the holiday break. These gifts might have been all some children got for Christmas."
VITAS San Antonio also purchased 23 wreaths through Wreaths Across America to remember and honor veterans. On December 17, the wreaths were laid on the graves of fallen soldiers in a touching ceremony at Fort Sam Houston National Cemetery.
However, they didn't stop there. The team in San Antonio also:
Donated care packages to 20 children fighting cancer through Gabriella's Smile Foundation
Provided 30 seniors with lotion sets, socks, and blankets through Northeast Senior Assistance
Packed and distributed 700 meals for 140 local seniors at the Austin WellMed Charitable Foundation Senior Community Center
Creating Lasting Memories for Pediatric Patients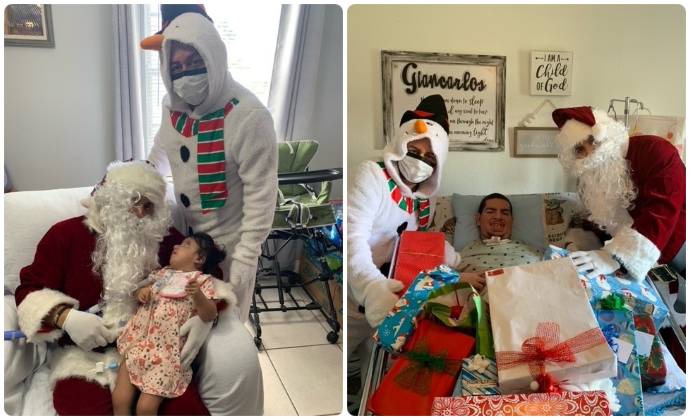 For VITAS team members in Orlando, Florida, taking care of each other takes on a special meaning each year: They work with a local church to adopt families with pediatric hospice patients under the care of VITAS for the holidays.
"Church on the Drive has worked with us for many years to support our pediatric team," says General Manager Wendy Walsh. "They adopt the entire family and provide them with clothing, toys, holiday meals, gift cards to restaurants, furniture, and holiday decorations."
VITAS staff members play a special role, delivering the items while dressed up as Santa, snowmen, and elves.
"Our goal is to bring a positive experience to the patient and family in their home and create lasting memories."
A Broad Impact
Team members with VITAS in Florida's Lake and Sumter counties helped more than 100 families this year while partnering with four organizations.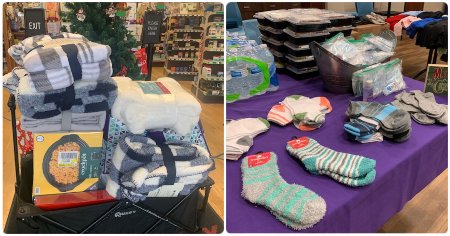 "We are in a fortunate position of being able to impact our community with not only the care we provide our patients and families, but also with the partnerships we have and the wonderful people that work for us," says General Manager Jeff Benevit.
The team focused on supporting a variety of populations and organizations, including:
Providing care packages and lunches to go for the Salvation Army's weekly homeless breakfast program
Adopting 25 seniors in need through LovExtension
Donating new toys through Toys for Tots
Donating gently used shoes and winter clothing for homeless women and children to the Haven of Lake & Sumter Counties
Giving Thanks, Giving Back
Supporting local communities can be done in many different ways, as the VITAS team in Brevard County, Florida, showed this year. The team ordered full turkey dinners, complete with pumpkin pies, for hospice families in need of a Thanksgiving meal, and sponsored a local toy drive.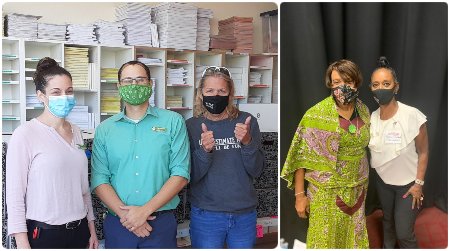 "Everyone is struggling, especially right now. The holiday season can be difficult for anyone with a loved one in hospice," says General Manager Kathleen Kashow. "We pride ourselves in taking care of each other, and we are thankful to have been able to help our families during this time."
And on November 21, VITAS Brevard helped sponsor United in Thanksgiving, a collaboration of 20 faith and community leaders who came together from diverse faiths and traditions, presented by Interfaith United.
"Our very own chaplain, Rosalie Norman-McNaney, spoke on meditation in a moving session," Kashow says. "This event focused on building relationships and creating a better understanding of different faiths and traditions to promote unity."
Join VITAS, Give Back
Looking to join a company where you can do work you love and also connect with your community? Apply today at careers.vitas.com.