Specialty Care, Working at VITAS
Military Patients, Families Find Camaraderie at VITAS
Recently, Mark Hensley found himself sitting on the front porch of his patient's home into the wee hours of the morning.
Mark is a VITAS bereavement manager and chaplain; his patient was a Vietnam War veteran whose death was imminent. The soldier's family came from several generations and a variety of religious and non-religious backgrounds.
"I want everyone to have the dignity, as a human being, to feel that someone cares."
Ever-committed to helping others, Mark stayed up late listening to their troubling stories, concerns, and grievances from the Vietnam War that caused permanent scars to their loved one and immediate family.
When the soldier passed, the family invited Mark to deliver remarks in the home, not sure if they would have a funeral. Later, they decided to have a celebration, asking Mark to attend their private gathering more than 90 miles away. He accepted and made remarks there, too.
Mark served as a chaplain in the Ohio Army National Guard, a background that gives him a unique toolkit as he helps veterans' loved ones navigate grief and loss.
The unique needs of veterans near the end of life—and the fellowship they find in each other—is one of the many reasons VITAS makes it a priority to acknowledge and celebrate the veterans on our staff.
"There's a bond among veterans, and I have, at least, the credibility of being one," he says. "I don't have the credibility of having fought in Vietnam or Iraq or Afghanistan, but I can speak in authentic terms about military life."
Veterans to the End
As they approach the end of life, veterans often must confront complex memories and emotions related to their service. Many former service members find it easiest to talk about these feelings with fellow veterans who have shared in the camaraderie and challenges associated with military life.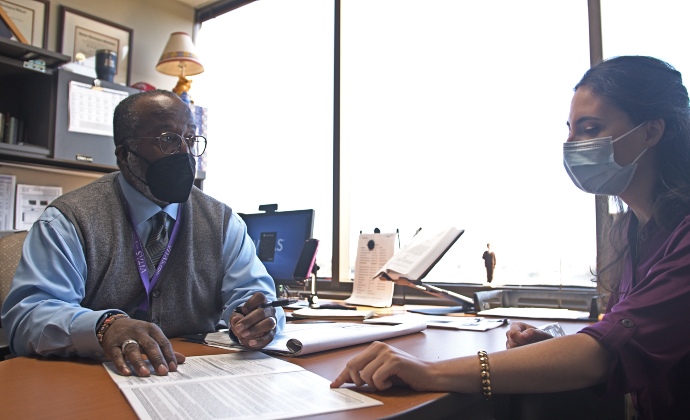 Many families of terminally ill or deceased veterans must learn to live with the unintended consequences of their loved ones' trauma—especially when circumstances deny the opportunity for meaningful closure.
In these cases, a veteran's family can also find comfort and support in other veterans. They may best understand the heartbreak and unspoken—sometimes even unknown—sacrifices of a soldier.
Mark helps these families both as a member of the VITAS team in Columbus, Ohio, and through his work with the Tragedy Assistance Program for Survivors (TAPS).
TAPS offers seminars, both in person and online, on a variety of grief and loss topics. Personnel at TAPS specialize in community-based counseling connections and longstanding local support groups. Casework assistance is also available for benefits, finance, and legal issues that are all a part of primary and secondary loss.
For many, guilt is the emotion that dominates their loss—guilt over saying or doing the wrong thing in the wrong moment, over failing to understand their loved one's experience, or over the sense that they could have done something more to change the outcome of their loved one's life.
"I try to articulate to those who are grieving that they can have these difficult conversations with themselves without being so hard on themselves," Mark says. "I aim to help survivors to have some sense of self-care and grace, where they don't beat up on themselves for something they can't or couldn't do."
Flexibility to Listen
Mark brings a deep "toolbox" of hard-earned skills and creative techniques. He knows the value of having a variety of options for every family encounter.
"It's not one size fits all," he says.
The family of an elderly veteran who died of service-related cancer has different needs than the parents of a young Navy recruit killed in an accident during basic training. Likewise, the surviving family of a veteran suicide victim faces different challenges than that of a soldier who died in combat.
Regardless of a military family's unique circumstances, Mark comes to each encounter from a place of authenticity and accountability.
Before meeting with a veteran or their family, Mark tries to understand the influences that defined their military experience. That might mean listening to music from the era when they served, watching a TED talk on an issue important to them, listening to a TAPS presentation on survivor's guilt, or calling a friend in the military for perspective.
"I take off the mantle of being 'the expert'; instead, I'm a veteran and we're just having a dialogue," he says.
Many survivors, Mark says, struggle to know how to talk about the feelings surrounding their loved one's loss. In online seminars, some participants summon the courage to ask uncomfortable questions relative to day-to-day survival. For example: I am self-employed; if I do not work, I am not paid. How can I work and grieve?
Mark turns to the room and asks for comments to learn from survivors and to get them talking to each other.
'The Difference Between VITAS and Everyone Else'
While Mark's military background can lend authority among many veterans and their loved ones, it can also present a challenge. The families of veterans of "unpopular" conflicts, or of veterans who were denied access to benefits or care for their service-related illnesses, may not look kindly on the military in their grief. In some cases, the Department of Veterans Affairs may have compounded their grief.
In these cases, Mark brings the same humility and accommodating presence as ever, allowing the family to set the tone and discuss their loved one how—and if—they choose.
"I genuinely love people and I want them to be all right," he says. "I want everyone to have the dignity, as a human being, to feel that someone cares. I give up my time to do the best I can, as if these people were my own family, and I genuinely want what's best for them from one human to the next."
He is adamant that none of what he does would be possible if he did not have the support and confidence of his peers, both in Columbus and within VITAS at large.
"I couldn't do it without them," he says. "That's the chemistry that makes the difference between VITAS and everyone else."
Interested in joining a tight-knit team of compassionate, people-focused professionals? Explore open positions in your area.