Nurses, Working at VITAS
National Nurses Week 2021: Nurses Put the Care in Healthcare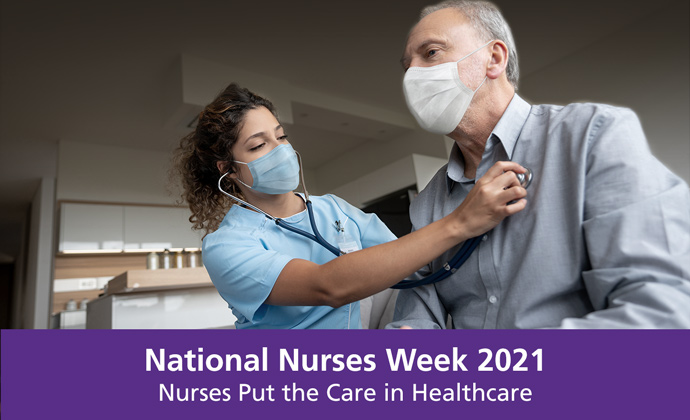 Nurses provide one-on-one care to patients at every stage of life and every point in the healthcare continuum, from preventive checkups and acute emergency interventions to comfort-focused hospice and palliative care.
By prioritizing empathy and patients' needs, nurses are truly the heart and soul of healthcare.
VITAS hospice care teams could not exist without the contributions of nurses. During National Nurses Week (May 6–12), we join the country in celebrating and honoring all nurses for their compassionate commitment to patients, families, and communities.
End-of-Life Nursing Care That Celebrates Life
Hospice and palliative care nurses have the special privilege of helping patients live with comfort and dignity in the face of serious illness, even in their final days, weeks, and months. Although hospice care begins as a patient approaches death, many hospice nurses see their work as a celebration of life.
"My work has purpose and meaning, and at the end of the day, it matters what we're doing."

-Jeanette Studer, RN, VITAS team manager
"I feel like I'm part of something very special at VITAS. The culture is fantastic," said Jeanette Studer, a VITAS team manager and nurse in Chicago. "My work has purpose and meaning, and at the end of the day, it matters what we're doing."
At VITAS, nurses provide comfort-focused care in a variety of settings—private residences, nursing homes, assisted living communities, hospice inpatient units, and more—to patients living with an array of medical conditions and diseases. Every day offers new experiences, new challenges, and ever-present opportunities to build upon a broad skill set.
Learn More: A Day in the Life of a Hospice Nurse >
The vast majority of nurses find their work incredibly rewarding: A 2018 survey found that 94–98% of nursing professionals were satisfied with their jobs.
VITAS encourages nurses to grow into gratifying roles as leaders and experts in their field. We provide internal training, continuing education opportunities, tuition reimbursement, and professional mentorship to nurses interested in attaining advanced licensure, leading care teams, or exploring possibilities in corporate operations.
VITAS Perks Support Career Growth, Advancement for Nurses
"The greatest thing about VITAS is that we can really grow with the organization," said Maria Sequeira, a senior patient care administrator in Miami-Dade County, Florida, who began her VITAS career as a team nurse in the field before taking on team management and administrative responsibilities. "VITAS has a lot of opportunities and [job] stability as the nation's largest hospice provider."
The value we place in nurses is evident in the number of nursing professionals who hold corporate leadership positions at VITAS. Peggy Pettit, executive vice president, Grace Fernandez, senior national patient care administrator, and Karen Peterson, senior vice president and chief of nursing, all began their careers as hospice nurses.
"VITAS has a lot of opportunities and [job] stability as the nation's largest hospice provider."

-Maria Sequeira, RN, BSN, VITAS senior patient care administrator
"I care about people," Karen said. "I want to make things better each day. I enjoy helping people and doing something different every day. I started off as an LPN, got my RN, then got my bachelor's [in nursing]. I've loved it ever since."
National Nurses Week is the perfect time to let the nurses in your life know that their compassion and care matter. Please join us in saying "thank you" to all nurses as we recognize their crucial role in hospice, palliative care, and every healthcare discipline.
If you're exploring a career in healthcare, hospice nursing is an opportunity to transform your passion into purpose as you make a difference in the lives of patients and their families through hands-on care.