VITAS Values, Working at VITAS
Why We Work in Hospice: Senior National Patient Care Administrator Grace Fernandez
Grace Fernandez clearly remembers the day in 1989 when she interviewed at VITAS for a job as a field nurse on a team caring for AIDS patients. She had just moved to Miami from New York City.
"The furniture in the office didn't match, the receptionist was at a desk that was scratched, and it was so busy that the clinical director had to find a quiet place to interview me," she recalls. "I remember saying to myself, 'What are you doing here?'
"But I was drawn by a palpable energy in that office. Everybody was talking, working together, there was a lot of laughter, and I remember being impressed by that. I really felt like this hospice was the place for me."
Learn More: How VITAS Led Hospice Care in the AIDS Crisis
So impressed, in fact, that Grace not only took the job, she stayed for three decades, taking on additional administrative roles over the intervening years as team manager, inpatient unit manager, admissions manager and patient care administrator.
All of those experiences led to her appointment as senior national patient care administrator for the nation's leading provider of end-of-life care.
She's still inspired the same palpable energy that attracted her to VITAS.
'Our People Are Our Biggest Asset'
As she looks back on her 30-year career, Grace remains impressed by many factors that have created success:
"I've always felt that our people are our biggest asset," she says. "This work is the hardest work you'll ever do.
"Patients are trusting us to do the right thing by them, and I know that in the end, we will make the right decision."
"We have field staff and secretaries who have been here longer than I have been here, and I just reached my 30th anniversary. These are people who have seen death and dying on a daily basis–that's a calling. It's mind-boggling when you think about the fact that most people don't want to do this. What's more incredible is that all those people still do this, every day."
She sees her primary role as an advocate for patients, asking the key questions that keep the company focused on hospice basics:
What does the patient want?
What does the family want?
Is their request something we can do?
Is their request something we've never done before?
How can we accomplish what needs to be done?
"Patients are trusting us to do the right thing by them, and I know that in the end, we will make the right decision," says Grace.
She is guided by a simple but profound philosophy: "Whatever you do, do not lower your standards. We should always raise the bar, not lower it."
A Solid Foundation, A Promising Future
Grace is one of a handful of current employees who worked closely with the company's 1978 founders, Miami minister Hugh Westbrook and nurse Esther Colliflower. The two visionaries helped launch the American hospice movement.
"We're a pretty fascinating organization in what we do," she points out. "I always say, 'There is no one like us.'
"We have the culture and the history. We have people who've been with us 35 years and can tell the stories of us being inspired by the vision of Hugh and Esther. They certainly set the foundation, but what I love now is that we're so many steps beyond that because our vision has grown."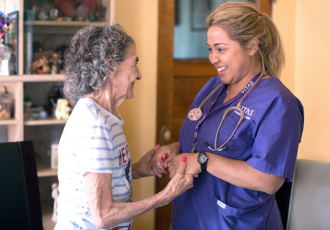 Choose a Career with VITAS
We offer a variety of full-time, part-time and per-diem employment opportunities. Employees earn competitive salaries and have the flexibility to choose a benefits package suitable to their own needs and lifestyle.
See Current Opportunities