Working at VITAS, VITAS Values
VITAS Team Arranges Fairy-Tale Wedding After Hospice Patient Finds Love
Bobbie "BJ" McKnight, a VITAS patient in Cincinnati, didn't expect she'd find true love while in hospice care.
She certainly didn't anticipate getting married.
That changed when BJ met Robert Privette, a fellow resident of the Arbors of Milford nursing facility where she lived and received care.
"This was a wedding you'd plan for two years, and it came together in two weeks."

-Stephanie Kozakiewicz, VITAS social worker
Robert didn't wow BJ with a sweeping romantic gesture but with a small act of kindness: After overhearing that she was thirsty, he stopped by her room with a bottle of Mountain Dew.
"He has such a soft, sweet spirit about him," BJ told WCPO, a local TV news station in Cincinnati.
When BJ moved to a new facility to be closer to her kids, Robert followed. And when Robert asked Bobbie to marry him, she asked Stephanie Kozakiewicz, a social worker for her VITAS team, to help make it happen.
"They just captured our heart from the minute that we met them," Stephanie told WCPO. "We wanted to make this day special."
VITAS Teams Are Always Ready to Help
Hospice care is about more than meeting the clinical needs of patients who face the challenges of advanced illness. VITAS staff members find professional fulfillment and personal gratification in making the lives of others more meaningful.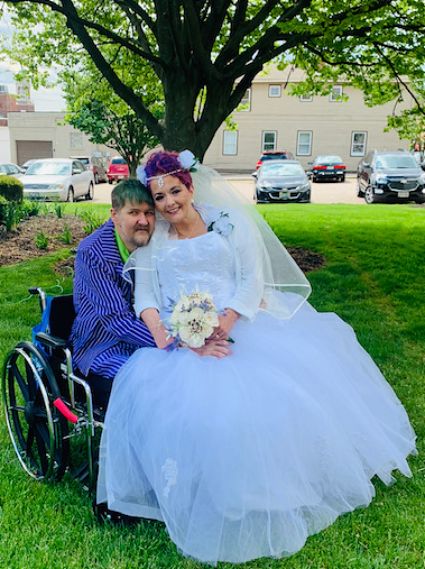 While wedding planning isn't typically part of the curriculum for social workers, nurses, or other healthcare professionals, hospice experts like Stephanie know to be ready for anything—and when to call in for backup. Stephanie and Lynda Anello, VITAS admission liaison, led their team in organizing the event but knew they couldn't manage alone.
With support from their colleagues and charitable community members, Stephanie and Lynda arranged for all the elements that make a wedding unforgettable.
"Initially, we were planning a simple ceremony in the nursing home parlor, with just BJ and Robert, VITAS chaplain George Ragan, and myself," Stephanie says, "but the couple decided they wanted their children to be involved in the special day."
COVID-19 restrictions stipulated that children couldn't enter the nursing home, so Stephanie began scouting nearby parks. Just a mile from the Lebanon Health Care Center where BJ and Robert now lived, Stephanie found a beautiful gazebo she thought would make a perfect venue. When she called the city of Lebanon to explain the situation and ask about reservations, the city donated it at no cost.
Word spread around town, and in a matter of days, the quiet, four-person ceremony had transformed into an event fit for a fairy tale.
"It was just amazing," Stephanie says. "This was a wedding you'd plan for two years, and it came together in two weeks."
Unique Skills Make Dreams Happen
Every member of the VITAS team found an opportunity to use their unique skills to make the couple's wish come true. Some baked wedding cakes and cupcakes to share with guests; others provided makeup, nails, and hair services to the bride, officiated, took photographs, and contributed catering, decorations, and other furnishings.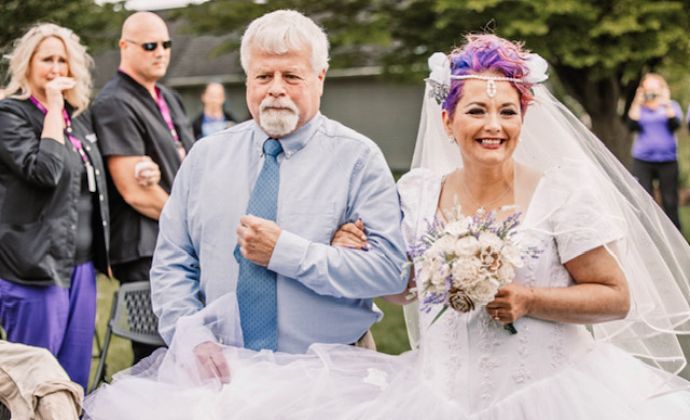 Ravneet Gill, MD, associate medical director for VITAS in Cincinnati, gifted BJ "something blue": a bracelet with blue jewels from India. Darlissa Scott, executive secretary for the team, made centerpieces for the tables.
Oasis Senior Advisors and Touching Hearts of Dayton, Ohio, sent a horse and carriage to transport the couple to and from their residences, imbuing the wedding with a fairy-tale atmosphere. A local restauranteur living with stage 4 cancer heard about the occasion and donated enough food for 75 people.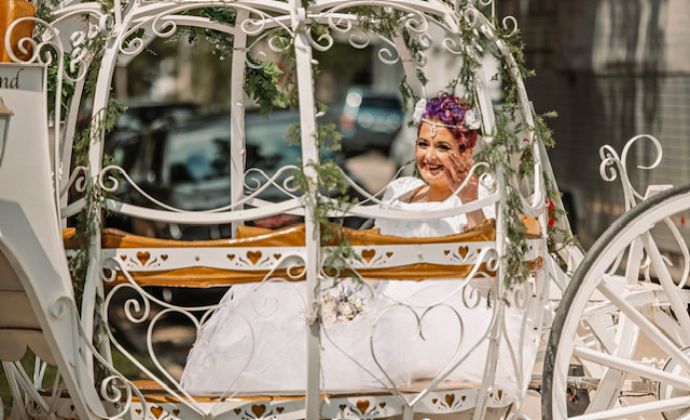 "There are so many angels working together to make this a reality and make it a dream come true," Lynda said in an interview with WCPO.
When BJ was unable to find a dress that fit her style, her body, and her budget, Lynda asked the Ohio Nurses Network for help.
Within hours, she received hundreds of responses offering a variety of free services, supplies, and donations. Of those initial respondents, Stephanie says about 30 were eager to donate their gowns, veils, tiaras, and other garments. Finally, they found a dress that worked for BJ, and secured the assistance of a retired hospice nurse who volunteered to handle last-minute alternations.
"This is what we're all about: 'I'll do my best today and even better tomorrow'," Stephanie says, quoting one of the VITAS Values. "I was so proud that we were able to come together as a team and with our community partners to make a difference in our patient's life."
Robert Rose from his Wheelchair to Greet his Bride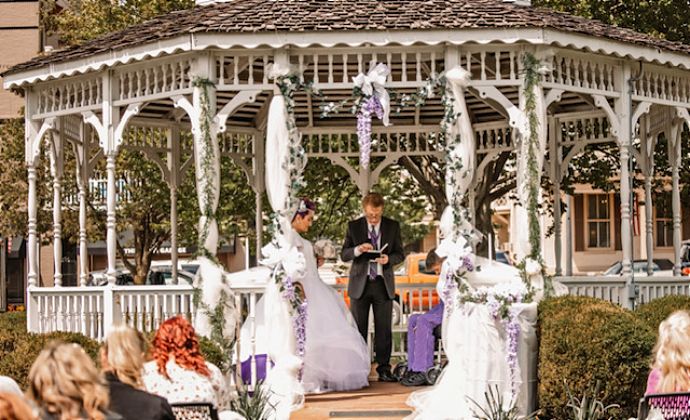 Magic seemed to fill the air when the couple met at the altar. Robert, normally confined to a wheelchair, put weeks of practice to work and rose to greet his bride. Tears and cheers flowed freely as BJ and Robert finally said, "I do."
While the team knew that a wedding wouldn't heal BJ's failing liver or Robert's failing kidneys, it brought joy and purpose to so many lives. Plus, it brought a hospice team—and an entire community—together to celebrate their love.
That, Stephanie says, was the most satisfying part of organizing the event. After all the unforeseen challenges and restrictions caused by the COVID-19 pandemic, the VITAS team stepped up to change lives for the better.
"We've seen so much ugliness in the last year and a half, and this was nothing but beautiful," she says.
"Seeing this wedding come together gave me such a sense of pride in the company that we work for."