Chaplains, VITAS Values
VITAS Team Member Draws on Personal Experience to Support Patients, Families
Mark Hensley, a bereavement services manager for VITAS in Columbus, knows how hospice care and funeral services bring comfort and dignity to a person near the end of life, and to their families afterward.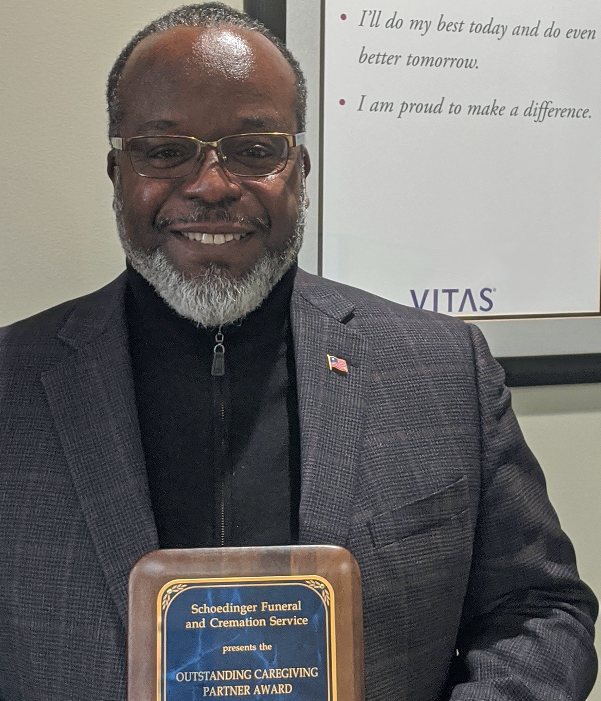 He experienced it himself when his mother died four years ago as a VITAS patient.
Living the VITAS experience as a family member fuels Mark's passion to ensure that other families receive the same continuity of support even after a loved one passed away.
For his efforts, he recently received the Caregiver Partner Award from Schoedinger Funeral Homes for personal contributions that support the funeral home staff and community initiatives on end-of-life care, death, dying, advance care planning, memories, and healthy grief.
"I'm just trying to make the world a bit sweeter and a bit better in the service of hospice," Hensley says. "I'm using the gift I have been given."
Educating and Empowering his Community
Hensley joined VITAS in 2011 as a chaplain but left a year later to help care for his mother, Martha Ann Hensley, who was diagnosed with Alzheimer's disease. After her death in 2016 on VITAS hospice care, he returned as a Columbus chaplain and soon moved into the bereavement services manager role.
"My personal experience is that VITAS and Schoedinger both took care of my mother and gave her the dignity that I, as her son, felt she deserved," he explains. "I truly appreciated the level of trust that enabled me to be on the receiving end of such professionalism as both my mother's son and as a hospice professional."
With the Schoedinger team, Hensely now develops and delivers continuing education programs on such topics as advance care planning and the role of faith in healthcare. He oversees candlelight vigils and touching memorial services at Schoedinger's locations. He has co-presented with Schoedinger experts to Franklin County's aging task force and local hospitals.
"I'm just trying to help people make sense of everything because the loss they feel is so huge."
Working with a funeral home has deepened his understanding of COVID-19's broad impact. Funeral home directors are front-line workers, too, bearing the burden of more bodies to prepare/cremate, more funerals, and new protocols for services, he says.
Like the hospice profession, the funeral industry has had to create entirely new ways of talking with grieving family members about funeral planning, shaped by COVID-19's in-person visitation limitations and social distancing requirements.
To keep Schoedinger and VITAS staff members updated on current topics in hospice care, death/dying, and grief, Hensely also oversees a Books & Bagels lending library program, an initiative that continued via Zoom in early 2020 when COVID-19 restrictions limited in-person get-togethers to discuss timely books, essays, and other related works.
'The Value of Taking Care of Each Other'
Hensley appreciates the award, but is quick to give credit to his VITAS team, too.
"I have the buy-in and permission to do what I do because I'm part of the team. I'm just trying to help people make sense of everything because the loss they feel is so huge. I'm fortunate that I have the opportunity every day to work for an organization that believes in the value of taking care of each other."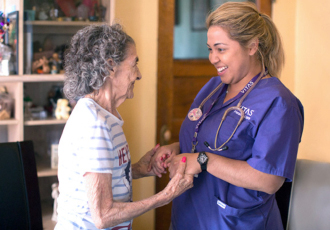 Choose a Career with VITAS
We offer a variety of full-time, part-time and per-diem employment opportunities. Employees earn competitive salaries and have the flexibility to choose a benefits package suitable to their own needs and lifestyle.
See Current Opportunities