Diversity
Honoring Black History by Overcoming Historical Barriers to Care
Every year, Black History Month grants us an opportunity to celebrate, honor, and recognize the achievements of Black individuals and their impact on American history and culture. The theme of the 2021 observance, "Black Family: Representation, Identity, and Diversity," examines the journey of the African diaspora as Black families settled across the country.
VITAS understands the importance of family—our hospice teams are built on a model of care for patients and their families alike—and empathizes with the challenges and barriers to care faced by Black families and other families of color.
During Black History Month, VITAS reiterates our dedication to overcoming these barriers and making choice, comfort, and dignity near the end of life accessible to everyone.
"We're here to help you," says Kristopher Halsey, VITAS bereavement manager in Philadelphia. "We're here from the beginning of the prognosis through your journey, during the time that you're on service, as well as holding your hand even after your loved one transitions. We're not going to leave you."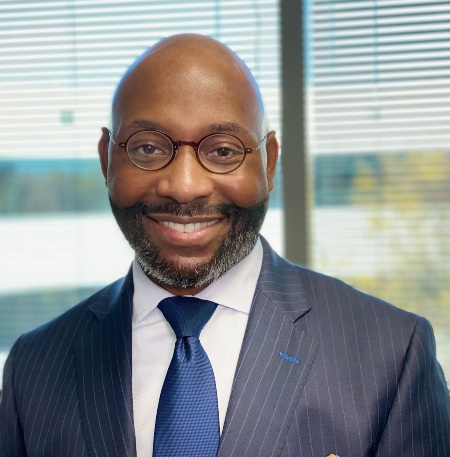 Our Hospice Care Teams Reflect the Communities We Serve
As a Black man and hospice advocate, Kristopher acknowledges that healthcare providers can make a positive difference in building trust within our communities of color. At VITAS, that work begins with standing by our promise to provide meaningful care near the end of life, and is supported by education that unravels common hospice misconceptions.
"Educating the community is important because they really need trust. They need to know that someone is there," Kristopher says. "One of my main roles with coming on board [at VITAS] is being able to talk about this and to reassure the community that we're here to help you. Hospice is there to support you during one of the most challenging times in your life."
"They need to know that someone is there."

-Kristopher Halsey, VITAS bereavement manager
VITAS offers care in communities of color and other underserved communities where smaller providers cannot afford to operate. Through no-cost training opportunities, academic scholarships, and partnerships with professional healthcare organizations such as the National Black Nurses Association, VITAS ensures these communities are represented and served by the next generation of clinicians.
To ensure our staff understands the experiences and challenges faced by our patients and their families, VITAS hires directly from the communities we serve. Every hospice team features clinicians and specialists from diverse backgrounds, reflecting the differences in race, ethnicity, language, spirituality, class, gender, and sexual orientation exhibited by our diverse patient base.
FAQs: How Diversity Informs Our Care and Culture >
We take pride in training our staff to honor the traditions, cultures, and values of the patients and families we serve. Whether you're just beginning to explore options for end-of-life care, or your loved one is receiving 24/7 support from VITAS, you can expect dignity and respect from every interaction with the VITAS team.
"We hold your hand—sometimes figuratively, and sometimes literally," Kristopher says. "Through the process, we're with you and your family from the beginning all the way to whenever the ending is."