Volunteers, Working at VITAS, Diversity, VITAS Values
Chicago Volunteer Manager Innovates, Adds 'Preceptor of the Year' to Collection of Honors
As volunteer manager for VITAS in central Chicago, Aaron McLeod coordinates volunteer efforts to care for VITAS patients in their homes, assisted living facilities, inpatient hospice units (IPU), and nursing communities. He's also responsible for educating Chicago State University's College of Pharmacy clinical interns who undergo practicum in the VITAS IPU at Mercy Hospital.
When healthcare facilities began barring nonessential access at the start of the COVID-19 pandemic, CSU considered pausing the practicum. In response, Aaron put together a plan to continue the practicum in a virtual setting, keeping students on track and earning him the recognition of "Preceptor of the Year" from CSU.
Aaron can add the title to his growing collection, which now includes doctor of ministry, doctor of law, and pastor of Gorham United Methodist Church.
His latest addition required overcoming the obstacles of a global pandemic.
Treating Students Like Professionals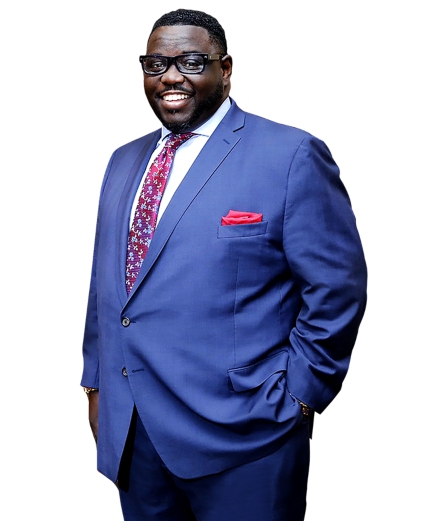 "I really wanted to ensure that we maintained our volunteer census with these students while assisting them with completing the practicum requirement," Aaron says. "We put a proposal together, I petitioned the pharmacology department not to halt the practicum, and together we initiated a virtual practicum environment. It was the first time they had ever done that in the history of the school."
The groundbreaking approach required Aaron to think creatively about potential issues that were typically absent from traditional clinical education:
What level of communication between teacher and student should be expected?
How could patient care scenarios be discussed online without exchanging HIPAA-protected information?
Could the original practicum requirements be met?
He worked with Charisse Johnson, assistant dean of the College of Pharmacy and practicum director, to develop a curriculum for the new program. Students focused on hospice basics, care planning, and effective communication while getting a rundown on VITAS services.
Aaron says he relied on lectures designed to hone students' professional development, treating them "as if they were practicing clinicians" looking to become healthcare leaders, not just students hoping to graduate.
"I appreciate VITAS and their willingness to pivot quickly in situations like this pandemic, ensuring that we continue to serve patients and families," he says.
A Rewarding, Welcome Challenge
Already, the new approach to practicum is producing positive results.
"It's been very rewarding for me," Aaron says. "I love teaching at the graduate level, so it was a welcome challenge to figure out how to make it work."
Additionally, he says Johnson plans to write an academic article based on the findings and experiences of those participating in the program.
"The more pre-professionals we can train, the better the overall field will be, because we'll teach them VITAS values."
While Aaron admits the pandemic has complicated efforts to connect with new volunteers and effectively utilize current volunteers, he says VITAS has a co-educational responsibility with its partnering learning institutions–especially those like CSU, an inner-city regional research institution committed to public health, nursing, and pharmacy sciences. CSU primarily serves African American students and students of color on Chicago's South Side.
When VITAS supports the clinical and professional development of students, especially those in underprivileged and underserved communities, the company not only meets its own volunteer needs, but ultimately promotes a better trained, more compassionate medical field.
"I think we will grow our census of clinical interns matriculating through pharmacology school, nursing school–even some medical students have reached out to participate in our active endeavor," Aaron says. "The more pre-professionals we can train, the better the overall field will be, because we'll teach them VITAS values."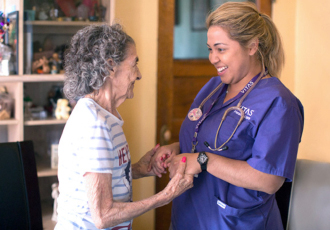 Choose a Career with VITAS
We offer a variety of full-time, part-time and per-diem employment opportunities. Employees earn competitive salaries and have the flexibility to choose a benefits package suitable to their own needs and lifestyle.
See Current Opportunities