Physicians, Nurses, Working at VITAS
VITAS Team Physicians and Nurse Practitioners: Ensuring High-Quality Medical Care in Hospice
At VITAS, everyone is equal on the interdisciplinary team. Every discipline has a say when discussing every patient's status at weekly team meetings. The hospice social worker, aide and chaplain are respected for their concern, care and compassion. The team's hospice physicians and nurse practitioners are respected for their knowledge and commitment to high-quality medical care.
That is especially true when they take the time to share their passion for and knowledge of hospice care with others.
Learn more about being a VITAS physician and nurse practitioner.
Each year, outstanding employees are awarded as VITAS BEST winners for their efforts "Building Excellence, Satisfaction and Teamwork." These VITAS BEST nurse physicians and nurse practitioners led their regions in 2019:
Frank Hsueh, MD, home care physician
East Bay, CA
Dr. Hsueh prides himself on working collaboratively, being approachable and accomplishing every task as a team player. He is patient and generous with his time, teaching others during interdisciplinary team meetings.
Dr. Cox is a dedicated hospice physician who does whatever is required to ensure quality care for his patients. He is an educator, role model and mentor to his teams, who sometimes worry that he works too hard. Says one of his colleagues: "Dr. Cox is the perfect example of what a hospice physician should be."
Dr. Dillehay has a great work ethic that results in interdisciplinary team meetings that are well organized, allowing him to teach and coach other members. In fact, he mentors and trains new VITAS physicians so effectively that the program coined his approach "The Dillehay Method."
Erika Brudzinski, MD, nursing home physician
Cincinnati
Dr. Brudzinski possesses humility and compassion that makes her approachable, easy for any staff member to talk to. She is truly available to all staff, and she takes calls outside of her usual working hours.
Christina always answers her phone, regardless of the day or time. "If someone is calling me," she tells her appreciative team, "they must need help."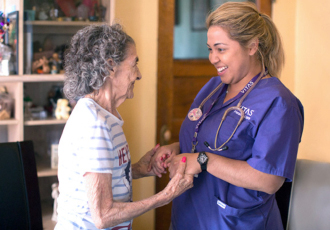 Choose a Career with VITAS
We offer a variety of full-time, part-time and per-diem employment opportunities. Employees earn competitive salaries and have the flexibility to choose a benefits package suitable to their own needs and lifestyle.
See Current Opportunities