Nurses, Working at VITAS
VITAS Registered Nurses: The Caregivers and Coordinators of Compassionate Hospice Care
Registered nurses at VITAS are qualified to hold many positions. They shine as hands-on caregivers and can rise in the ranks to managers, directors and more.
Every patient sees a registered nurse regularly, based on the plan of care. The RN is the liaison with the VITAS team physician, oversees the work of aides and leads the interdisciplinary team.
Advanced illness is a critical time for patients and families, as they decide which care option will be best to meet their needs and respect their wishes. RNs play an important role in educating families, evaluating potential patients and caring for those who choose VITAS.
Learn more about being a VITAS registered nurse.
Each year, outstanding employees are awarded as VITAS BEST winners for their efforts "Building Excellence, Satisfaction and Teamwork."
These VITAS BEST nurses led their regions in 2019:
Divina Peralta, RN
San Diego
Divina was recognized for her professionalism. She passes along her hard-earned lessons to the other members of her team, and her optimism and compassion touch those she works with and for. A recent note from a patient's family read, in part: "Divina Peralta was our main communication person and she was awesome! She always gave us a detailed, helpful account of Dad's status and listened and responded wonderfully when I'd tell her what I observed."
Donna is an experienced nurse who has worked in the hospice field for only a few years. Her professional growth, selflessness and willingness to be a team player have impressed her team and the patients and families she cares for.
Gwen makes it clear that her first priority is her patient and the patient's family. In addition, VITAS expects all care team members to comply with specific standards in their patient care, documentation, volunteering for extra assignments, etc. Gwen exceeds those expectations.
Kelley is a case manager working with VITAS patients residing in nursing homes and other facilities. Kelley developed a communication tool to keep VITAS patients' families informed of their loved ones' ongoing hospice services. She also works to share family preferences for receiving information (text, phone or email). Her efforts have resulted in families feeling better connected and facility staff feeling VITAS is the hospice provider of choice. More patients are choosing VITAS in facilities where Kelley is the primary nurse, and her communication tool is being piloted in the Northern Virginia office.
Dagmawit puts the patient and family first in everything she does. She always presents with a positive attitude and communicates all findings to her assigned nurse. Dagmawit does not hesitate when asked to step in to cover patients when the program is in need.
Lakesha has taken on the demanding project of serving as VITAS community liaison to Chen Senior Medical Centers and still maintaining a balance in her personal life—a balance VITAS applauds for all its employees. Because of her skills as an RN, Lakesha was also requested by name to be the primary RN in one of the most difficult hospice situations, a young dentist with advanced illness and a large family. The family made it clear they wanted only Lakesha and Dr. Zulmarie Ortiz, who managed their schedules to make that happen.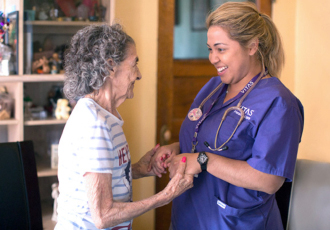 Choose a Career with VITAS
We offer a variety of full-time, part-time and per-diem employment opportunities. Employees earn competitive salaries and have the flexibility to choose a benefits package suitable to their own needs and lifestyle.
See Current Opportunities