Hospice Aides, Working at VITAS
VITAS Hospice Aides: At the Heart of Compassionate Hospice Care
At VITAS, hospice care is defined by hospice aides. They are the healthcare professionals who have the most contact with each patient.
They often are a patient's confidante. They care for patients in small and meaningful ways on an almost daily basis, get to know members of the family and are in a position to notice and report changes in a patient's status to the VITAS physicians and nurses who rely on their observational skills.
Near the end of life, a personable and professional hospice aide (also called a home health aide or HHA) can be a comforting difference for patients and their loved ones.
Learn more about being a VITAS hospice aide.
VITAS Teammates Describe Our Hospice Aides
Each year, outstanding employees are awarded as VITAS BEST winners, for their efforts "Building Excellence, Satisfaction and Teamwork."
The VITAS hospice aides below led their regions. Learn about these hospice aides, as described by their teammates:
"Lauretta has shown such greatness since joining our team. She is the epitome of VITAS BEST and it is reflected in the care and love she provides. She makes sure each patient and family member comes first, doing her best daily and doing even better the next day. She receives accolades from patients and their families about her great care and sets a positive example for her co-workers to follow. We are so lucky to have her on this team!"
Chanda Vegas, HHA Home Care
San Antonio
"When we assign Chanda to a patient's care team, we know that not only will the patient be kept clean and treated with dignity and respect, but that they are receiving care from a superstar hospice aide who brings superior experience, communication and high personal standards. Nurses value her notes and comments as they document and verbalize the patients' needs to the doctors. The psychosocial staff love to collaborate with Chanda about how to engage patients. She eagerly picks up other aides' visits when needed. Her positive and cheerful attitude, sense of teamwork and never-ending 'We can do it' are examples for all disciplines to follow."
"Clair gives excellent patient care and receives compliments on a regular basis from patients and families. She treats every patient as she would her own family member. Clair always has a smile on her face."
"Michelle performs above any family's expectations. She is kind, responsible, professional and a hard worker. She communicates all patients' distress or new symptoms to the nurse on time and follows with excellent manners. All the staff at the Plaza facility love her, and she follows all patients with a good attitude."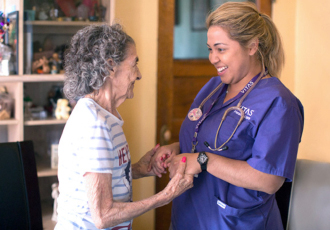 Choose a Career with VITAS
We offer a variety of full-time, part-time and per-diem employment opportunities. Employees earn competitive salaries and have the flexibility to choose a benefits package suitable to their own needs and lifestyle.
See Current Opportunities