Nurses, VITAS Values, Working at VITAS
The Power of Teamwork: 'We Pick Each Other Back Up'
Every day of Lauren VonHauptmann's career is a day patients and families trust her to guide them through the most difficult period of their lives.
Lauren is a hospice nurse. She goes into uncertain situations as a steadying hand—one that can rest on a patient's shoulder for reassurance, offer education to their loved ones, and care for them with respect near the end of life.
That's all possible because of the trust she places in her VITAS teammates.
"We need each other," she says. "I could not do what I do every day for my patients without my team."
Lauren is a member of an Orlando-based interdisciplinary team—a group of specialists who bring together their unique talents to care for each patient. They also lend each other emotional strength, collaborate with her on care strategies, and create space for her to thrive.
"Everybody has each other's back," she says.
A Culture of Support
The constant support VITAS offers—to its team members and its patients—was an important part of drawing Lauren to the company in 2021.
She worked at a skilled nursing facility served by two hospice providers. VITAS was the one that impressed her. She knew that by joining VITAS, she'd be joining a team committed to respect at the highest level.
"My manager is very caring. She knows what I need and when I need it," Lauren says. "But she's also willing to ask for help. That shows that she's human. She's a leader, as opposed to a boss."
We need each other. I could not do what I do every day for my patients without my team.
She can count on that level of partnership and respect from her teammates, too—aides, chaplains, social workers, and nurses. Each specialist's unique strengths lets the others to do their best.
"We work together," Lauren says. "We hold each other accountable, and we have our own high personal standards. That doesn't mean we don't falter. But when we do, we are there to pick each other back up."
Working Independently—Together
Lauren describes herself as an independent person. She values the day-to-day autonomy she has as a home care RN, which empowers her to set her own schedule and see patients when they need her.
"That's important to me," she says, "to be able to say, 'I've got this,' and have people trust that."
She trusts them in return. Lauren's focus on her patients is possible because she knows she can devote her full attention to them, and her team can handle the rest.
"We make sure that everybody has everything [they] need because we've been cultivated to be that for each other," she says. "We're proud of what we're able to accomplish."
Making a Human Connection
For Lauren, full focus on patients means connecting with them as people. She may spend part of a visit painting their nails or singing to them. She also makes a habit of bringing them birthday presents.
These personal moments are the ones she remembers most fondly.
"It's the little things," Lauren says. "Getting smiles out of somebody that nobody else can get a smile out of, seeing a patient respond to me singing to them. It feels good knowing I made a difference in somebody's life."
The most important thing is to recognize every patient as a person, not a task—and let them know she's a person, too.
"It's about treating them as individuals and people, giving them your time and respect and meeting them at their level," Lauren says. "Not going in as a clinician but going in as somebody who cares about them. That is the best way to treat somebody—with not only dignity and respect but also kindness."
View all current nursing job opportunities with VITAS.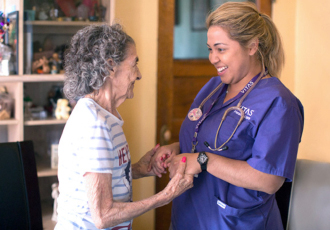 Choose a Career with VITAS
We offer a variety of full-time, part-time and per-diem employment opportunities. Employees earn competitive salaries and have the flexibility to choose a benefits package suitable to their own needs and lifestyle.
See Current Opportunities