Hospice Basics
Your Role in Hospice as the Attending Physician
You Are Part of the Care Team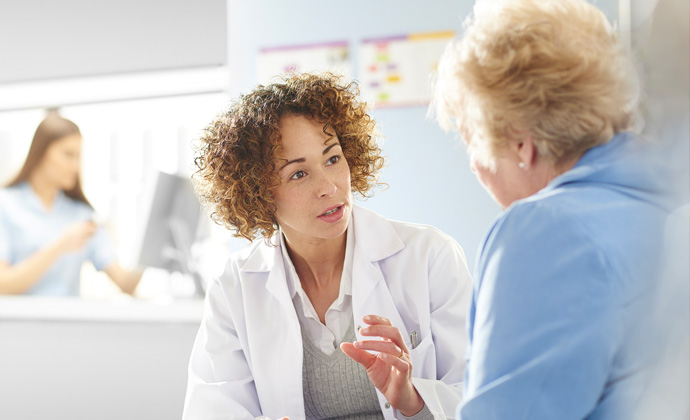 If you refer your patient with advanced illness to VITAS Healthcare and that patient designates you as their hospice attending physician, you can choose to support their plan of care and bill for the services you provide related to the patient's terminal prognosis.
As the attending for a VITAS patient, you are an integral member of our interdisciplinary team. You know your patient well, and we want to ensure we gather your input as we develop a customized plan of care for them. You can remain involved in direct patient care at the level and frequency you prefer.
The attending can be a doctor of medicine or osteopathy, a nurse practitioner,* or a physician assistant.*
Throughout your patient's hospice enrollment period, a dedicated VITAS representative provides updates on shared patients on a regular basis and consults you about changes in your patient's care plan.
Hospice Helps You and Your Patient
Hospice care with VITAS offers benefits to both you and your patient:
Think of the VITAS interdisciplinary team as an extension of your care in the patient's preferred care setting. You, your patient, and their caregivers benefit from the support of VITAS, which addresses your patient's unique physical, spiritual and psychosocial needs.
Our interdisciplinary teams include a hospice physician, nurse, hospice aide, social worker, and chaplain. Your patient benefits from the comfort, dignity, and personalized care the team brings to the patient's home.
Our expanded teams ensure patients are receiving the highest level of symptom management and quality of life beyond the hospice benefit requirements, including respiratory therapy, dietary support, PT/OT/speech, music, pet visits, and massage.
VITAS can help inform as well as implement your patient's plan of care, honoring their care goals, wishes, and values.
The primary goal of hospice and palliative medicine is to manage symptoms and achieve quality of life for patients and families. The research bears this out: Hospice care is associated with better symptom relief, patient-goal attainment, and quality of care.
In fact, encouraging earlier and increased hospice enrollment may improve end-of-life (EOL) experiences for patients with cancer and their families.1
Excellent quality end-of-life care (57% hospice vs. 42% non-hospice)
End-of-life wishes were followed a great deal (80% vs. 74%)
Death occurred in patient's preferred setting (68% vs. 39%)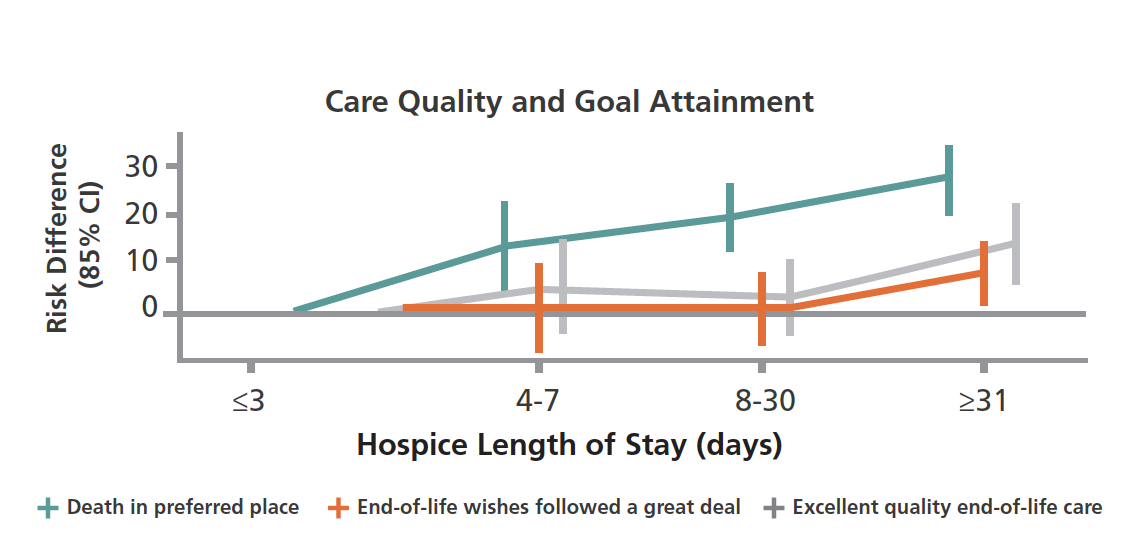 Healthcare Utilization and Cost Savings
Hospice reduces out of pocket costs for patients and families while decreasing total healthcare expenditures by providing care consistent with patient and families wishes and values. A study of 904,000 patients who died between July 2018 and June 2019 assessed the timing of hospice enrollment across care settings. The authors found2:
Healthcare utilization: Patients who received hospice services for < 2 months were 5 times more likely to visit the ED during the last month of life than hospice patients who had longer lengths of stay.
Costs: Patients who enrolled in hospice during the last 3-6 months of life consumed an average of $23,600 less in healthcare costs than patients who received no hospice.
As the attending physician, nurse practitioner, or physician assistant, you can continue to be reimbursed for your patient encounters. The following modifiers are how you bill when you are the hospice attending of record:
Modifier Chart
Modifier
Description
GV
Attending physician not employed or paid under agreement by the patient's hospice provider; or hospice-employed nurse practitioner acting as attending physician

Reported on CMS-1500 by non-hospice attending physician for services provided for treatment or management of conditions related to the patient's terminal diagnosis
Reported on UB-04 hospice claim for physician services performed by a nurse practitioner designated as the attending physician

GW
Service not related to the hospice patient's terminal condition

Reported on CMS-1500 by physician for professional services provided for treatment or management of conditions unrelated to the patient's terminal diagnosis
Ask our VITAS medical director or your VITAS representative about your role as an attending, or any other questions that you might have.
*Nurse practitioners and physician assistants cannot certify or re-certify an individual as terminally ill. Only the medical director/hospice physician is required for recertifications.
**These modifiers are provided for informational purposes only without a guarantee of the correctness or completeness of the material presented. This does not constitute billing advice; healthcare professionals should always consult their own billing or revenue cycle management experts for confirmation of proper billing procedures.
1Kumar, P., et al. (2017). Family perspectives on hospice care experiences of patients with cancer. Journal of Clinical Oncology, 35(4), 432.
2Trella Health (2020). Quantifying Hospice's End-of-Life Impact. Available at: https://www.trellahealth.com/portfolio_page/ quantifying-hospices-end-of-life-impact/