Advance Care Planning, Cultural Competency
Goals-of-Care Conversations: New Training to Empower Practitioners with Initiating Vital Discussions
Goals-of-care conversations, including end-of-life discussions, improve patient and family outcomes. Yet, an overwhelming majority of clinicians do not report feeling comfortable "having the hospice discussion."
VITAS has unveiled new training—the Goals-of-Care Preceptorship Program — to help stem this reluctance.
"Having difficult conversations is never easy and many clinicians do not have the training to approach these, making it a barrier to getting started," explains VITAS Chief Medical Officer Dr. Joseph Shega. "Also, clinicians fear 'hurting' patients and families with information. Naturally, they want to protect them even though it may inadvertently be more hurtful than helpful."
What Happens When Patients Do Not Know Their Options
Without having the goals-of-care conversations, patients and families endure over-medicalized care in the last months of life. This can include increased ED visits, hospitalizations with ICU stays, skilled care, and procedures and other diagnostic tests which reduce quality of life. These also increase healthcare and patient and family costs—and do not prolong life.
We know patients want to hear from their healthcare professionals whom they trust the most.

-Erika Gaudio, VITAS senior vice president
"If no one talks about what is actually happening, patients end up being in and out of the hospital and skilled facilities and receiving care that is not consistent with their wishes and values," says Dr. Shega.
The goals-of-care conversation prompts an insightful reflection on what constitutes a meaningful end-of-life process.
"Patients and families can identify what is important to them. Having these conversations helps ensure their care matches their wishes," explains Dr. Shega. "The most common values at the end of life are to be at home and out of the hospital, get good pain and symptoms control, further relationships with loved ones, and not be a burden."
Timely Transitions in the Continuum of Care
When patients who are seriously ill have passed the threshold of being able to receive curative treatment, their quality of life in their remaining weeks and months becomes a priority. Accessing the full benefits of hospice care enables them to receive clinical, emotional, and spiritual support. The sooner they gain access to these care resources, the better equipped they are for this end-of-life journey.
The three pillars to facilitate timely transitions to hospice are:
Understand the benefits that come with hospice services
Be able to identify when someone with serious illness has a life expectancy of six months or less
Incorporate essential communication skills and a structured framework to have a goals-of-care conversation
Making the Conversation Easier: Goals-of-Care Preceptorship Program
VITAS created the Goals-of-Care Preceptorship Program to increase the comfort of healthcare clinicians in initiating these vital conversations with patients. Leveraging evidence-based data, this certificate program helps physicians, nurse practitioners, advanced practice nurses, and physician assistants approach goals-of-care conversations with confidence.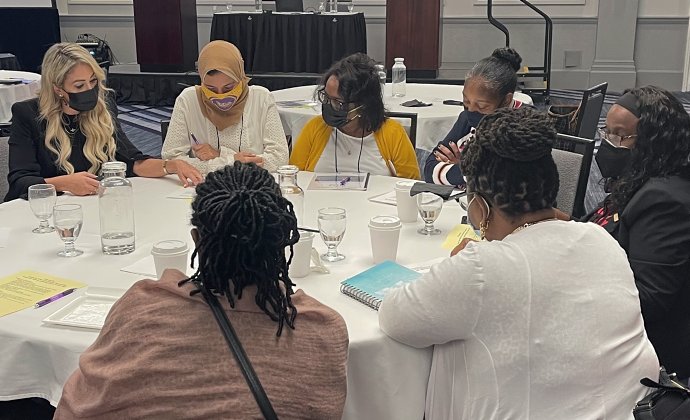 "We often hear: 'I don't have time' or see avoidance altogether," says Senior Vice President Erika Gaudio. "Yet we know patients want to hear from their healthcare professionals whom they trust the most. This program offers an interactive format in which physicians and advanced practice practitioners can role-play and learn from the various case studies in a safe space."
Clinicians can complete the program in four or more hours. They learn:
Module 1: Covers the typical clinical trajectories and value proposition of hospice
Module 2: Helps identify patients who have a poorer prognosis and assess eligibility
Module 3: Offers approaches to goals-of-care and end-of-life discussions
Module 4: Prepares you to overcome challenges and enhance your communication skills
Module 5: Provides a clinical scenario practice session with interactive role play and feedback from a VITAS preceptor
Module 6 (optional): Offers a live patient encounter with structured feedback from a VITAS preceptor
The program contains five mandatory modules. The sixth module is optional. It consists of a goals-of-care conversation to be completed by the clinician with a patient in the presence of a preceptor who provides real-world feedback and additional resources if needed.
How to Get Started
"Our hope is that providing clinicians foundational knowledge in the context of their current education and experience will help them feel more comfortable to engage in these conversations," says Dr. Shega.
Offering a streamlined yet comprehensive certificate program allows busy clinicians to complete the modules with a minimal time commitment.
"They will leave the preceptorship with a new skill set that allows them to truly understand their patient's care goals to serve them best," sums up Gaudio.
To sign up for our Goals-of-Care Preceptorship program, call us today.