End of Life Wishes
One Last Cast: How VITAS Helped a Patient With an End-of-Life Wish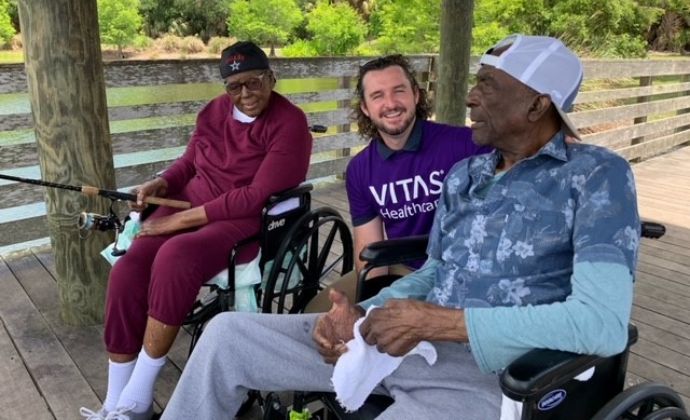 JC Payne, a VITAS patient in Florida's Treasure Coast, had been unable to spend quality time with his wife for more than two years due to the nature of his illness. And now, he was reaching his last opportunity to leave an everlasting happy memory that she could keep with her after he died.
JC had discussed his love for fishing with Andrew Mee, VITAS massage therapist, many times during their sessions. When he mentioned that he would love the opportunity to be on the water one last time with his wife, Andrew contacted VITAS Team Manager Darlene Billington.
Honoring last wishes is just one way VITAS can support patients with quality of life near the end of life. VITAS interdisciplinary care teams, including social workers and nurses, provide the care best suited to meet each patient's specific needs.
'I Hear Celie's Laughter'
JC had always been passionate about fishing. For him, it provided an opportunity to bond with loved ones through an exciting, engaging, and rewarding activity.
From the struggle of reeling in a difficult catch to the moment of relief and excitement that comes with finally getting the fish in your hands, it's the ups and downs of angling that made it such a fun way for JC to make memories with those closest to him.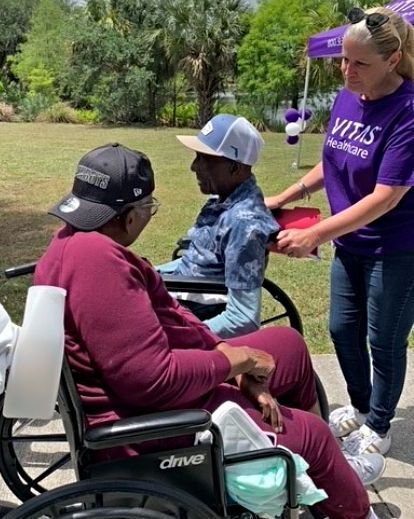 JC's wife, Celie, has coped with paralysis but continues to live in the Payne family home. JC had been living in a nursing home, receiving end-of-life care for his chronic illness. VITAS Social Worker Shekina Burson was able to coordinate transportation for Celie, and the fishing trip was planned to be at a lake near JC's nursing home.
On the day of the trip, JC was excited, lively, and as personable as ever. His VITAS care team knows him well; with his friendly personality, they're always in for a fun time when they see him.
Once he arrived, it was all smiles from the start. Celie relies on a wheelchair as a result of her condition. When she was being wheeled down to the dock, JC, without seeing her, stopped and said "Wait, I hear Celie's laughter."
This was a heartwarming moment for the entire team, and it was beautiful to see their warm embrace. They were elated to see each other after having spent so much time apart.
Throughout the afternoon, they enjoyed fishing, having lunch, sharing great conversation, and reminiscing with not only each other but also the entire group that attended.
What If the Fish Aren't Biting?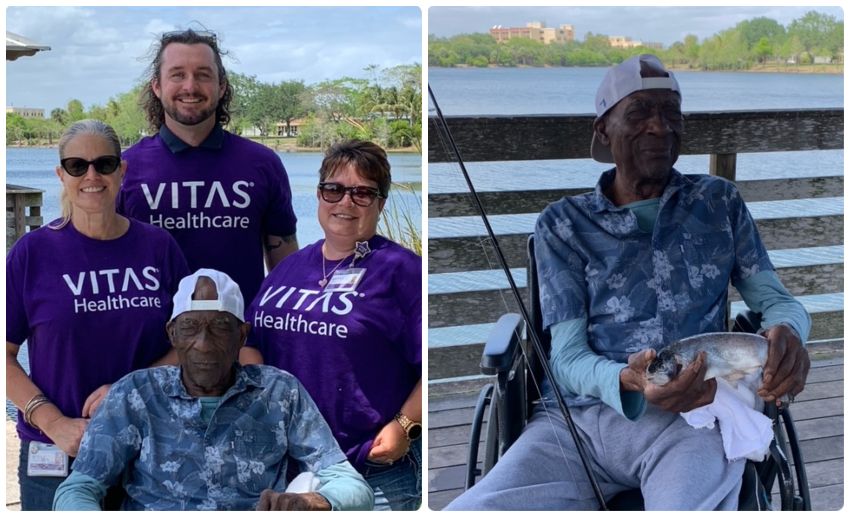 Volunteer Services Manager Daily Martinez helped to plan JC's special trip. She anticipated that the fish may not be biting that day; it is, after all, fishing—not catching.
She had purchased a few trout at the market for a photo-opportunity with JC and Celie. The goal was to capture their "success" on the fishing trip, but JC, being the sharp-minded lifelong angler, recognized the trick immediately.
The bait and switch with the trout became a joke that left JC, Celie, and the whole team laughing throughout the rest of the experience.
JC was grateful that the VITAS team spent the day with him doing something he loves. The entire team involved was also immensely grateful to him for sharing this special moment with them.