Cultural and Religious Diversity
Care for Jewish Patients Respecting 'a Spectrum of Observance'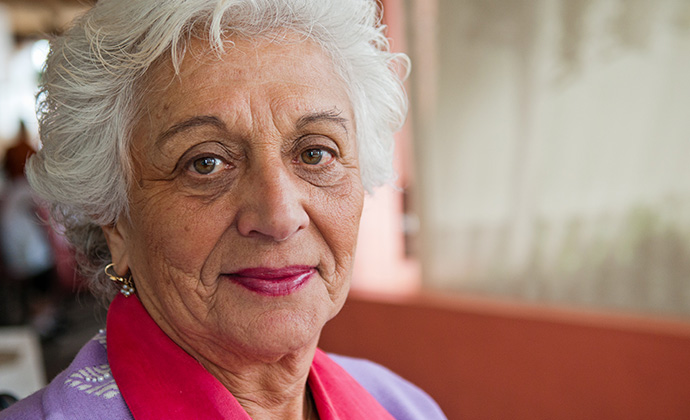 When it comes to personalized care for our Jewish patients, VITAS teams provide culturally sensitive, compassionate hospice care that respects the teachings, beliefs, rituals, and traditions. Our specialized care offers hope, honors the core principles of Judaism, and is guided by the religious preferences and cultural practices.
"We know that families practice their faith along a spectrum of observance to Jewish traditions," says Charlotte Goldberg, RN, BSN, a home care nurse and Jewish educator for VITAS in South Florida.
At VITAS, our care teams make every effort to be mindful of the basic rituals and traditions of Judaism. We respect patient and family concerns about artificial nutrition and hydration, as well as Jewish ethics and philosophy surrounding life and death.
"As hospice professionals, we gather information and create compassionate care plans that address expectations and respect each patient's and family's traditions around end-of-life care, grief, burial, and mourning," Goldberg says. "We work with each patient and family to explore any misconceptions they may have about end-of-life care and explain how hospice care aligns with their Jewish laws and teachings."
Committed to Personalized Care
Charlotte points out that whether patients practice Judaism along Reform, Orthodox, or Conservative ideologies, or consider themselves to be Secular Jews, the VITAS goal remains the same: We are committed to personalized care that offers hope, values life, embraces kindness, and is enhanced by each Jewish patient's and family's preferences.
VITAS includes key questions during the patient admissions process:
How do you practice your Jewish faith? What is important to you and your family?
What can we do as a hospice team to meet your needs and preferences for care near the end of life?
Which Jewish traditions do you want your VITAS team to understand and honor regarding the practice of prayer, food preparation, and holiday observances?
What are your preferences for memorial services, mourning, burial, and continued bereavement support?
Does your loved one have a personal connection to the Holocaust? If so, would you or your family benefit from additional support, counseling, or spiritual assistance?
Similarly, VITAS chaplains support Jewish families in multiple ways, including asking which prayers and rituals they prefer. Chaplains can also work with the family's own rabbi, or a volunteer community rabbi if they feel more comfortable with religious leaders of their own faith.
We work with each patient and family to explain how hospice care aligns with their Jewish laws and teachings.
"The goal of hospice care is to provide hope for a peaceful, patient-centered end-of-life experience and for a family's ability to mourn constructively through sensitive grief support," Charlotte says.
Some VITAS care teams also pursue additional external accreditation by the National Institute for Jewish Hospice, a third-party designation which qualifies caregivers to provide sensitively informed care to patients and families on their end-of-life journey.
All care team members go above and beyond to understand our Jewish patients' and families' needs and uphold the VITAS commitment to provide culturally appropriate, sensitive care.