Veterans
VITAS Observes National Vietnam War Veterans Day on March 29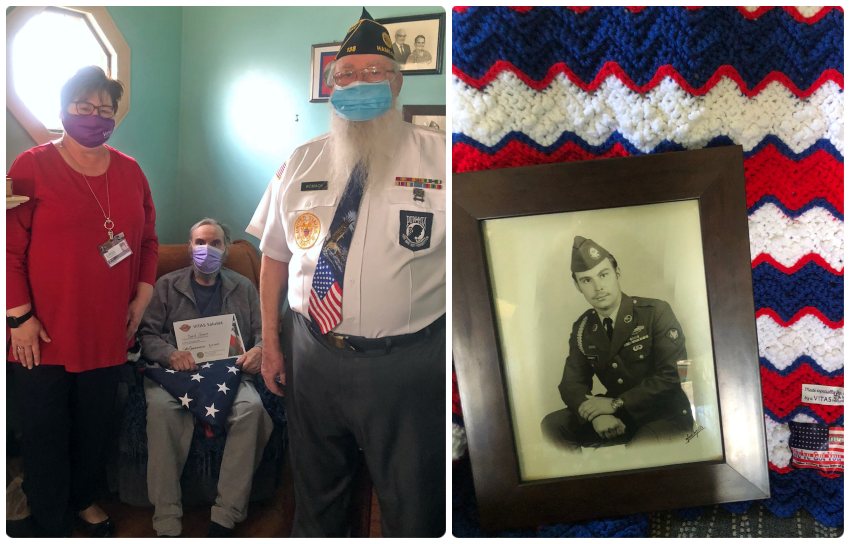 More than 50 years after the end of the Vietnam War, some veterans still have nightmares and panic attacks from their wartime experiences. Some still get choked up talking about their days in uniform and the disrespect they endured when they returned home to a politically divided country in the 1970s.
On March 29, VITAS joins the nation in observing National Vietnam War Veterans Day, an opportunity to recognize, honor, and thank these veterans for their service. Across the country, VITAS teams are finding special ways to show their appreciation to our veteran patients.
Long-Overdue Recognition
One VITAS patient and US Army veteran in Cincinnati received long-overdue recognition for his military service in Vietnam in the form of a touching bedside salute from members of his care team.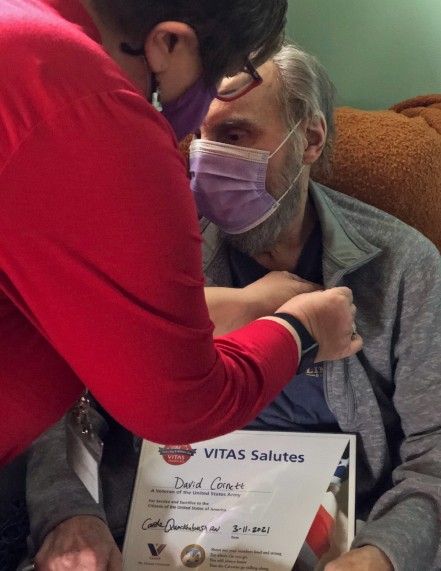 David Cornett, a decorated soldier in the Army's 1st Armored Division, faced the end of life with Parkinson's disease and post-traumatic stress disorder. When he and his wife, Debbie, began to receive care from the VITAS team in Cincinnati, Admission Liaison Carole Quackenbush saw an opportunity to honor a soldier whose own country had often treated its returning servicemembers with disrespect and misunderstanding.
"David is from a long line of patriots and military pride," Carole says. "We wanted to make sure we could honor him for National Vietnam War Veterans Day, and we knew that time was of the essence."
Carole coordinated with David's care team and American Legion Post 130 to arrange a bedside salute for the Purple Heart recipient. Chaplain Greg Womack, a US Navy veteran and American Legion member, joined Carole and VITAS chaplain William Regan at the event, which featured a flag-folding and pinning ceremony. Carole also presented David with a patriotic afghan made by a volunteer from the Military Order of Purple Heart Auxiliary, of which she is a member.
David's friend and US Army veteran Ralph Marse attended the bedside salute as well. When Carole learned that Ralph was a Purple Heart recipient, too, she provided him with a Purple Heart Supporter pin and VITAS challenge coin.
"David's service affected his entire life. When we performed the salute, he and his wife were very emotional, very touched," Carole says. "It was a really proud moment to be part of."
'VITAS Is Committed to Caring for Vietnam Veterans'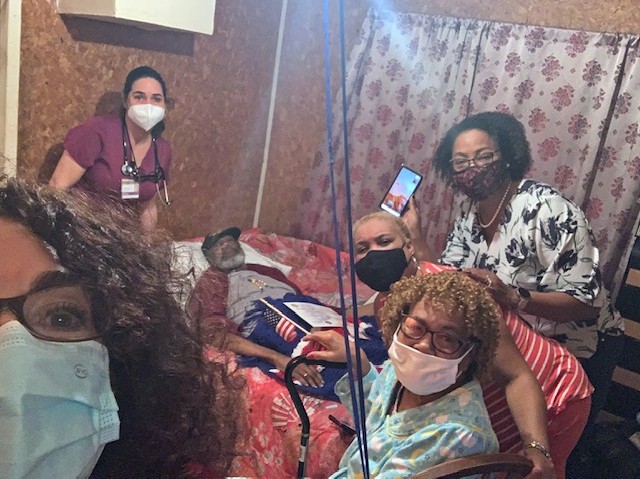 Earlier in 2021, the VITAS team serving Florida's Miami-Dade and Monroe counties cared for patient Johnnie Butler, who served in uniform from 1967-73 and was deployed to Vietnam as a US Army helicopter pilot.
During his time with VITAS, members of his family and his VITAS care team realized that the simple act of turning on the ceiling fan in his room would trigger episodes of agitation and restlessness due to the whirling fan's resemblance to helicopter rotor blades.
"VITAS is committed to caring for Vietnam veterans and ensuring that they are honored and appreciated for their service and the sacrifices they made," says Nancy Auster, admission liaison and veteran outreach coordinator for the team. "We recognize the hardships that Vietnam veterans have endured, and we're committed and sensitive to recognizing the unique stresses they may be dealing with."
'Every Soldier Deserves Recognition and Thanks'
National Vietnam War Veterans Day, established in 2017 after 10 years of initiatives to commemorate the war and its servicemembers, honors all 9 million US armed forces personnel who were on active duty between Nov. 1, 1955 and May 15, 1975, regardless of when they served:
2.7 million were deployed to Vietnam
6.4 million veterans are alive today
58,000 were killed, their names memorialized on the black granite Vietnam Veterans Memorial wall in Washington DC
304,000 were wounded
1,253 missing in action soldiers did not return to the US after the war
2,500 servicemembers were prisoners of war
Fred Robinson, admission liaison and veteran coordinator for VITAS in Orlando and throughout Central Florida, served in the US Marine Corps during the Vietnam War. He helped intercept and re-settle refugees who fled Vietnam in boats to the Philippines, where he was stationed when US troops withdrew from Saigon in 1974.
"The thing that's special about this new focus on commemorating Vietnam-era veterans is that it doesn't matter where you served, as long as you served during that time," Fred explains.
"We weren't respected or honored when we came home, but now, we need solidarity among us as veterans. We all pledged an oath to serve our nation at that time, and the US military sent us where they needed us the most. And I want to make sure that what happened to us goes to the grave with us, that it doesn't happen to any man or woman who puts on a uniform in this country's history moving forward. Every soldier deserves recognition and thanks for their service."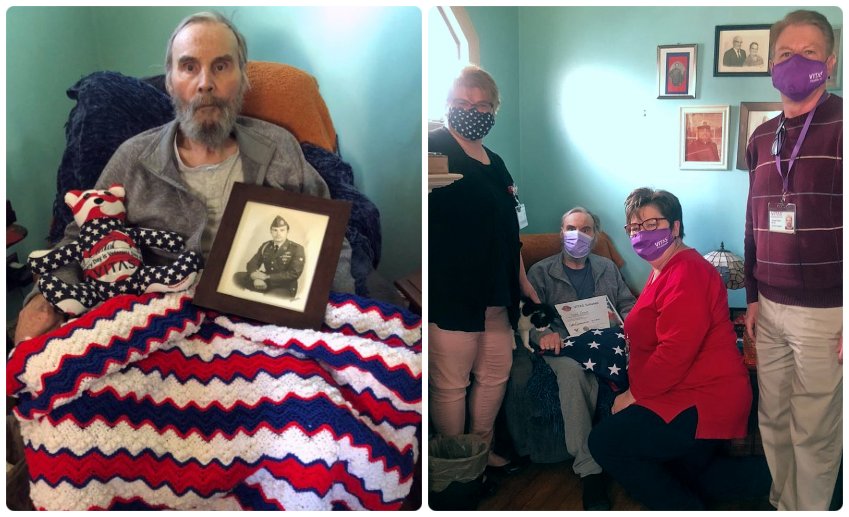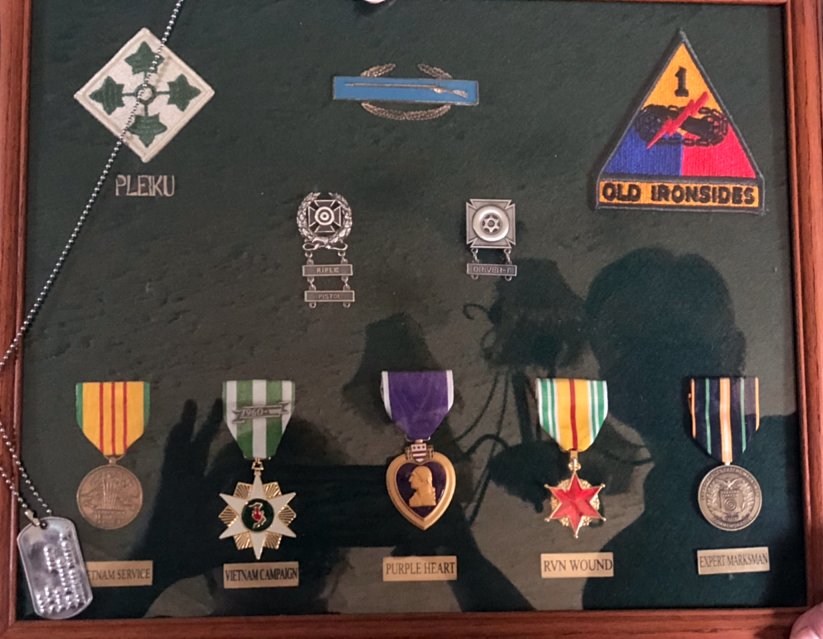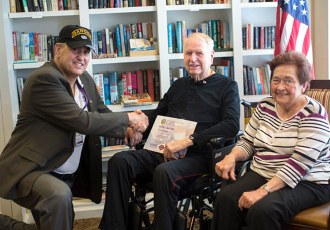 Specialized Care for Veterans
VITAS ensures that all veterans receive compassionate and appropriate end-of-life care.
Download Our Resource Guide