Veterans
WWII Veteran's Bedside Salute Brings Teary-Eyed Memories and Thanks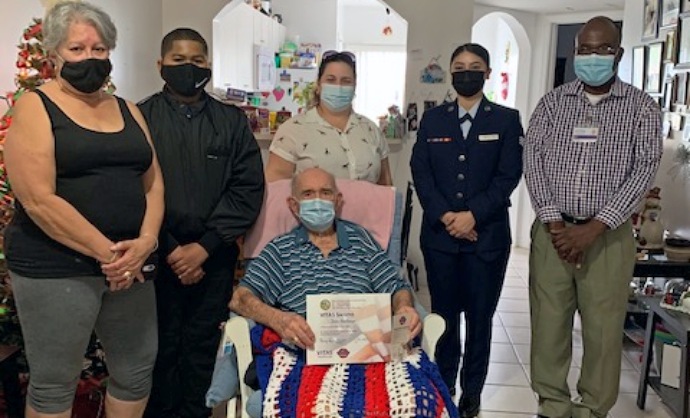 As the family of patient José Pacheco gathered at his home in Homestead, Florida, for a veteran's recognition ceremony, the elderly veteran began talking about his service during World War II.
Some of Pacheco's family members had never heard his stories, including a grandson who had asked to be excused from school that day to be at his grandfather's side.
"Everybody knows how few and far between our WWII veterans are," VITAS nurse Nancy Auster explains. "It's almost like you're witnessing something indescribable. You know each veteran's time will be short, yet here we are in the presence of an American hero. It makes everyone really emotional."
VITAS honors veterans every day, and America is reminded of their service during National Salute to Veterans Week, celebrated nationwide from February 14-20.
Sharing His Unique Story
Even though she's overseen numerous recognition ceremonies in her 30-year VITAS career, Auster says each one is touching and profound in its own way.
Pacheco recalled how he had served on the front lines in Germany, and how he and his brothers in arms were en route to the beaches of Normandy in anticipation of the D-Day invasion when they were diverted elsewhere.
"Mr. Pacheco got emotional as he was telling us his story," says Auster, who also serves as a veteran outreach coordinator and oversaw the touching ceremony. "I'm sure that whatever Mr. Pacheco was envisioning in his mind as he shared these details stirred up emotions inside of him, and that caused everyone else to become emotional, too."
Bedside salutes, Veterans Day ceremonies and individualized care plans that honor veterans' unique experiences and needs as they near the end of life are core components of VITAS hospice care.
Well-Deserved Honors and Gratitude
Surrounded by the Pacheco family and an active-duty airwoman from U.S. Southern Command, Auster presented the veteran with a certificate of appreciation, a pin, and a red-white-and-blue volunteer-crocheted afghan. She read touching lines from one of her favorite poems, "It Is a Soldier."
It is the soldier, not the minister, who has given us freedom of religion...

It is the soldier, not the reporter, who has given us freedom of the press...

It is the soldier, not the lawyer, who has given us the right to a fair trial...

It is the soldier, not the politician, who has given us the right to vote...
Then she saluted her patient, gave him permission to stand down, and thanked him for his service.
"His family kept saying that no one ever honored him the way we did," Auster says, "and that always makes me feel good."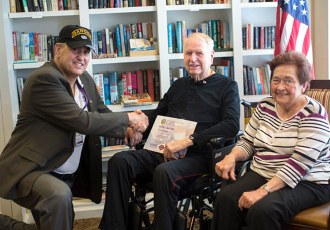 Specialized Care for Veterans
VITAS ensures that all veterans receive compassionate and appropriate end-of-life care.
Download Our Resource Guide