End of Life Wishes
"My Care, My Comfort" Is the 2020 Theme for World Hospice and Palliative Care Day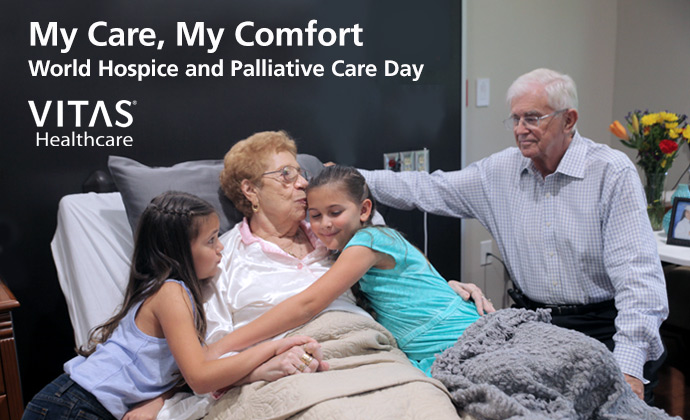 In a year marked by healthcare crises that have forced patients and their families to make difficult, unexpected medical decisions, October 10's designation as World Hospice and Palliative Care Day reminds families how important it is to talk about their wishes, values, and goals for comfort-focused care and end-of-life care.
More than 2.5 million people die each year from health issues that require palliative care. An additional 3.5 million people require some degree of palliative care that is not specifically related to end-of-life care.1
Globally, less than 10% of the need for palliative care is currently met by existing healthcare systems.1
This year's theme of "My Care, My Comfort" was chosen to encourage people to support and advocate for healthcare that matches their wishes, values, and preferences for care.
Organizers encourage patients with advanced illness and their caregivers to lobby policymakers to prioritize palliative care and its emphasis on comfort-focused modalities to manage challenging symptoms and ease pain, especially in the face of serious disease or declining health.
Hospice Is Palliative Care
VITAS hospice care is a form a palliative care, helping patients focus on comfort and quality of life near the end of life when traditional medical treatments are no longer effective, or when patients have decided that the benefits of continued medical interventions no longer outweigh the drawbacks. Palliative care is a broader term that embraces comfort care at any age or stage of a disease.
VITAS interdisciplinary hospice teams provide hospice care in 14 states and the District of Columbia Our teams also help with advance care planning and goals-of-care conversations among patients, families, and healthcare professionals as they face the challenges of advanced illness.
Get Started With the VITAS Hospice Discussion Guide
Explore the VITAS "Talking About Hospice" guide to learn more about hospice, the value of palliative care, and the various steps and decisions involved in the process of choosing care that meets your needs and goals for comfort and quality of life near the end of life.
1https://www.who.int/news-room/fact-sheets/detail/palliative-care