End of Life Wishes
Led by Chaplain, Philadelphia VITAS Care Team Brings Wedding Ceremony to Patient
When Shirley Andress became a patient of VITAS Healthcare in Philadelphia, her daughter Leanne stepped into the role of caregiver.
Like many adults who provide day-to-day care to their parents in hospice, Leanne had to find a way to balance her existing commitments and responsibilities with her newfound duties as a caregiver. But Leanne had one commitment most caregivers don't: She was engaged to be married to her partner of 21 years.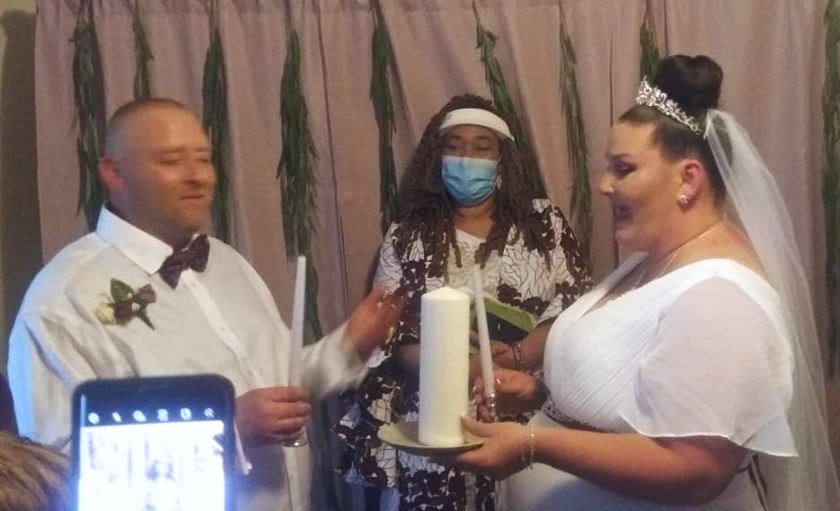 With no date set, it seemed at first that the wedding and all its preparations could wait until a better time.
That plan changed when Shirley announced her final wish: to see Leanne marry her fiancé, Edwin.
Under the loosest time constraints, wedding planning is stressful. But working on a timeline dictated by the mother of the bride's declining health only amplified the challenge.
Luckily, like all VITAS caregivers, Leanne had the support of an entire VITAS interdisciplinary team—and one chaplain who shared her commitment to make her mother's last wish come true.
A Mother's Dying Wish
"On a Saturday afternoon while I was on call, a Telecare nurse called me requesting that I speak with Leanne about some unique concerns that only a chaplain could address," says Tynisha Drennon, home care chaplain for VITAS. "I called Leanne, and as soon as she picked up, she began telling me about her mother's dying wish."
Leanne fought back tears as she explained that her mother had become lethargic and accepted only a few sips of water each day. These signs suggested that Shirley was nearing or beginning the process of active dying and likely had days to live rather than weeks and months.
"This will forever be one of the highlights of my chaplaincy career."

-Tynisha Drennon, VITAS home care chaplain
Although Leanne had managed to obtain a marriage license, she couldn't find an officiant who would work on such short notice. With time running out, Leanne asked Tynisha if she could officiate a ceremony within a matter of days.
Tynisha got to work immediately, contacting her senior management, the team bereavement manager, and Shirley's care team manager. All were in agreement: Tynisha would officiate the last-minute wedding.
"When I called Leanne back and told her the good news," Tynisha says, "she began sobbing with joy."
'My Honor to Be a Part'
Tynisha even checked in with Robert Neitham, home care chaplain on Shirley's care team, to make sure he was willing to pass on the role. Leanne made clear she would be happy with any officiant, but Robert thought Tynisha should handle the ceremony, since she had already been in touch with the patient's family.
On a Tuesday afternoon, 30 guests—including the VITAS care team—gathered in Shirley's Philadelphia home. Transformed through some exquisite decorating, the quaint abode was perfectly fit for a wedding ceremony.
Tynisha came garbed in full personal protective equipment. When the ceremony began, Shirley watched from her hospital bed while the other guests observed the proceedings from the kitchen. Tynisha looked on proudly as the couple lit a unity candle together, then sealed their vows with a kiss.
After 21 years, Leanne and Edwin were officially and happily married. And thanks to one hospice chaplain who was willing to go above and beyond for a patient at a moment's notice, Shirley lived to see her last wish fulfilled.
"Truly, this will forever be one of the highlights of my chaplaincy career," Tynisha says. "It was my honor to be a part of this wonderful day."