End of Life Wishes
Hospice Wedding Makes a Dad's Dream Come True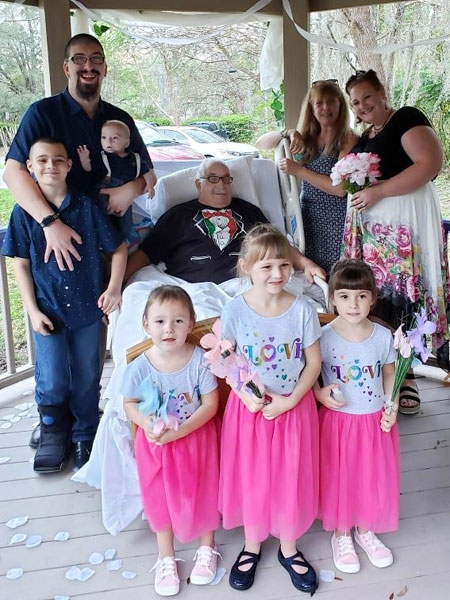 Editor's note: This event happened on February 20, 2020.
Birthdays, graduations, retirements–life's milestone moments often take on new significance near its end. To VITAS patient Philip Caponera, a son's wedding offered a tangible goal, something worth fighting for.
He just wasn't sure how much fight he had left. The entire inpatient hospice team in Citrus County Florida, made sure he reached a final, memorable milestone.
'We Needed to Be Flexible'
Philip was admitted to the VITAS inpatient unit in Citrus County on February 2, 2020, because of unmanaged pain from stomach cancer. Pat, his wife of 40 years, was no longer able to care for him at home.
Philip's time was short, but his motivation was strong.
"While speaking to Philip at his initial assessment, he mentioned that his son Philip, Jr. and his long-time girlfriend, Terrill, were rushing to get a marriage certificate," said Leigh Anne Silva, the VITAS social worker on Philip's care team. "It was Philip's wish to see them get married, but the wedding was set for February 20 and he wasn't sure he would make it that long."
The bride- and groom-to-be met with Chaplain Kelly Greenawald to discuss the ceremony–it would be held in the facility's outdoor gazebo–and reception, including food options, decor and, of course, the cake. Leigh Anne kindly offered to handle the baking.
All was set for couple's chosen date, and the VITAS team offered some important advice:
"We needed to be flexible, as Mr. Caponera's physical condition was very unstable," Leigh Anne said. "Philip, Jr. and Terrill were so understanding."
All the Pieces Fall into Place
On the morning of February 20, Philip was alarmingly weak and unresponsive. The team worried he would be unable to participate in the ceremony.
Thankfully, he perked up and ate enough at lunch to regain strength for the day.
The team came together for their final preparations:
Maintenance Manager Chuck Magnani pressure-washed the gazebo.
Chaplain Kelly and Kristi Wagner, patient care secretary, decorated the space.
Leigh Anne bought flowers and put the finishing touches on the cake–a three-tiered, white buttercream masterwork topped with flowers.
Clare Shenko, patient care secretary, arranged for guest arrivals.
Cindy Graham, HHA, and her son Tyler provided photography and set up a live stream for the bride's family in Connecticut.
Everything fell perfectly into place for the late-afternoon ceremony.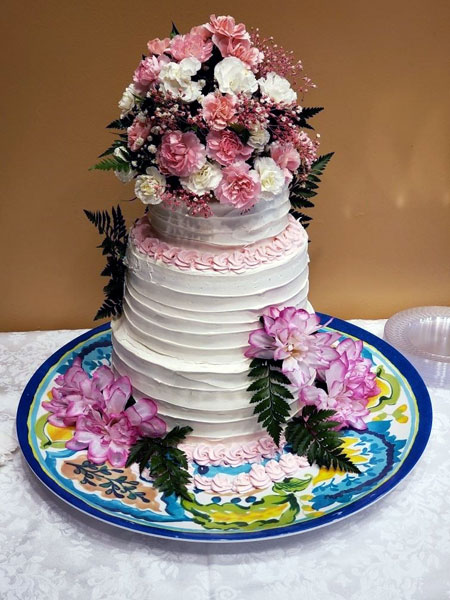 Nurse Susan Higgins, LPN, Housekeeper Jo Jo Hughes and Kristi wheeled Philip in his bed as he escorted Terrill and his granddaughters to the gazebo where the groom waited.
Joy filled the space as Chaplain Kelly officiated before a gathering of family and friends. Another patient's granddaughter delivered a surprise rendition of "Can't Help Falling in Love."
Honored to be Part of Making a Final Memory
Philip soaked in the ceremony and enjoyed the reception as best he could, even sampling a few shrimp from IPU Chef Rich Higgins' extravagant spread.
Surrounded by family and friends, in the presence of his newlywed son and daughter-in-law, Philip's last major milestone was love manifested.
He died four days later, his wish fulfilled and his heart full.
"We were honored," Leigh Anne says, "to have been instrumental in bringing Philip's wish to life and making this final memory."
What is Inpatient Hospice Care?
When symptoms cannot be managed at home, inpatient hospice care may be appropriate.
About Inpatient Care